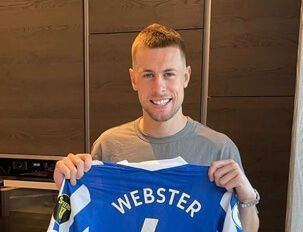 Adam Webster is an English professional football player.
He plays for Brighton and Hove Albion, who plays as the center-back.
He was born in Chichester, UK. He belongs to the white ethnicity. He was born in the year 1995.
He is an English citizen.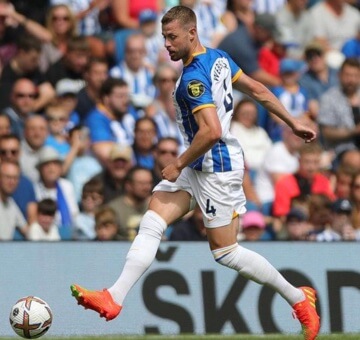 Marriage And Children
Adam is a married man. His wife's name is Melissa Webster.
The beautiful couple got married on 11 June 2022 in the presence of their family and friends. Their wedding took place in England.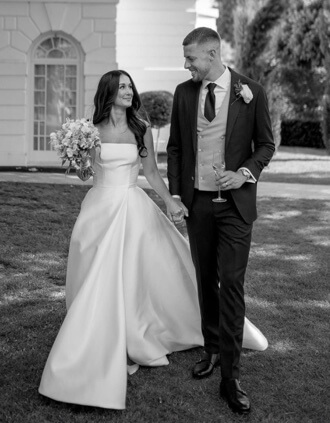 Through his Instagram and some interviews, it is clear that Adam has a daughter born in November 2020.
Age
Adam is 27 years old. His height is 1.91 m.
Net Worth
The net worth of Adam is $1.5 Million. He accumulates his income from playing football.
Pandemic Made Adam More Active
There is no doubt that Adam is a great player.
In one of the interviews, Adam talked about how he was dealing with the Pandemic.
He has been playing football for many years and has been very concerned about his fitness and career.
But on his normal days, he was not likely to be active. He said that he watches TV while staying on the sofa when he gets home.
Adam opened up that the Pandemic has made him very active as he tries his best to follow up his routine well and be consistent.
He wakes up early in the morning, exercise, and does everything to make himself busy.
He had completely stopped watching TV.
He did miss being around his teammates. He utilized his pandemic time.
Adam Was Gifted
Adam revealed in an interview that he was tactically gifted as he naturally knew how to defend.
He worked hard to be where he is now and has devoted his life to football, but he had something within himself as a gift: he was selected for the first team in his club at age 16.
It was a rare case for a 16-year-old kid who just was out of school to be on the first-team playing with well-experienced and adult teammates.
But it didn't get him nervous or set him back. He had a character when he was playing.
He used to shout a lot while training asking for the ball, pointing out mistakes, or telling players what to do.
It helped him to stick to the main team and evolve as a player.
Adam Felt Difficult Being A Father
Adam became a father in 2020 after he and his then-girlfriend gave birth to a beautiful daughter.
Since her birth, Adam's life has changed. He said that it was difficult to become a father.
He expressed that he is not used to becoming a dad, so he is learning many things yet and has many things to know.
He had to leave for matches without sounding like his daughter might wake up.
He is a busy man as he has to work and is okay every day. He only gets to meet his family on holidays.
Luckily, his wife is too understanding and helps him with what he does. She takes care of the baby all by herself.
Adam Felt Hard To Get Back On Track
Adam got injured in February of 2022 with his ankle problem. Before that, he was playing his best.
He was doing great in all the matches. But after the injury, things were not the same.
Getting back to the same level he was before was tough.
He was training daily, but because he missed eight weeks of training and matches, he was not being able to meet his expectations.
Even though he was near his finest level in training, he was not doing well in matches as training and match were different.
He expressed that getting back to the games after injury and going up against a stronger team while one is not at his best level is difficult.
Visit Doveclove For Spicy Articles Of Your Favorite Celebrities
Subscribe to our Newsletter