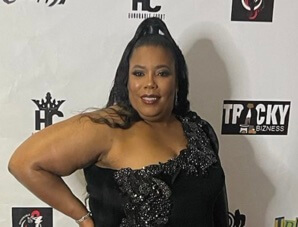 Angeleta Ellis Potts is the mother of American rapper NLE Choppa. Angeleta also works as a manager for her rapper son.
She calls herself Momma Choppa. She was born in Jamaica. She is Jamaican - American citizen by her nationality.
Married Life Of Angeleta
Angeleta is a married woman but hasn't opened up much about her marriage.
On June 11, she shared a picture with her partner wishing him a 16th anniversary.
She mentioned that they had been together for 26 years, but as a husband and wife, they have completed their 16 years together.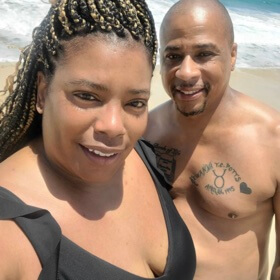 Age And Net Worth
Angeleta's age and net worth are unknown. Her son Choppa is 20 years old. He has a net worth of $3 Million. His source of income is raping.
About Angeleta's Son NLE Choppa.
NLE is a rapper known for his song Shotta Flow, released in 2019.
He was born in 2002 and has his birthday on November 1. His birth name is Bryson Lashun Potts.
His mom is a Jamaican, and his dad is a Nigerian. Choppa is currently living in Memphis, Tennessee. He is an American citizen.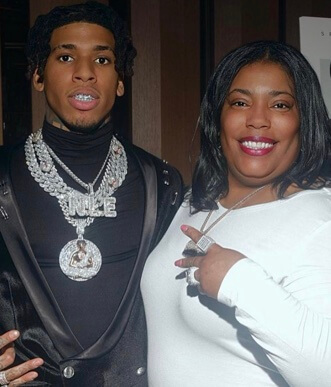 Who Is Her Son Married?
Choppa is not married yet. Sometimes back, he was dating Marissa DaNae. They started dating in 2021 and dated till September 2022.
While they were in a relationship, Marissa got pregnant with their baby boy, but sadly they lost him because she went through a miscarriage.
Before Marissa, Choppa was in a relationship with a woman named Mariah J. They share a daughter together named Clover.
Mariah and Choppa welcomed their baby girl in 2020 after they broke up.
Angeleta Supported Her Son In His Career
Angeleta and her husband had both never been involved in the musical field, but once they knew that their son Choppa was interested in music in a serious manner, they supported him fully.
Angeleta supported her kid and stayed with him in every step of his career.
Angeleta became the manager of her son and managed everything for him.
Her son wanted her to care for him and his work, so she became his manager professionally.
Angeleta also always taught Choppa not to be dependent on others and grew him up saying that no one was going to be with him by his side one day or another.
So, her son started his own brand and label.
Since Angeleta is the manager for Choppa, Choppa revealed that this fact has really kept him close to his family.
Angeleta Goes To The Gym
Angeleta is not just a mother but is already a grandmother.
But still, she tries her best to stay fit and healthy by going to the gym.
The grandmother of one has posted a video on her social media where she is jumping and pushing up to stay fit.
She is also seen being inspired by a man whose identity has not been revealed.
In the video's caption, Angeleta revealed that she has a big butt and joked about it.
She also said that she heard a lot about her big booty from other people on that day.
Angeleta Said People To Stay Away From Choppa
Angeleta's son Choppa is one of the popular rapper. But with all the popularity comes some unpleasing moments as well.
One time in an airport, Choppa was attacked by a person who was said to be a YoungBoy fan and told to beef each other.
Looking at it, Angeleta brushed out through YouTube.
She revealed that no one was allowed to touch her son in such a manner and told people to stay away from him.
Moreover, she revealed that YoungBoy and Choppa are totally different rappers and don't have any problems with one another.
She also stated that they had no beef with each other as they had no grudges toward one another.
Choppa Denied Signing Any Labels
Choppa's single Shotta Glow was in the air at the beginning of his career, and it was going hit after hit.
It came out that he was going to make the second part of the song as well; listening to this, labels' records were all around him.
Many big labels like Interscope and Republics approached him with millions of dollars.
But he denied every offer he was put through. Instead, he shook his hand with United Master.
He got a great offer of owning his songs forever with the company. He didn't have to work within any label and had the freedom to his songs.
He revealed that he has big plans for the future. He wanted to bring out his own label and own every song.
Visit Doveclove For Spicy Articles Of Your Favorite Celebrities
Subscribe to our Newsletter