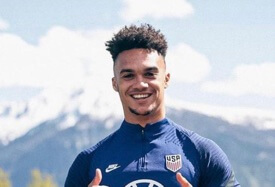 Antonee Robinson is an American professional football player. He currently plays for Premier League club Fulham in the position of defender.
He was born in the year 1997 and has his birthday on August 8.
His parents raised him with his brother Seany and sister Holly in Milton Keynes, UK.
His father's name is Marlon Robinson. He is American - English citizen.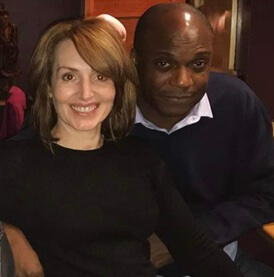 Relationship Status
Antonee is not married yet. He is currently dating his fiancee Darcy Myers.
They have been dating each other since 2019. As of 2022, they have a daughter, Atlas.
She was born in December 2021.
The couple hasn't revealed their daughter's photo. Antonee's fiancee and her daughter showed up in his match during FIFA World Cup.
His partner has been supportive towards him.
Antonee proposed to his girlfriend on March 14. It was Darcy's birthday.
His girlfriend Darcy shared a beautiful video of Antonee proposing to marry him on her social media.
She was overwhelmed by the proposal.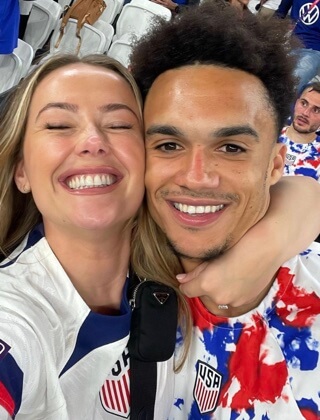 Age And Net Worth
Antonee is 25 years old. His net worth is $ 15 million.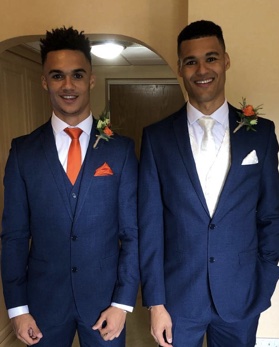 Has A Big Heart
Antonee is a great player on the pitch, but his actions after the win against Iran made it clear that he has a great heart too.
Antonee and his team won the match against Iran in World Cup 2022 with a 1-0 lead.
Iran and the USA have been having a great problem with each other on the political stage, so the country wanted their team to win the match.
Especially for Iran, the pressure was enormous. Hence, the defender of the Iran national team, Ramin Rezaeian, cried after the loss.
But Antonee came to confront the defender of Iran and sympathised with him.
He stayed with the defender for a while and told him not to cry. His act of kindness won the hearts of people. His video went viral on the internet.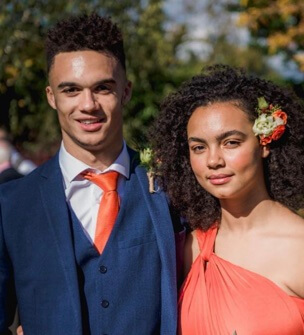 Spoke Out Without Fear
Antonee and his team USMNT went against Wales national team in the World Cup 2022.
The game ended up a draw, but the USA's team was not happy about the game.
Their performance was not on to the point, and they were disappointed because of the misjudgment of the referee.
While many players didn't talk about the referee, Antonee didn't fear anything and spoke out about his feelings.
He revealed that he was disappointed with the officials of the World Cup.
He said the ball was already outside the pitch by Wales's side, but the referee didn't call it out.
This ended up in a penalty, and the game was turned.
He said that one little misjudgement from the team lost them the chance to win.
Antonee said that the VAR should have been used for that judgement.
Antonee Inspired The Team
Antonee might be too young to lead the team, but his words show how powerful he can be for the team.
Antonee expressed that his team was an underdog in the World Cup. He said that in the match against England, his team could win the game.
England has had lousy form in the nations league as they were beaten up by Hungary and Italy, who didn't even qualify for the World Cup, so he believes they have a great chance to win.
Also, he revealed that his team believes they can win every match in the group stage.
So he told his team they could win the matches after the group stage and that his team was stronger enough to win the cup.
Antonee Chose His Own Nickname, "Jedi"
Antonee trained under his dad Tony as a child. His dad used to train many young boys to grow up as brilliant players.
While training, Tony used to call the boys by the name of famous players like Messi, Ronaldo and many more.
He used to make the boys choose a nickname for themselves. Antonee was also given a nickname, Puyol.
Puyol was a defender, and Antonee looked a bit like Puyol.
But Antonee didn't want any nicknames of a football player. Instead, he loved star wars, so he named himself Jedi, inspired by the same movie.
Visit Doveclove For Spicy Articles Of Your Favorite Celebrities
Subscribe to our Newsletter