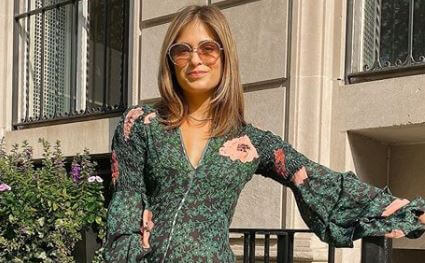 Batsheva Haart, 27, is a New York-based popular personality on social media.
She is known for her fashion and lifestyle content on TikTok.
She is stirring the media with her unique fashion tips, tricks, and sneak peek of her American lifestyle.
Family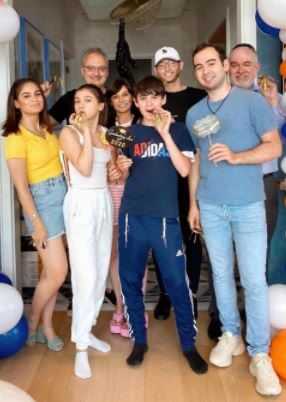 Her Mom
Batsheva's mother is Julia Haart, a mogul of the fashion industry in America.
She is intelligent, hardworking, and a gorgeous mom cum fashion designer and entrepreneur.
Julia Haart currently works as a Chief Executive Officer and Chief Creative Officer of Elite World Group, the world's largest network of model management agencies.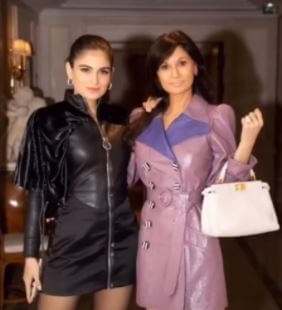 Siblings
Talking about the siblings of Batsheva, she has two brothers and a sister.
Her beautiful sister's name is Miriam Haart, who is 20 years old as of 2020.
Their youngest brother is Aron Haart, who is in his teens. And Slomo Haart is the elder brother who is in his twenties.
Her husband
Batsheva is happily married to Binyamin Weinstein, also called Ben.
He is more than 6 feet tall with handsome features. He has black-brown hair and a muscular build.
He also has a great fashion sense and is a fitness enthusiast.
Ben is a super supportive spouse who is always the greatest fan of his wife.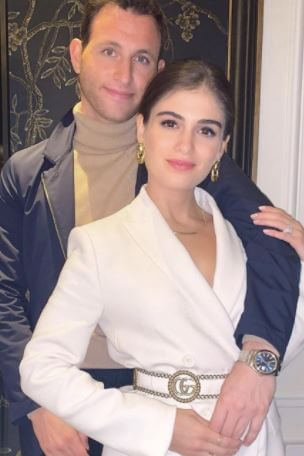 Batsheva Haart and Binyamin Weinstein love story
What do you do when a handsome boy asks for a ride home from work?
Our kind-hearted Batsheva gave Binyamin Weinstein a ride, and happily, ever after, a love story was created.
Ben and Batsheva started hanging out and became best friends.
Ben proposed to Batsheva when she was only nineteen and is now happily married.
They have been together as a happy couple for more than nine years. Check out their beautiful pictures: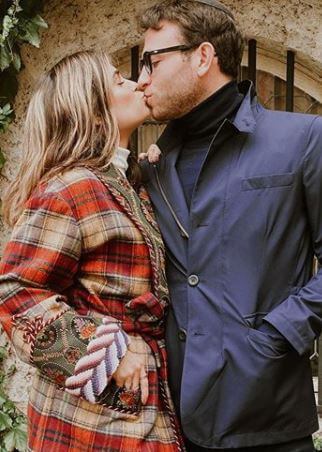 Her works before being a TikTok star
Well, Batsheva's career was not an easy journey. She has been through ups and downs too.
Right after high school, she joined the Culinary Arts school to elevate her passion for cooking into a profession.
While studying in Culinary school, she worked in a restaurant.
The universe had a bigger plan for her, so in later years, her interest grew in cosmetology, and she turned to work at a local salon to learn more about it.
This transition paved her further path into the world of fashion.
Further, She graduated in accessories designs and got a chance to participate in Teen Vogue Summit in L.A., where she was finally introduced to TikTok.
Her works After TikTok
She was impressed by the growing influence of TikTok at the Teen Vogue Summit.
So, right after returning from the summit, she created her TikTok account and worked on it.
She intuition helped her to create peculiar contents of lifestyle and fashion, which broke the trend of lip synchronization.
Her content inspired and influenced viewers to carry out celebrity fashion easily.
She consistently posts sharing her beautiful fashion. Who would not love to doll up into appalling human beings?
She is active on Instagram too. You can find her adorable pictures with excellent fashion sense.
And she has a very interesting fact related to Instagram.
If you are interested in her married life, you are welcome to check out her Instagram every Sunday as she has been posting pictures with her husband Ben Weinstein every Sunday for years.
Besides TikTok and Instagram, she is a lifestyle blogger and YouTuber too.
She has a YouTube channel and blog site under Sunnies and Sangria's name.
Furthermore, the hardworking Batsheva also works as a model.
Happiness working with Family
Batsheva Haart gave an interview to Sweety High. Her sister Miriam Haart was also there with her at the interview.
They talked about their show and shared their experience working with family. Batsheva and her whole family have been involved in a family show on Netflix named My Unorthodox Life.
Her sister Miriam told how her family prioritizes loving each other despite the differences that they have between them.
She is enjoying how she and her family have managed to be so open despite being so religious.
Batsheva also said that she enjoys working with her family and spending time with them a lot.
She said that she loves her family's company, and they also go out together. She and her family are doing well on and off-screen.
She opened up that the motive of their family show is to inspire people and connect with them.
She wants to show people that they are not alone through her family show. She wants to bring people from different backgrounds together and inspire them.
Her sister Miriam then shared her experience, saying she was scared while their first season was out.
But when she got positive feedback from people, she was relieved. Because of that positive feedback, she was very excited for season 2.
Batsheva and her whole family are grateful that they are getting so much love from the audience in their show.
Recently Batsheva and her sister have a partnership with an auto trader for the top 12 list of a car in 2022.
Batsheva herself is planning to get a new car for her family, so she thinks auto traders are the best to deal with.
She said that auto traders help people to find the best cars. People can choose virtual tools, and they deliver cars to their door.
It helps people select the best cars of their choice, so that is why she and her sister partnered with Auto traders.
Net worth
Batsheva Haart's estimated income chart with sources is as follows:
Sources
Username
Estimated EarningsPer Post

Total Followers

and Average Likes

TikTok
batshevahaart

$125.26-

$313.17

Followers:

1M

Average Likes: 15K

YouTube
Sunnies and Sangria
Not started
Subscribers: 974
Instagram
batshevahaart
$148-$254

Followers:

73.1k

Average likes:7K
Lifestyle
She lives with her husband cum best friend, Ben Weinstein.
They have a beautiful two-bedroom apartment in Manhattan, New York, which is pretty decently furniture.
She has beautifully used the small space to fit her big closet, full of luxurious bags and clothes.
She also modifies her second room into her gym and living room.
Being a daughter of a successful fashion designer and a hardworking woman, Batsheva does give herself a retreat once in a while by going on vacations with her family often.
Her last vacation was to Africa before Covid 19 pandemic outburst.
Age and height
Batsheva was born in the United States of America to an orthodox Jewish family in 1996.
Her family is very religious and abides by the religion.
Her age is 27 as of 2020.
She has short blonde hair.
Her height is above 5 feet.
She weighs around 48 kg.
For Amazing Articles Of Your Favorite Celebrities,
Stay Tuned To doveclove
Subscribe to our Newsletter