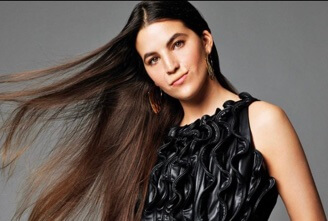 Brooklinn Khoury is an American social media influencer, professional skateboarder, and model.
She came to prominence in 2020 after a dog attacked her. She was born in 1999 and has her birthday on April 20.
She was raised by her parents, Melissa Demenagous and Ephrem Khoury, with her two siblings, Sam and George.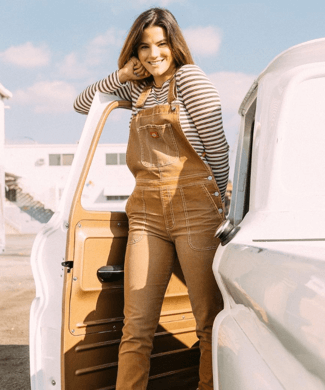 Relationship Status
Brooklinn is not married yet. Brooklinn is queer by her sexuality, so she doesn't have a boyfriend; instead, she has a girlfriend.
She is currently in a relationship with Chloe Lukasiak. Chloe is an actress, dancer, and television personality.
They started dating in 2020. She met her girlfriend on a dating app.
Their family already knew their relationship before they came out in public.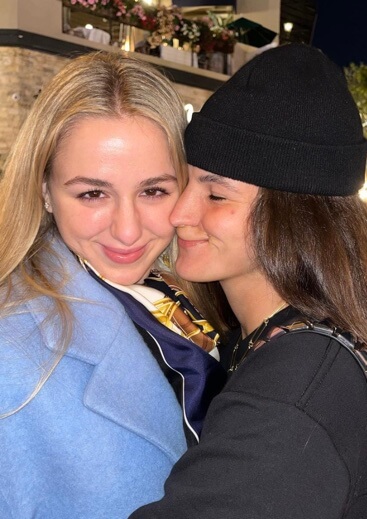 Brooklinn's Partner Supported Her
Brooklinn and her girlfriend Chloe have been dating each other since 2020.
They met on a coffee date, and Brooklinn immediately felt connected with her.
Just a few days after her date with Chloe, Brooklinn got attacked by a dog which changed her facial appearance.
She gets insecure about her look and thinks that Chloe might not find her pretty anymore. But things turned out the opposite.
Her partner supported her and made sure everything was okay with Brookline.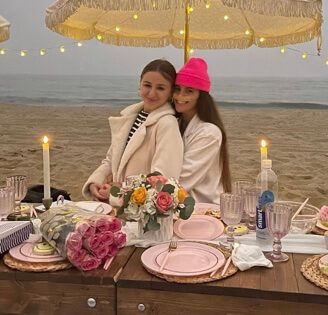 Chloe Felt Insecure To Meet Brooklinn
Brooklinn has been in a relationship with her girlfriend Chloe Lusasiak, since 2020. In one of her videos, she and her girlfriend shared about their first meetup in detail.
Brooklinn and Chloe both met each other just a few days prior to texting each other. Brooklinn was suggested by her friends to use the Hinge dating app.
At first, she showed her complete disinterest in the dating app because she wanted to know and meet real people. However, she ended up making a profile.
Her girlfriend, Chloe, also got into the app at the same time Brooklinn got and felt that the dating app was a good way to know and talk to girls.
Chloe is a really serious person, but when she was creating her dating profile, she felt it differently and found it interesting.
While making the profile, there was a question asked about her fear. She didn't know what to write but as she was watching the Jurassic Park movie she was having dreams about dinosaurs so she wrote that she fears dinosaurs.
Chloe's profile was the first profile that appeared in Brooklinn's dating app when she first joined, and they started talking.
Chloe shared about her dinosaur dream, and coincidentally Brooklinn also had a dream of dinosaurs chasing her streets just the day before, so she shared, too, but Chloe thought she was just making up a whole story.
After some time, Brooklinn asked Chloe to go out with her to the farmer's market, which Chloe agreed to, but unfortunately,
Brooklinn had to cancel it because she got busy with her personal work. Brooklinn then asked for a second meetup with Chloe, but Chloe lied, saying that she had a meeting.
Chloe was insecure and freaked about meeting Brooklinn, so she just made up lies to avoid meeting Brooklinn. However, Brooklinn convinced her, so they decided to go to the mall and get coffee.
Age And Net Worth
Brooklinn is 23 years old. She has a net worth of $2 - $3 Million.
Brooklinn's Lips Fell On The Ground
In 2020, Brooklinn got herself in one of the most tragic incidents of her life.
She was at her cousin's house enjoying time playing with her cousin's dog, but suddenly, the dog attacked her.
Her cousin had owned a pit bull, and it was just sitting when Brooklinn went to her and started petting the dog for being good. The dog suddenly attacked her and bit her lip.
Brooklinn opened up and saw that the dog was hanging in her face.
The dog was attached to her face, and she saw something falling on the ground when the dog got down.
At that time, she had no idea what had fallen on the ground but noticed blood everywhere on her shirt.
When she saw herself, she was utterly shocked and realized that her upper lip and nose parts had fallen on the ground.
The most horrific thing that happened to her completely changed her life.
Brooklinn Tried To Save A Dog
Most people are aware of the Brooklinn 2020 dog attack, and she shared her dog attack story with many people who asked her about the dog and what happened to it afterward.
So she made a video and answered the question.
She revealed that the dog which attacked her was a fully trained pit, and his cousin's family, who owned the dog, had never seen it attack anyone before.
She recalled the day she got attacked and said she was rushed to the emergency ward after the dog tore her lips.
A few hours the animal patrol came and talked to her about the dog.
She told them they didn't have to put the dog down and that she was okay if his cousin's family wanted to keep the dog with them.
But sadly, her cousin's family was scared after what happened to her, so they didn't want it around, and the incident with her was so big and dreadful the animal patrol had to put the dog anyhow.
Brooklinn Felt Positive After The Surgery
Brooklinn is a brave girl who managed to survive a deadly dog attack. Unfortunately, she lost her upper lips and upper nose in the accident.
Her face looked completely different after the accident, but she was brave enough to share her whole story and journey with the people.
She has been open about the surgeries she had to undergo to get her upper lip back.
She has undergone seven surgeries to date, and after her seventh reconstructive surgery, she feels optimistic about herself.
The doctor used skin and nerves from her arms to remake her upper lip.
After the dog attack, she stopped expecting her face would go back to life before.
She thought she would take time and accept herself, but now, after seeing the changes after surgery, she feels positive and happy about herself.
Visit Doveclove For Spicy Articles Of Your Favorite Celebrities
Subscribe to our Newsletter