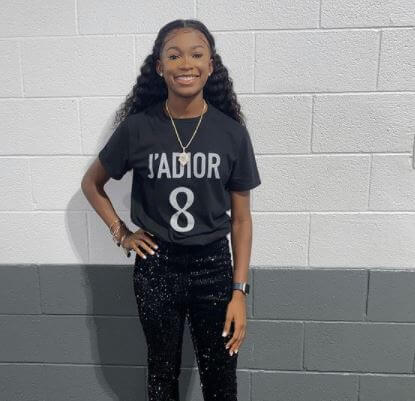 Cha'iel Johnson is the daughter of a famous former football player, Chad Johnson.
Cha'iel is the Nation's Fastest junior champion. She has already won two AAU Club Nationals titles and set a 12- year old record in Orlando.
Who is Cha'iel Johnson?
Cha'iel is 16 years old, the daughter of Chad Johnson, an NFL receiver known as Ochocinco.
Her mother's name is Kenyada. Her parents met in 2001 and fell in love with each other. They were never married. She has seven half-siblings.
She is the third successive Gold Medal winner in the 800 meters at AAU Junior Olympic Track and Field Championships.
She completed the track in time 2:13:72, beating the next player finisher only by two seconds.
Chad said that it's a blessing for him to see her succeed at this young age as he used to suck when he was 12.
In 2015 she won the track of 400 meters, and in 2016 she won the track of 800 meters. She was trying to hit the record for herself.
Who is the father of Cha'iel Johnson?
Chad is the father of Cha'iel. He is a former football wide receiver. He used to play football when he was in Santa Monica College and Oregon State University.
He has played eleven seasons for Cincinnati Bengals in National Football League(NFL) in round two of the NFL Draft in 2001.
He has played ten seasons for the Bengals. Johnson was traded to the New England Patriots, from where he got to play in Super Bowl XLVI in 2012.
Chad also played for the team named Miami Dolphin in Preseason, but he was released due to his arrest for domestic violence.
He also played Canadian Football League (CFL) for Montreal Alouettes from 2014 to 2015.
He also played one game in Fundidores of the Liga de Futbol Americano professional game from Mexican team Monterrey in 2017.
He is one of the greatest NFL wide receivers. He was also listed as the number 1 on the Most Influential Athlete in Social Media.
He was NFL Pro Bowler six times. He was named as the number one wide receiver on the Bengal's 40th-Anniversary Team.
Early life of Chad
Chad was born on January 9, 1978, in Miami, Florida. He is also known as Ochocinco as he legally changed his name in August 2008.
His parents are Sam Brown and Paula Johnson. He was raised by his mother's parents Bessie and James Flowers.
To him, his Mama is Bessie, and he always calls her mama. When he was a kid, he had a healthy diet for sports.
He was very bad at studying work as he had no interest in it. As a kid, he had no control over his impulse.
Once he crashed his family car when he was ten years old, he defended himself by saying he was taking the car for the carwash.
He had a bad influence on the street as drinking, smoking, and stealing.
Football helped him so much to get out of that influence.
He dedicated himself to making a career in NFL, and he never gave up.
Chad Dating Life
Chad is currently dating a realtor named Sharelle Rosado. He said that he believes she is the one for him.
Before, he was married to his ex-wife named Evelyn Lozada. He was arrested on a domestic battery charge.
He had four children named Jicyra Johnson, Cha'iel Johnson, Chade Johnson, and Chad Johnson II.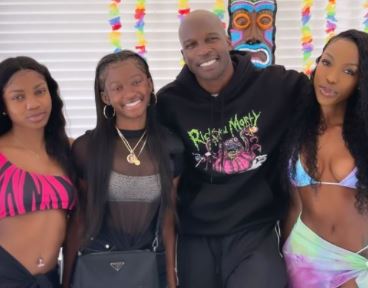 Chad Johnson Talked About Financial Status
Chad Johnson gave an interview to Graham Bensinger in 2016. He talked about his finance, life, and expenses in that interview.
Be started by saying that he was broke since 1978. As soon as he used the term broke, the show's host was surprised as he was one of the victorious athletes in his time.
Chad revealed that athlete doesn't earn as much money as people think. He signed a fortune in the past worth a lot of money.
When the host asked about this matter, he revealed that the fortune was for the people signing the cheque.
Chad said that he was not rich. He has been with the wealthiest people worldwide in his career, but he revealed that he was just an average person with sufficient financial condition.
He described himself as cheap to the interviewer. A friend of Chad, once said that Chad always pays bills and is never allowed to pay bills.
When the interviewer asked Chad about this matter, he talked about how he lives his life.
He believes in enjoying small moments. He doesn't believe in showing off with expensive stuff or lavish things, but memories with friends are essential.
Moreover, he also revealed that he does his shopping at Claire's. Every jewelry that he wears, if that is the ring, necklace, bracelet, Rolex watches, diamonds, everything is fake.
He believes in saving money, and from what he has said, people believe that he has wealthy.
Chad believes there is no reason to buy expensive things if you have money.
He did have three exotic cars with him, namely Ferrari, Lamborghini, and Phantom. According to him, he didn't buy it from his career money.
It was bought with his television money. He also said that after ending his career and having no earnings, he only had expenses for child support. He doesn't have that many personal costs.
Net Worth
Her net worth is not published yet. Her father's net worth is $5 million.
| | |
| --- | --- |
| Net Worth | Source |
| $5 million | Football, Sponsorship |
Age, Height, and Weight
She was born in 2005.
She just celebrated her 16 birthday.
She is American.
Her exact height and weight are currently unavailable.
Visit Doveclove For Spicy Articles Of Your Favorite Celebrities
Subscribe to our Newsletter