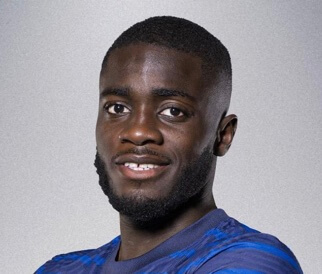 Dayot Upamecano is a French professional footballer. He plays for the Bundesliga club Bayern Munich in the position of center-back.
He also plays in the national team of France. He was born in the year 1998 in Evreux, France.
He is a Guinean-French citizen.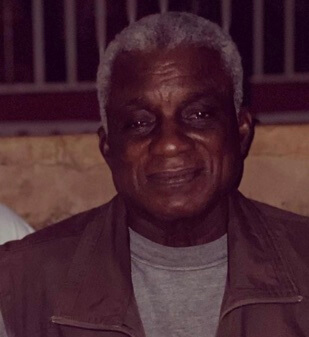 Relationship Status
Dayot is not married yet, so he doesn't have a wife or a girlfriend.
Age And Net Worth
Dayot is 24 years old. The net worth of Dayot is 20 million euros.
Dayot Is The Fastest Defender
Dayot arrived in Bundesliga playing for Bayern Munich in 2021, and he has been at the top of the defensive list in the league.
Moreover, he is known for many other things than his defensive ability.
Related: Marine Lloris- Wife Of Hugo Lloris
He has been recorded as the player with 5th highest speed player in the German League.
Not only that, but he is in the top 10 fastest-player list. But his ability doesn't just limit within it.
He is also good at Aerial possession. He is rarely beaten aerially by other players.
He has been listed in the top 20 by the number of aerial balls won in Germany.
He was in the top 2 in the 2018/19 season for the same reason.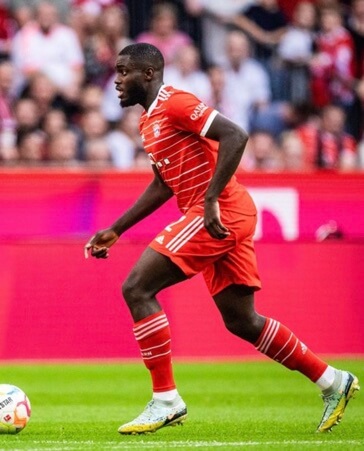 Dayot And Dembele Are Childhood Friends
Dayot and Dembele are together in the French national team, and both of them are valuable players for the team.
But their friendship did not start as they got to play in National Team together. Their history goes way back to their childhood.
Jump to: Who Is Ferland Mendy's Girlfriend?
Dayot and Dembele actually grew up in the same neighborhood and played football together.
They have both been very good friends from childhood till the date.
In 2010, they even played together in a local club where they were the first selected players.
But unlike Dembele, Dayot was not always this good. He didn't have a natural talent, and he started from zero.
He made it all possible because of his consistent hard work and never giving up quality.
Had Worst Birthday
Dayot had a match against Gladbach on his 23rd birthday, and the day could not have gone worse than being defeated by a 5-0 score.
Dayot's team was badly defeated in the game. The win and loss in the game happen every time, which is normal.
See: Ornella- Stunning Girlfriend Of Aurelien Tchouameni
But that match was the worst match for Dayot. Firstly, it was his birthday, and secondly, because he messed up really badly in the match.
He gave out a penalty to the opponent team. Again, he assisted in a goal of the opposing team.
He played the match until his performance was so bad that the coach had to substitute him.
Dayot's German Language Is Better Than Thomas Muller
Dayot and Nianzou together gave an interview where their German language was put to the test.
They were asked to translate the French language into German language and find German words for particular terms and stuff.
They did quite well in the interview. They were new to the country, but their German was quite appreciable.
Dayot then said that his German language was better than Thomas Muller's German language.
Dayot didn't mean that as he translated what was written. So he immediately said it was wrong and his German is bad now.
Nianzou also agreed that their German language is not so good, and they have yet to learn a lot of terms and phrases.
Visit Doveclove For Spicy Articles Of Your Favorite Celebrities
Subscribe to our Newsletter