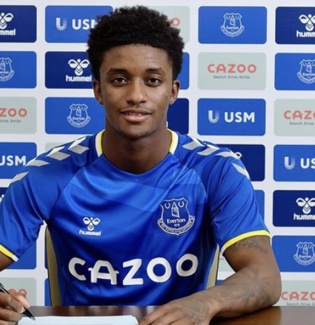 Demarai Gray is an English professional footballer. He is well known for being the player of club Everton.
He belongs to the Jamaican ethnicity. He was born in Birmingham, United Kingdom.
Relationship Status Of Demarai Gray
Demarai is currently in a relationship with Emma Hickman. The couple is blessed with a baby boy together.
Demarai is quite silent about his private life. He hadn't revealed when and how they met and when they exactly started dating.
However, it is known that the couple is living together happily with their child.
Demarai is very frank about his professional life and has shared more things about his professional life rather than his love life.
He is not yet married to his partner, but they live together and are very happy in their love life.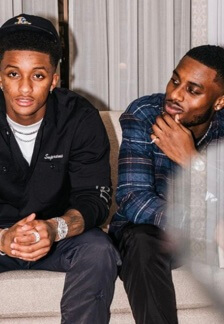 About Demarai Gray
Demarai was born on 28th June 1996. His full name is Demarai Remelle Gray. He was raised by his parents in Birmingham.
He started playing football for the club Birmingham City in 2006 and played for that club for 7 years.
After that, he moved to Leicester City and then to Bayer Leverkusen. As of 2022, Demarai plays for the club Everton as a winger.
He is a talented player who also plays for the national team of England. He has played in U18, U19, U20 and U21.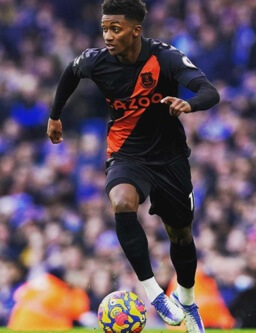 Age
He is 25 years old. His height is 1.80m.
Net Worth
The net worth of Demarai is 13.9 Million euros. He earns by playing football.
Demarai Wife Was Attacked
Back in 2019, when Demarai was not in his house, some strangers bumped into his house and took all the cash and expensive stuff.
It was known that his girlfriend and his new baby were in their house when that incident occurred.
His partner Emma was sleeping naked when the four unknown persons entered the house with the knife and threatened.
Those four attackers got the location of their house through Google, and they threatened his wife to kill her mum as she told them that she was coming there, so she told about the place where she kept the money and jewelry.
They had sharp weapons on their hands, which terrified his wife. They took everything from there, even Demarai's car also.
Not only that, they passed negative comments about Demarai to his wife. Luckily they didn't physically harm her.
Demarai Got Badly Wounded
Demarai is one of the key player on his team. He currently plays for the team Everton.
Back in time, Demarai was forced to miss some of his games because of his injury.
When he and his Everton team were playing against Manchester City, he badly suffered an abductor, which gave him to leave the match.
He was replaced by another player as that injury didn't let him play. He and his team lost the match against Manchester City.
He missed some of his games as he has to give himself some time to recover from that injury.
Chocolates Are The Reason Behind Demarai's Migraine
At a start of his football career, Demarai played for team Cadbury athletic, his local team.
He revealed that he felt nice playing for that team, and that team provided them with a full box of chocolates after ending every match.
He takes that full box of chocolate the company gave to his home. That was a great time for him playing in that team.
But now he doesn't eat any chocolates as he suffers from migraine after eating chocolates. So he stopped having chocolates now.
Visit Doveclove For Spicy Articles Of Your Favorite Celebrities
Subscribe to our Newsletter