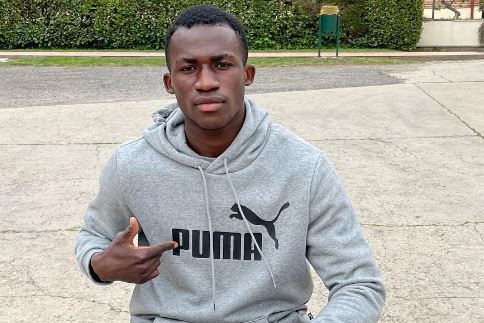 Felix Afena-Gyan is a Ghanaian professional footballer. He currently plays for Serie A club Cremonese in the position of forward.
He is also a national player who plays for Ghana national team. He was raised by his parents in Sunyani, Ghana.
He is a Ghanaian citizen by his nationality.
Who is Felix dating?
Felix's dating status is unknown, so it's unclear if he has been dating anyone or not.
Also: Yvonne Ayew - Stunning Wife Of Andre Ayew
However, once, he was spotted with a girl, and it was rumored that she was his girlfriend.
Age and Net Worth
Felix is 19 years old. The net worth of Felix is $1.5 Million. His source of income is football.
Felix was not allowed to join any clubs
Back in time, when Felix was still in Ghana continuing his studies, many Ghanaian clubs offered him to play for them.
It was not surprising at all because he was that good as a young boy.
His talent was really appreciated around his place, and he was already on everyone's target at that young age.
But his mother was taking care of him and his decisions. Felix wanted to join the clubs, but his mother didn't allow him to.
His mother knew that there would come a perfect time for his career to start, but for that moment, his basic education was necessary.
At first, Felix was really not satisfied with the decision that his mother took for him.
Related: Does Iddrisu Baba Have A Wife?
But later, when his mother allowed him to complete his dreams, he got to play for Roma, train there and have a great career.
Hence, he realized that his mother was right about him all the time.
He expressed that he would not have reached this level of success if it was not for her mother.
Felix was a star in his debut match
Felix moved to the senior team, and as a newbie, he was in substitution. It was the game when Roma was going against Genoa.
Both the teams were on their edge, and no one was scoring.
That is when the coach Jose Mourinho decided to bring up Felix in the 78th minute.
Felix became the key player for the match because he came and scored two beautiful goals for the team, one of which was a goal many good strikers would miss.
Everyone was cheering his name and supporting him.
Felix was so happy about playing for the senior team that he called Jose into the dressing room and said thank you to him for letting him play and doing everything for him.
Although he was really appreciated and his name was in every fan's mouth, he was not proud.
Related: What is the relationship status of Jojo Wollacott?
He felt good about the match, but most importantly, he still thought it was just the beginning, and he had quite to learn, which is a great attitude for him.
Jose brought Felix expensive shoes
Felix has trained under Jose, so Jose knows how hard-working and talented Felix is.
Also, Jose knows that Felix has a pure heart, a great attitude, and respect toward others.
Jose really appreciates the young forward player for everything. So, Jose promised to buy Felix a shoe after his debut match.
Felix got a win for Roma in his debut, scoring two goals against Genoa.
Jose was really happy with him, so he brought him £800 worth of shoes. After looking at the shoe, Felix was really happy and emotional.
He hugged Jose thanking him. He couldn't stop hugging his coach out of emotions and happiness.
The situation interchanged for Felix
When Felix arrived at Roma FC's senior team, he didn't have proper trainer shoes for himself.
So the players in the team used to make fun of him for wearing fake trainers.
Jose saw that and bought new shoes for him that he wore daily for training.
But things took a great turn as Felix joined the Ghana national team, and his team qualified for the world cup.
But his teammates, and their country, are not qualified for the world cup. So now, Felix makes fun of his teammates.
It is not a kind of insulting act but a healthy communication, according to Jose Mourinho.
Visit Doveclove For Spicy Articles Of Your Favorite Celebrities
Subscribe to our Newsletter