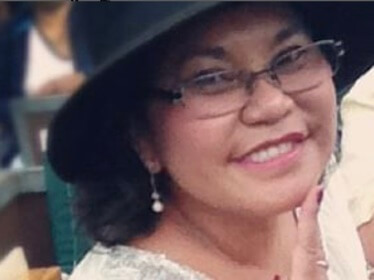 Gina Guangco Hudgens is a celebrity mother. She is the mother of two beautiful and popular American actresses and singers, Vanessa Hudgens and Stella Hudgens.
Gina was married to Greg Hudgens. She had two daughters with her late husband, Greg.
They are Vanessa and Stella Hudgens.
She has a close bond with her daughters, Vanessa and Stella.
She is frequently seen walking down the red carpet with her daughters in Hollywood events.
Gina was interested in music when she was young as she belonged to a musician family. Still, her family never forced or persuaded her to take music as career.
Instead, she was an officer when she was young.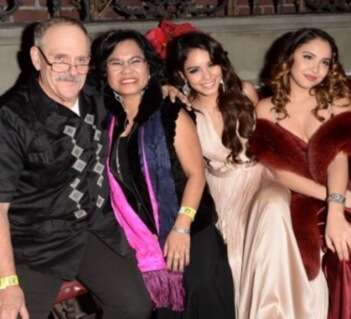 Marriage And Children
Gina met her late husband, Greg Hudgens, when she first came to the United States of America.
They got married only after a few months of dating. Her husband was an Irish man.
She gave birth to their first daughter Vanessa Hudgens in 1988, and their second daughter, Stella, was born in 1995.
Gina was an officer previously, and her husband was a firefighter.
Her husband died of stage 4 cancer on January 30, 2016.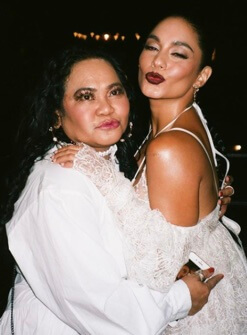 Did Vanessa Spoke With A Spirit?
Vanessa gave an interview on The Kelly Clarkson Show where she talked about her partner, her show, and talking with spirit.
She started the interview by talking about her first show High School Musical which she did decades before. She had to give many auditions to get the role in that show.
She remembers meeting her co-star Lucas and Zac for the very first time.
After that Vanessa talked about her partner. She is currently in relation with Cole Tucker. Her boyfriend is a baseball player and he plays for Pittsburgh Pirates. She is really happy with him.
His boyfriend is into golf too so she got herself involved in golf. She told that she loves the ting sound while hitting the ball.
Vanessa then opened up about her ability to feel the paranormal activity that happens around her. She told that she can see and hear things. Those things are happening to her since her childhood days.
She recalled the memory of when she was only 8 years old. At that time she saw a duck toy moving along with her.
She used to get scared before but now she thinks that it is a god gift so she started investigating. She got herself equipment to find ghosts.
She got herself a spirit box which helps spirits to get in contact with humans and one night she went to the graveyard with her best friend.
She sat down on the tombstone of a person named Sam as she heard that he is a playful spirit.
She introduced her and her best friend and her best friend asked the spirit their name and they heard shhh.
After that Vanessa asked him if he had something to tell them but he answered no. So he told that spirit to stay and they left from there.
She said that if someone doesn't tell the spirit to stay then the spirits follow them.
Snoop Dogg Gave Vanessa A Nickname
In the interview with Jimmy Fallon, Vanessa talked about Snoop Dogg, her new show, and the reason behind calling her a fickler. She started the interview by talking about her place.
Vanessa is from Edinburg but she calls it Edinbra. She told that many people didn't know it is pronounced as Edinbra so she was teaching Jimmy to pronounce it correctly.
Jimmy showed a picture of Vanessa and asked about it. There were lights only and she was like a dot in the picture.
Vanessa told that the picture was of Torchlight Procession and it was her first time seeing something like that.
During Torchlight Procession around 20,000 people hold a torch in their hand they just march down the Royal Mile.
It was an awesome view but at that same time, she got scared thinking what if someone get burnt.
Vanessa then talked about her new show Bad Boys for Life and she played the role of the police. She walked on the red carpet during the premiere of the show and she had worn a beautiful dress.
Jimmy showed Vanessa's photo and asked her how she managed to swing her dress in the air. She replied that she just threw the dress and got captured.
She told that she loves wearing chiffon dresses and is obsessed with throwing and freckling her dresses. That's the reason why she calls herself a flicker.
During the premiere, she met Snoop Dog. She has always been a big fan of him. She had seen him many times but at her show premiere, she got to talk to him.
Snoop gave her a nickname and he calls her Nessie. She shared her experience working with Martin Lawrence and Will Smith and told that they know to treat their cast members.
In her first week, she received a bouquet of flowers and there was no card on it so she asked Matt and he said it was from him and Will. The same thing keeps on happening with her every week.
Age
Her daughter Vanessa is 33 years old. Her birthday is on December 14.
Her height is 5 feet 3 inches tall.
Net Worth
Her daughter, Vanessa's net worth is $18 million.
Did Gina Adopt Jailyn Osborne?
Jailyn is Vanessa and Stella's adopted sister. It is said that Gina and Greg "unofficially" adopted Jailyn.
She and Gina established To Be Heard Productions in 2013.
Vanessa's Career
Vanessa started to give auditions for TV commercials when she wasn't even a teenager.
Her family moved to Los Angeles when her regular auditioning began.
In 2002, at 13, she made a TV debut by appearing in the sitcom Still Standing.
Even though she made a film debut in 2003 and another movie appearance in 2004, it failed to make an impression on the audience.
Her first blockbuster was the movie High School Musical, which helped introduce her to the public.
The movie was a massive hit and was the second most-watched movie in US and UK in 2006.
The movie became a global sensation which expanded with the sequel.
After High School Musical, she got great movie opportunities to work on such as Bandslam, Beastly, Second Act, Princess Switch and Bad Boys for Life.
In 2017, Vanessa served as a judge for the 14th, and 15th seasons of the show So You Think You Can Dance for two seasons.
Her recent Netflix hit was "The Princess Switch." There are three sequels, and it is a holiday movie.
When asked for the fourth sequel in an interview, Vanessa replied and hinted that the fans might see baby princesses in the movie.
Vanessa And Zac Efron's Disney Romance
Vanessa and Zac Efron starred in a Disney movie series High School Musical in 2006 and started dating. The #Zanessa couple dated for five years and broke up.
People loved their chemistry onscreen and offscreen.
However, even after breaking up, they filmed the other two sequels and became a Disney hit couple.
Vanessa Found Love On Zoom
Vanessa is currently dating an American professional baseball player, Cole Tucker.
She met Cole in a Zoom meditation group and made the first move by messaging him afterward.
Their romance gossip set out in November 2020 when they were found holding hands.
Hudgens said that her bond with Cole was something special, and she quoted,
"He's just kind of perfect for me. I am happy."
They made their relationship public and official by posting pictures with each other on valentines day on Instagram.
Visit Doveclove For Spicy Articles Of Your Favorite Celebrities
Subscribe to our Newsletter