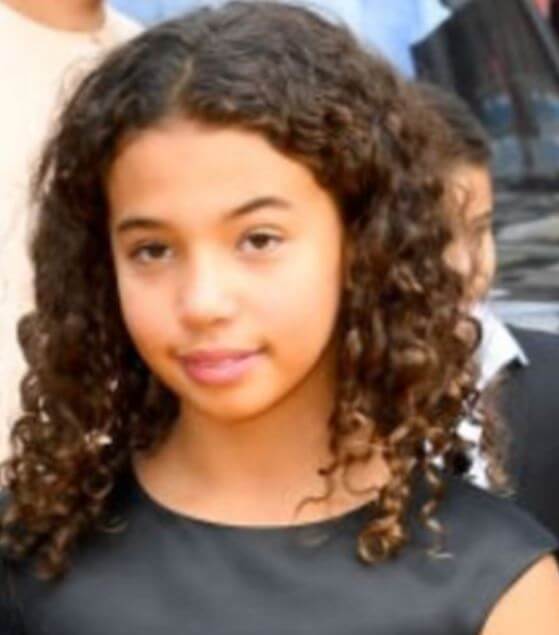 Hania Riley Sinclair is known as being the oldest daughter of famous American actor and filmmaker Vin Diesel.
Hania's mother's name is Paloma Jimenez, who is a model. Hania was born in 2008.
She has a younger brother and sister named Vincent and Pauline. Hania is an American citizen of her nationality.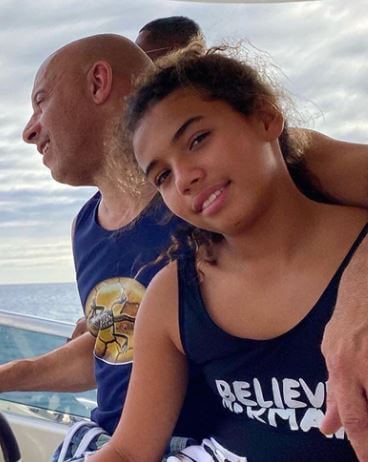 Relationship Status Of Vin Diesel
Vin was in a relationship with Michelle Rodriguez, an actress. They both started dating in 2001.
Vin and Michelle both worked in Fast and Furious. As costars, they started dating. They broke up after dating for a short time.
After that, he got into a relationship with Paloma Jimenez. As of 2021, he is still together with Paloma. Paloma is a well-known Mexican model.
They both started dating each other in 2007. Since then, they have been together.
They gave birth to their first child, Hania Riley, just a year after dating.
After that, in 2010, they had their second child, a son named Vincent Sinclair.
Vin named his youngest daughter Pauline in memory of his friend Paul Walker.
They had completed 14 years of their relationship and still counting more.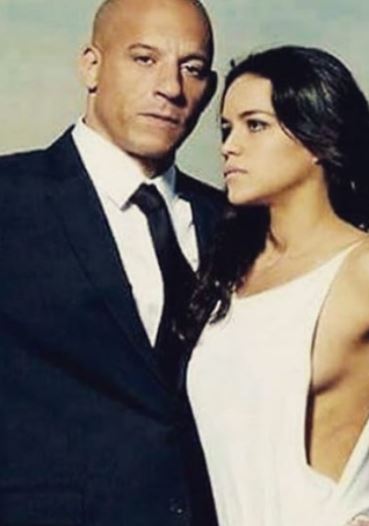 About Vin Diesel
Vin is an American actor and filmmaker born on 18 July 1967.
His birth name is Mark Sinclair, but professionally he is known as Vin Diesel.
His mom and stepdad raised him with his fraternal twin brother.
He started his acting career at a young age and went through many struggles. He has shown his appearance in many movies.
Vin is well known for role-playing Dominic Toretto in the Fast and Furious movie.
He is one of the highest-paid and most talented actors who has earned huge popularity.
He has received many awards for his performance in movies.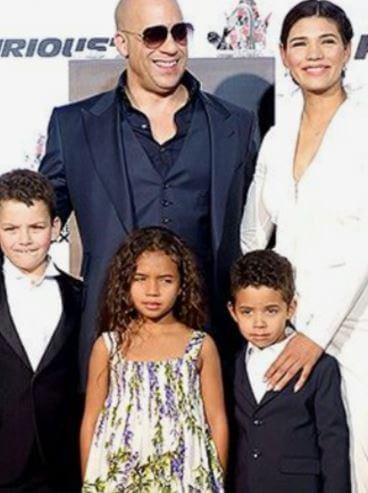 Encouraging Text Sent By Hania To Vin
Vin gave an interview on The Tonight Show, Starring Jimmy Fallon. In that interview, he talked about his daughter and the movie.
At the very start of the interview, a photo of Vin with his newborn baby was shown.
His daughter's name is Pauline, and it is known that he named his daughter name Pauline after the demise of his beloved friend Paul Walker. The photo shown by the interviewer was amazing.
His little daughter was holding Vin's head with her little head, and she was teething with his head with her mouth. Vin then revealed about his daughter, Hania, who was seven years old at that time.
He said that his little daughter has an iPhone with her, from which she texts him adorable messages. Vin was very excited about what his daughter texted him.
He knew it was inappropriate to show other text messages, but he couldn't control himself and read his seven-year-old daughter's message.
Vin's daughter Hania sent him encouraging messages saying Vin would make a stunning movie.
His daughter writes how much she loves her dad and how proud her dad is in those text messages. She also writes that she misses her dad a lot, and she has complete faith in her beloved dad.
The interviewer made that thing hard to believe, and Vin showed him the messages.
Vin was shooting his new movie named The Last Witch Hunter when his daughter used to text those encouraging messages.
She was really small at that time, and the movie Vin was working on was a horror movie, so sadly, she couldn't watch that movie.
It was a scary movie, and it was released on Halloween. Vin opened that his new horror movie had romance, love, and many things.
Vin Was A Street Performer
Vin gave an interview on "The Late Late Show with James Corden."
He talked about his new movie, his love for music, and many more. His costar Eiza Gonzalez was also there in the interview with Vin, and the interviewer asked Eiza about her experience of working with him.
Eiza replied, saying that she enjoyed being part of Vin's world and feels Vin has a fantastic personality.
Then Eiza opened up about the story of Vin entering for dinner with his boombox and singing there.
Vin then revealed that he used to play music in the street in the past day.
He said that he wish that people could see him playing music and dancing in the street and walking with his caps in his hand, asking people to donate whatever they could.
He said that he was a street performer and really in music. He thinks that music is very important in his life.
He told people that music is one of the important things when making movies.
He said that his kids love when he sings, and the interviewer also showed a picture of him recording a song in a studio.
Vin has posted many singing videos on his social media, Instagram.
The interviewer said that he did listen to some of the cover songs sung by Vin.
He then opened up about the four-year-old daughter who sings the song that Vin plays, and he feels really happy when he sees her daughter like that.
Vin's costar Eiza said that Vin is good at speaking Spanish. Vin also appreciated his costar, saying that her role in their new upcoming movie "Bloodshot" is fabulous.
She had well played her character in that movie. Vin then talked about his new film Bloodshot saying that the latest movies in which they are working are exciting.
It has emotion, drama, laughter, and many more. He said that people would love that movie.
Protecting Himself From COVID Virus
Vin Diesel gave an interview on Jimmy Kimmel's Show where he shared about the preventive measures that he has been taking to protect himself from a deadly virus, and he also talked about his daughter's birthday and many more.
The interviewer asked him about what he did to protect himself from viruses.
During the pandemic, he was shooting for his movie and he told that he had to perform stunts and shoot with many people.
He said that he belonged to the people sitting and enjoying his interview as an audience, which means that he was risking himself in a pandemic.
He then talked about his children and told in an interview that he has three kids and his daughter's birthday was coming.
He opened up that his daughter wanted Post Malone and Sway Lee to perform on her last birthday, so for this birthday, Vin needed to make a list of people and ask her daughter about whom she wanted on her upcoming birthday.
He told that her daughter wanted her friends and Ludacris on his upcoming birthday.
Vin told that his daughter and Ludacris's daughter were first friends with each other and when he sees them playing together he finds that scene really adorable.
Vin then talked about his new magazine photoshoot with pigeons and said that he started loving pigeons after seeing a movie and thought that he must love pigeons as an actor.
The interviewer then started talking about his movie Fast and Furious nine.
The trailer of that movie crossed millions of views on Youtube.
Vin told that he added John Cena, Hele Mirren, Charlize, and Cardi B as a new member of his team.
He told that he added Cardi B because of his daughter as she wanted Cardi B in that movie.
He really enjoyed working with John Cena. To know more, do check the interview.
Vin Was A Bouncer
Vin gave an interview to a Brazilian interviewer named Carol Moreira. In the interview, he talked about his past, real name, and many more.
He was flirting with the interviewer at the beginning of the interview, and then he was asked if his real name was Mark.
Vin opened up that his real name is Marco Vincenzo, and he grew up in New York.
He revealed that he had his gang on New York street in his young days. Vin started his acting career when he was only seven years old.
He went to the theatre when he was 6 or 7 years old and got his first role. The theatre woman told him that she would pay her 20 dollars and all he had to do was say the lines.
He got ready, and that is how he started his acting career. Vin had also worked as a bouncer for ten years in New York, which was dangerous.
He got involved in many fights, and his many friends were killed too. Vin was lucky that he managed to save himself.
He gained a lot of experiences in his life through his past and said that his experience had helped him a lot in his acting career.
Although he started his acting career very early, he was unable to make his place in the acting industry.
He was 27 years old but didn't get any breakthrough roles, and he thought of directing.
He directed, produced, and acted in his movie named Multi Visions. Besides that, he also became the chef and made pasta for everyone in the film.
That was when he slowly started making his name in the industry. He also opened up that Tom Hanks is his mentor and he is the one who told him about the truth of the acting industry.
He adores him a lot.
Vin Is Not A Good Kisser
Vin Diesel gave an interview on TheEllenShow, where he talked about his success in the movie, new movies, and kiss scenes.
Ellen started the interview and congratulated Vin on the success of his film Fast and Furious.
His movie made a billion in an amazingly short time. Vin said that his film got to win because of his fans.
He was happy that people showered so much love on his movie, and it became a hit because of the love and admiration of people, and he was very thankful to them.
Vin said that he doesn't prefer doing a sequel in his movies, and it is because in the 80s and 90s when there was a sequel, it made the film less classic and special.
He denied two attempts at a sequel, and after that, he was told to direct the movie, and he did it.
It became the blockbuster movie of all time. After that, Ellen told Vin about Charlize Theron.
Charlize and Vin starred in Fast and Furious. Charlize called Vin a dead fish when she came to Ellen's interview.
Charlize and Vin had a kissing scene, and Vin kissed her like a dead fish. She liked some lips movement, but Vin didn't do anything.
Vin told Charlize that it was a great kiss, but Charlize felt it was like a psychotic kiss.
When Ellen said this, Vin was shocked and opened up that Charlize shouldn't have said that on Ellen's Show.
Vin also talked about his new movie, which was going to release. His latest film was named "Garden of Galaxy."
It is the first movie that his kids will be able to see. He took his kids to the film's premiere, and his son was why he played the role of Groot in that movie.
He showed his son a concept from the book marvel and asked him which role he wanted Vin to play, and he chose a tree.
While traveling also, when his son sees a tree, he shows trees and tells them Vin's sister and brother.
Age
Hania's current age is 13 years old.
Net Worth
Hania's father Vin has a net worth of $225 Million. His source of income is acting and filmmaking.
His earning is estimated to be $20 Million per movie.
Hania Riley Sinclair Is An Actor Like Her Dad
Hania is known to be the daughter of the famous actor Vin Diesel.
She was known by her father's name, but now she is making her own name by playing a role in a famous movie Fast and Furious in animation version beside her dad.
This is not her first movie, though. She has been cast as an actor from her childhood. She is talented, just like her father.
She might be too young, but her performance shows how mature she can turn in the future in this field of creativity.
Why Did Vin Keep His Daughter's Name, Pauline?
Vin has two daughters and a son. His oldest daughter's name is Hania and his second son's name is Vincent.
His youngest daughter's name is Pauline. After the birth of his third daughter, Vin announced her daughter's birth through social media.
After knowing his daughter's name, everyone was curious to know why Vin kept his daughter's name.
Vin opened about the reason behind keeping his youngest daughter's name Pauline.
He said that he kept her newborn daughter Pauline in the loving memory of his friend Paul Walker who was close to him.
Paul Walker lost his life in an accident. His daughter's name will make him feel that his friend Paul is always close.
Van Hates To Lose Fight In A Movie
The Fast and Furious movie has many popular stars, including Vin, Dwayne Johnson and Jason Statham.
They all are top actors and are the lead character. They all don't want to lose fight and want the movie to show that they are strong characters and dominate others.
They didn't want their character to lose to anyone or get beaten up.
Hence they signed a contract with the production about them not being the loser character in the movie and to be a leading strong, muscular and badass character stronger than anyone else.
Visit Doveclove For Spicy Articles Of Your Favorite Celebrities
Subscribe to our Newsletter