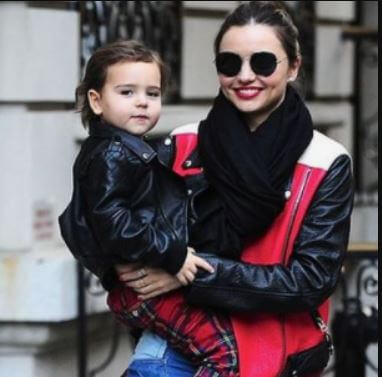 Hart Spiegel is the two-year-old son of Miranda Kerr and Evan Spiegel. Hart is the first son of a famous couple. He is adorable.
Miranda And Evan Announcing Their First Baby
In November 2017, the couple was very excited to announce that they were expecting a baby soon. The couple had their child in May 2018.
He was named after Spiegel's grandfather.
Hart's New Baby Sibling
Miranda and Evan had a baby boy in 2019. The boy is named Myles, and his exact birth date hasn't been revealed yet.
He also has a stepbrother, Flynn Christopher Blanchard Copeland Bloom, who is now ten years old.
Flynn is the child of Miranda with her first husband, Orlando Bloom.
About His Parents
Miranda was the first Australian to become a Victoria's Secret Angel in 2007.
After achieving such a milestone, Kerr managed to stay relevant in the modeling industry and is now one of the world's highest-paid models.
Miranda started her career when she was very young; she was 13 when she won the 1997 annual Dolly magazine/Impulse model competition.
After the photoshoot she had done for Dolly, people claimed that it showed a form of pedophilia, to which Kerr responded that she was fully clothed and that Dolly is a magazine for teenage girls, not for older men.
Miranda has had lifelong success in her modeling career.
She has worked with Maybelline, Victoria's Secret, Prada, Rolling Stones, Clinique, and Vogue.
She also launched her brand of organic skincare products, which is called KORA Organics.
Evan Spiegel is the co-founder and CEO of the American social media company Snap Inc.
In 2015, Speigel was only 25, making him the youngest billionaire in the world.
Evan was getting his degree from Stanford University, which he left to focus more on Snapchat.
Now, the app has 229 million daily active worldwide.
Evan Speigel's Leaked Emails
Emails sent by Evan when he was studying at Stanford were leaked, which showed misogyny.
In these homophobic comments, he insults women by describing how he wants to get his friends laid by wasted "sororisluts" and shoot laserguns at "fat chicks."
After these emails were leaked, people started disliking him and accused him of being sexist and cocky.
Miranda And Evan First Meet
The couple met each other in 2015 at a dinner for Louis Vuitton.
Glenda Bailey predicted that these two people were meant to be together, but Evan thought he had no chance with Kerr.
This was until after a month when Kerr texted Evan, and that's when their beautiful journey began.
In May 2016, the couple purchased a 7,164-square-foot house, which used to be Harrison Ford's home.
This was a $12million house in Los Angeles. Soon after they bought the house, the couple got engaged On July 20, 2016.
The engagement ring was reportedly 1.75 to 2.5 carats, estimated the ring to cost around $75,000 to $100,000.
Miranda And Evan Have An Intimate Wedding Of Only 45 Guests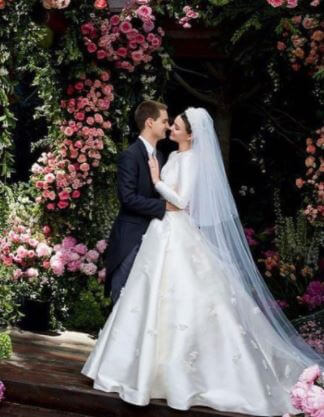 In May 2017, the couple got married in the backyard of their home in Brentwood, California.
The couple decided to have a secretive wedding with few people.
Their guests were picked at desired locations and were dropped in the venue in blacked-out limos.
Miranda was wearing a custom Dior Haute couture gown, which was her dream wedding dress.
She said she could not have imagined a better dress, that it was mysterious and beautiful.
Romantic Honeymoon
The couple had their honeymoon on a private island in Fiji of Laucala.
The resort they spend their nights in has nightly rates ranging between $6,000 and $60,000.
Miranda Accuses Facebook Of Copying Snapchat
Miranda accused Facebook of stealing Snapchat's concepts and features and said they are not innovative. She is sick of copying her partner's ideas.
Excitement For A New Baby
Miranda gave an interview on the talk show "Jimmy Kimmel Live."
While Miranda showed her appearance in that show, she was pregnant.
She was there with her baby bump, and the interviewer was shocked to see Miranda wearing high heels during her pregnancy days.
Miranda said that she ran out of breath while walking in that interview and opened up that the very first symptom that made her know about her pregnancy was her shortening breath.
She opened up that she took her pregnancy test at home, and when she knew that she was pregnant, she got really happy.
Miranda then talked about her using different skincare and body care products during her pregnancy phase.
She said that she has been oiling her bump with some good products so that she could prevent herself from getting stretch marks.
Miranda has her own skincare product, and she told me that she has a good range of products for men too, and she brought some for the interviewer and his wife too.
Miranda then talked about her husband, who is the CEO of Snapchat, and told him that her husband is a very private person.
She then talked about their first meeting and how things started between them.
Miranda said that her husband is very serious about his work and also told him that her husband was very excited about their first baby.
She revealed that the next day of their wedding, her husband came to her and asked her if the baby was there or not.
Miranda wants to give her children a private life, so she told the show that she won't be sharing her newborn's things on Snapchat.
Miranda then again started talking about her skincare line and said that she launched her skin product in Australia.
Before launching, she tried many products, and she wanted to make organic products so that she could help people get the results they actually want to get.
Miranda's Biggest Regret
Miranda talked about the things that she had never done in her life.
While talking about these things, she showed the products she created, as she has her own skincare brand made with organic things.
She opened up that she never goes to sleep with makeup on her face.
She loves taking a shower, and while doing that, she cleanses off her makeup with cleaning oil, which helps melt her makeup and take off easily.
She has never left her house without moisturizer. She is obsessed with moisturizers, so she created her own moisturizer too.
When she was a baby, she might have left her home without moisturizer, but she doesn't remember properly. But she always keeps her face and body moisturized as far as she can remember.
She wanted others to try the moisturizer created by her, and she assured that after using her moisturizer, people would never leave their house without moisturizing their skin like her.
Miranda then opened up that she hadn't popped other pimples, but she did pop her pimples sometimes.
She then gave a tip to people, telling them not to pop their pimples; instead, they can use a spot treatment on their pimples, which will help them deal with pimples cleanly.
Miranda then talked about her biggest regret, bleaching her eyebrows.
She said that she bleached her eyebrows for her job, which was her biggest mistake because her skin started burning after bleaching the eyebrows. So, she considers it her biggest regret.
Miranda called herself an exfoliating freak. She said that she exfoliates her skin every day with a natural exfoliate that doesn't cause barrier damage to her skin.
She opened up that she doesn't watch TikTok videos and has never tried any of the beauty hacks of TikTok, and she prefers not to follow the trends of TikTok.
Underwear To Keep Husband
In one of the interviews, Miranda talked about her son and her grandmother.
Her son was just two years old when she gave this interview, and the interviewer's son was also two, so she suggested to the interviewer that their kid do a play date.
She said that her two-year-old was amazing as he could play piano.
She had done a play date where her son went straight for the mini piano and started playing it.
She also loves playing piano, and her grandmother was very good at playing piano, so piano playing is something that runs in her family.
Miranda belongs to Scottish and Irish ancestry, and despite that, she is not very fond of whiskey, but she loves drinking Guinness and tea.
Earl Grey is her favorite tea, and as the interviewer also liked the same tea, she invited him for a play date where they could drink tea together.
She then talked about her son holding three citizenship. Miranda is Australian, whereas her husband is English, but their son was born in Los Angeles, USA, which makes Australian-American-British.
Miranda has been a Victoria's Secret model for a long time, and she has to do fashion shows with her underwear and wings.
She has no problem doing that, but when there's her husband and friends in the audience, she feels kind of embarrassed.
In the interview, Miranda wanted to talk about her grandma, so she shared the advice that her grandma gave to her.
Her grandma told her to wear a little bit of makeup daily and wear nice panties always to keep her husband, which was weird.
She then opened up about growing up riding horses. She had a paddock where her family kept horses, so she learned to ride horses at a young.
Also, she shared her plans to teach her son riding to horse after he's done with piano.
Net worth, source of income of Hart's parents
Miranda Kerr has a net worth of $60 million, and Evan has a worth of $9.6 billion.
Miranda's source of income is modeling and business, and Evan is a billionaire businessman.
| | | |
| --- | --- | --- |
| | Miranda | Evan |
| net worth | $60 million | $9.6 billion |
| source of income | modeling, business | business |
Age, weight, height
Hart is two years old.
Visit Doveclove For Spicy Articles Of Your Favorite Celebrities
Subscribe to our Newsletter