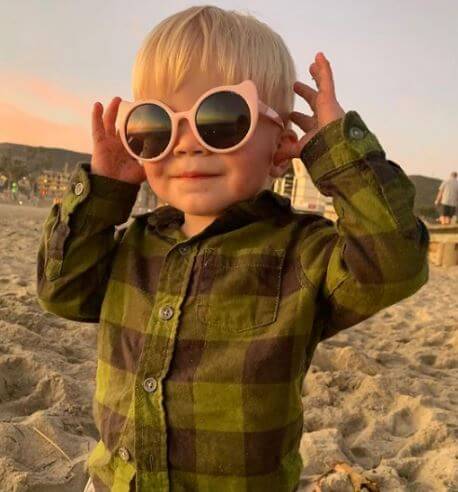 Hudson London Anstead is the one and only son of Christina Anstead and Ant Anstead. His nickname is Hudzo.
Birthday and Siblings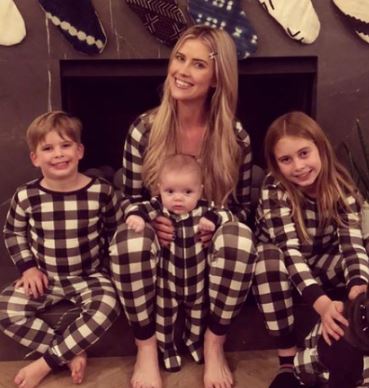 On September 6, 2020, Hudson and his entire family celebrated his first birthday.
His mom and dad have also posted a heart-touching birthday wish on Instagram with his 41 slide show footage.
He has four siblings altogether. Two are from his mom's side, and two are from his dad's side.
Taylor EI Moussa, who is nine years old, is the sister of Hudzo and Brayden EI Moussa, five years old, a brother from mom's ex-husband Tarek EI Moussa.
Amelie Anstead, seventeen years old, is his sister, and Archie Anstead, thirteen years old, is his brother from his father's ex-wife, Louise Anstead.
About his father
Ant Anstead is the father of Hudson. His full name is Anthony Richard Anstead. He was born on March 28, 1972, in Plymouth, United Kingdom. He is 42 years old now.
He is a British television presenter, motor specialist, car builder designer, and artist. He went to Richard Hale School for school level and Hailey Bury School for A-levels.
In 1991, he began his career as a Police Constable at Hert Ford Shire Constabulary. He was a very hard-working constable. For that, he receives two commendations for an act of bravery.
In 2005 he left the job of constable and started his career as a car builder. Besides car building, he also has an interest in TV shows.
He started his new TV production named The World's most expensive Cars in 2014.
He works for different TV shows as a presenter. He did "The love of cars" in 2014, Building Carline in 2015, World's most expensive car in 2016.
In 2017 he worked for four different TV shows, and The Wheeler dealers were the best ones. Similarly, in The Coast, Cristina was the best one, and in 2020 World's Greatest Cars get huge popularity.
Marriage and Divorce of Parents
Marriage, wife, wedding, and divorce are very complex in this family. Both mother and father of Hudson have married twice. They both have ex-partners.
Christina Anstead, the mother of Hudson, got married for the first time to Tarek EI Moussa in 2009. He is an American TV personality.
He was seen in HGTV hit series Flip or Flop as a star. The marriage life did not go well, so they ended up their relationship in 2018. Christina has two children from her first husband.
In 2018, for the second time, she got married to his father who is an English Television presenter and car builder in Newport Beach home in December 2018.
Ant's first wife's name is Louise Anstead, and the couple has two children, a daughter Amelie and a son named Archie. The couple got divorced in 2017.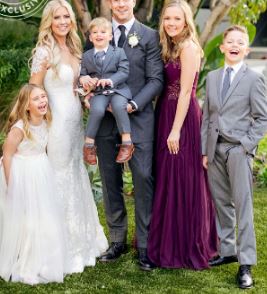 Ant and Christina had a son Hudson in 2019. After years of having a son, this couple celebrated their son's birthday with so much love, but a piece of news came out regarding their relationship that they are no more together.
The couple announced their separation in September 2020, and they filed for divorce in November 2020.
Nervous about taking over on Wheeler Dealers
Hudson's father Ant gave an interview to DrivaTribe staying in his garage. In the interview, he has talked about himself, his family, his work, and his experiences.
Ant is a famous TV host for the channel Discovery. He is also the founder of Dowsett Classic Cars. He was born in Britain but now lives in California, America with his American wife.
Their son Hudson is 1 year old. He lives near the pacific coast highway in Newport beach. He frequently goes cycling there and loves to connect to nature. He is into cars and owns many.
Ant was a police officer for about 5 years. He started his police officer journey in 1999 and ended in 2005.
He shared in an interview that he had a great experience while doing the job. Some of which were chasing the criminal who stole a car, solving the murder case etc.
While he was in Britain, he did a popular show named Wheeler Dealers. He was a chief mechanic with his partner Edd China. Chief joined the show after 13 seasons.
He shared his experience of criticism in the interview. He said that chief mechanics never get credit for what they did. They make a great car with a good engine, nice paint, and perfect parts, but some people give unwanted complaints.
People on social platforms criticize him and his team as well. Despite criticism, he loved working in the show as he has a great team with him, including Simon, Nick, John, and Mike, who has been in the show from its initial days and are brilliant at what they do.
Ant has worked with many cars in the show, but the best part was that he got to work with his first BMW car in the show.
He had this pressure of meeting the expectation of people as he came in place of Edd, and he was fully confident that he was one of the best in a business, whereas his favorite episode on the show is with the car palam 96.
He might have been a TV personality, but according to him, he also likes to be on YouTube too to provide content to many people. He is currently in his show Master Mechanics.
Ant Anstead met his children after a year
Ant Anstead gave an interview on Extra Tv with Cristy Lee. He opened up about his new show with Cristy Lee and some of his stuff there.
At the very beginning of the interview, it is known that Ant could not meet his children for a year.
It was a tuff time for him. He had some restrictions on his visa, and because of that, he could not go and meet his family, and neither were they allowed to come and meet him.
It was hard for him to stay away from his kids for so long. A year later, he met his family and spent the whole time with his kids, making him very happy.
The interviewer then asked them about their new show, Joyride, and she asked Christy and Ant about their movie.
Their new movie was about car people who work in cars for a celerity. But the twisted part is that they were unknown about the person they were creating a car for, and they haven't met him.
Christy opened up that she enjoyed doing that show and said it was really good and fully enjoyed it.
Then the interviewer asked Ant about Renee Zellweger, who showed her appearance in the first episode.
Then Ant explained her role and what her role play was exactly about. The interview asked the last question to Ant about Renee and his relationship, but Ant slowly got up from there without answering, which was funny.
Ant opened that they tried to keep their relationship private, but somehow it was known publicly.
On the other hand, Christy said that Renee was amazing and she enjoyed working with her. To know details, do check the link.
Net worth
Hudson is just one year child, so there is no question of his net worth.
But his parents have a good net worth. It is structured below:
| | |
| --- | --- |
| Christina Anstead | $4 million |
| Ant Anstead | $ 5 million |
Source of earning to earn net worth is:
| | |
| --- | --- |
| Christina Anstead | An American Real Estate Investor and TV personality |
| Ant Anstead | An English TV presenter, motor specialist, car building, designing, and artist. |
Age, Height, and Weight
He was born on September 6, 2019. His current age is one year old.
He is a growing kid, so his exact height and weight are hard to track.
Visit Doveclove For Spicy Articles Of Your Favorite Celebrities
Subscribe to our Newsletter