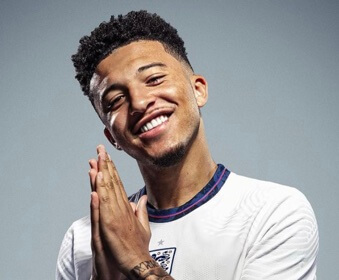 Jadon Sancho is an English professional player. He currently plays for the team Manchester United in the position of Winger.
He was raised by his parents in Camberwell, London. Talking about his siblings, he had a younger brother who died when he was very young.
He is an English - Trinidadian citizen.
Who Is Jadon Dating Now?
Jadon is single, and he doesn't have a girlfriend.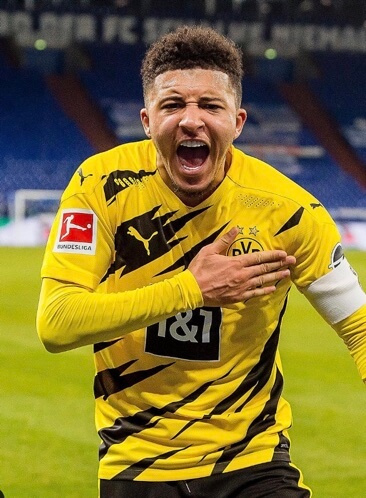 Age And Net Worth
Jadon is 22 years old. The net worth of Jadon is $8 Million.
Jadon Learned From Cristiano Ronaldo?
Jadon was new to Manchester United when he stated that Cristiano Ronaldo had a great effect on Manchester United and the players over there.
He was too much inspired by Ronaldo.
He admitted that he has learned to style his play by looking at and learning from Cristiano Ronaldo.
It is not the only player he looks up to. He revealed that his biggest idol is Ronaldinho and Wayne Rooney.
They were the on that really shaped Jadon into how he is now. He considered these two players as his idol and someone he considered legend.
Jadon Wants His Family To Watch His Game
Jadon was in Germany playing for Dortmund for four years.
Back in his days in Dortmund, he was more focused on playing his part in the team and getting the win for the team.
So he didn't focus on any external news. One of the news was about Manchester United being interested in him.
But finally, when he got out for the euro matches, he got to know about the Manchester United being interested in him, and the news was very much hype.
He was really happy about it because England was his home country, and being able to play inside the country with one of the best teams in the world was something he couldn't ask for.
Hence he joined the club.
Also, he always wanted to be close to his family and wanted them to watch his matches live, which became possible after joining United.
Jadon Linked With Bruno
Jadon revealed in an interview that he really has a winning mentality. It is something he plays for and tries to do so.
Coming to Manchester United, he also wants to be a part of the game with very close competition and score the winning goal.
He also expressed that he and Bruno were on the same team during the training, and like Cristiano Ronaldo, they both had the same spirit of taking training seriously and winning in training as well.
He opened up that he and Bruno really synced well in the training ground.
He also admitted that Bruno is one of the players needed in a big team like United, and he is looking forward to scoring goals and winning the game with Bruno and the team.
The Biggest Day Of His Entire Career
Jadon has achieved much at a young age and is still grinding at his best.
But when asked about the most memorable and biggest moment of his career, he remembered the day he was called out for the English national senior team.
He was really amazed by the fact that he was on the national team.
It was a dream come true because, as a player from England, it was his biggest dream.
When he got the call for his selection to the national team, he immediately called his family and closed once.
He can never forget that moment in his life.
Visit Doveclove For Spicy Articles Of Your Favorite Celebrities
Subscribe to our Newsletter