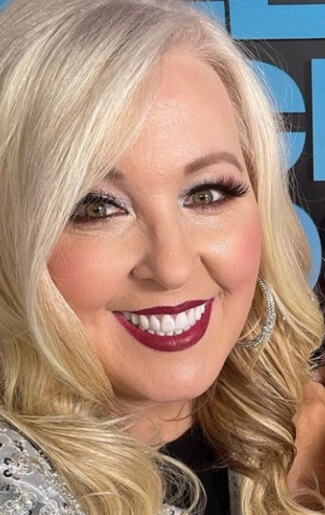 Jessalynn Siwa is the mother of an American dancer, singer, and YouTube personality Jojo Siwa.
She is happily married to Tom Siwa. She has a daughter and a son with Tom, and their names are Jojo and Jayden.
Jessalynn herself is a reality star. She is an American citizen by her nationality.
Dating Life Of Jessalynn Siwa's Daughter Jojo
Jojo is bisexual by her sexuality. She was in a relationship with Mark Bontempo, a musician.
They dated back in 2020 for a very short time.
They nearly dated for 3 months and later broke up with each other after that, she dated a girl named Kylie Prew.
They ended their relationship in 2021 after being together for a year.
How Did Jojo Meet Kylie Prew?
Jojo met her ex-partner Kylie in Crusie. They introduced each other and got very close in no time.
They started their relationship as a best friend at the beginning, but a year after their friendship, they realized that they had something more than friendship, and after that, they eventually started dating each other.
About Jessalynn Siwa
Jessalynn is a popular American reality star born on December 8, 1974. Her parents raised her with her one sibling in the United States.
Jessalynn is well known for being the mother of famous dancer JoJo Siwa.
She is also a dance teacher who owns Underground Dance Factory.
She came to the spotlight after her appearance in Dance Moms reality show with her daughter Jojo.
Besides that, she is also a Youtuber who has her channel named Success with Jess.
She is a very talented woman who has managed to get success and fame because of her hard work.
She is a married woman and has two children with her husband.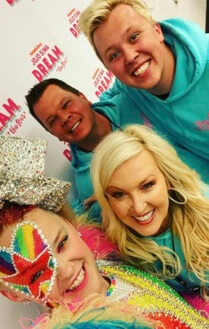 Jessalynn Wanted To Have A Show
Jessalynn Siwa gave an interview to the "Extratv" along with her daughter JoJo Siwa.
They talked about their new series and their dance show in that interview.
The interviewer Rachel Lindsay started the interview by asking them about their new show.
Jessalynn wanted her daughter JoJo to speak about that show, but JoJo told her mom that it was her show and she should be one talking about it.
Jessalynn said that she and her daughter is making a team of girls who are talented and capable of dancing, acting, and singling.
They searched 11 girls from different parts of the world. They were very excited about the show and were eagerly waiting to show their team to the whole world.
JoJo also shared her feeling about working with her mom. She opened up that she had been working with her mom since dance-pop and participating in the Dancing Stars show.
She said that she was glad to work with her mom and share every moment with her.
Her mom made JoJo the choreographer and creative director of the 11 girls team.
She has to handle the team, and she felt quite pressured while doing that because it is her mom's show and her perception that she has to make it work and get success on it.
Jessalynn appreciates her daughter, and she tells her daughter JoJo that the team won't be anything with JoJo.
Those words from her mom make JoJo feel happy about it.
The interview then asked Jessalynn about her inspiration behind making that show.
She replied that she always wanted to make a show, and when she was on Dance Mom, she felt that she would do this and that if it was her show.
During the pandemic, she worked on it and made it happen in real.
Age
Jessalynn is 47 years old. Her height is 5 feet 10 inches.
Net Worth
The net worth of Jessalynn is $5 Million. Her source of income is Television reality shows.
The average income of a reality TV star is $33,500 per year.
Jessalynn Siwa Doesn't Seek Fame And Money
Jessalynn is now known to be the mother of famous dancer Jojo.
They are financially secured and have a lot of fan following. But with popularity comes criticism too.
Jessalynn was blamed that she kept her daughter forward and making her dance to gain money, fame and every good thing that comes with it.
But it is not so. Jessalynn has never pressured her daughter.
In addition, she has always suggested her daughter to give herself some free time.
She is also quite popular among dancers, and she has all she needs.
She wants her daughter to follow her dreams and work for them. She has never pushed her daughter to do anything by force.
Jessalyn Left Her Job For Her Daughter
Jessalyn's daughter Jojo is a young dancer who has fans in millions and is loved by all.
By watching her, it's easy to say that dance run in her blood.
Jessalyn herself was a former dancer and choreographer. She was successful in her career.
Her husband was a chiropractor. But they left their job for Jojo.
Jojo is still young to handle everything by herself. And people cannot be trusted so easily in today's days.
Hence Jessalyn and her husband decided to leave their job and focus on Jojo.
They together handle all the works of Jojo. Jessalyn handles all her schedules and routine.
And they also handle her business-related things and document works.
It was a big choice and sacrifice by her for her daughter.
Jessalynn Is Still Trying New Things
Jessalynn Siwa was a former dancer and choreographer.
She loved dancing, and by building her great career, she completed her dream of becoming a dancer.
She then wanted to be a choreographer, and she did fulfill that too.
She became a teacher to teach dance to the young talents and shared her skills. She even opened her dance studio.
She thought all her dreams were fulfilled, focusing on her child.
She was missing out on social interaction and interacting with public.
Hence she has now opened her podcast on YouTube. In this way, she found a way to come across her fans every week.
Visit Doveclove For Spicy Articles Of Your Favorite Celebrities
Subscribe to our Newsletter