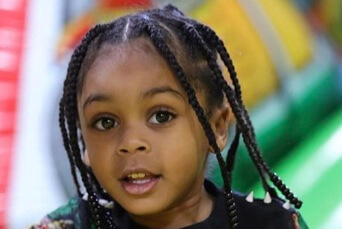 Kacey Alexander Gaulden is a celebrity child. His father is a rapper and singer YoungBoy Never Broke Again.
He was born in 2019. He holds Afro-American ethnicity. His mother is Jania Meshell.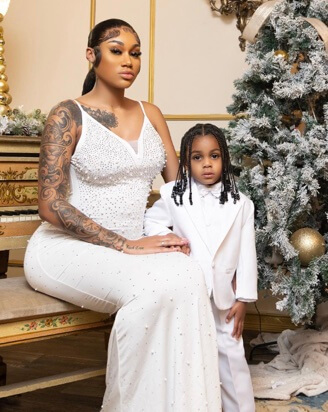 YoungBoy Was Alleged Of Assaulting Kacey's Mother
In 2018 YoungBoy was arrested on the charge of assaulting and kidnapping Jania.
He was arrested after a video of him dragging her to the hotel room was broadcasted by a news channel.
Other reports claimed that he forced her to sleep in the hotel lobby so that he could hook up with another girl.
Jane admitted sleeping in the hotel lobby, but she denied the allegation of being assaulted by him.
After her statement, all the charges against him were dropped, and they returned together. She got pregnant and welcomed their baby Kacey in 2019.
They are not together now.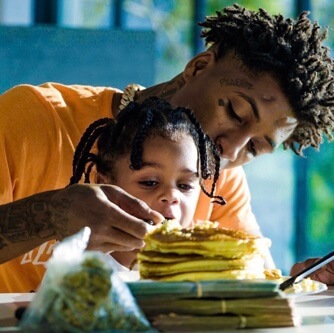 Is YoungBoy Dating Anyone?
Young is in a relationship with Youtuber and influencer Jazlyn Mychelle. The two have been together for like two years now.
They welcomed their first baby together in 2021.
In an Instagram post, Young announced they were expecting their second child.
There is a rumor that the two are officially engaged, as Jazlyn is spotted with a huge diamond ring on her finger.
YoungBoy Enjoys Being On House Arrest
YoungBoy is one the known rappers in the world of rapping. He has managed to earn huge success and popularity through his rap songs, and there are people who are just crazy about him.
In 2020, the young rapper was arrested on charges of using drugs and carrying weapons in the street.
The actual thing that happened that day was YoungBoy, and his group of friends were abusing drugs and carrying guns in the name of making music videos.
One of the men living over there called 911 and made a complaint about him. He was arrested, and for one year, he served jail however, a year later, he was kept on a house arrest.
Since 2021, he has been under house arrest till now. House arrest is a punishment for him, but he actually enjoys being on house arrest.
According to YoungBoy, he always wanted to be somewhere where he could be himself and safe because of that, the house arrest became advantageous to him.
He could do anything in his house, and he spent his whole day making songs and partying, playing Xbox.
He actually enjoys being on house arrest, and moreover, he likes the time when he is alone in his big house. He even revealed that he had slept in his Tesla while being on house arrest.
He is bound by rules while he is under house arrest.
And as per the rules applied to him, he was allowed to have more than three visitors per day, but now the restrictions have been modified, so he has no restrictions on the number of people visiting him.
No visitors are allowed to meet him before 7 am and after 9 pm. He has to be under house arrest unless he is proven innocent.
Age
Kacey is three years old.
Net Worth
Kacey's father's net worth is estimated to be $6 million.
YoungBoy Talked About His Jail Experience
Young grew up in Baton Rouge. He said it was challenging to live a life in that city.
He shared it was either jail or death. He said he experienced what it felt like to live in violence.
He said that going to jail was not the best thing that happened to him. He said it helped him a lot to build himself up.
He learned the lesson from his jail experience. He said in jail, he never used to talk with other prisoners.
He said he didn't want to get into any trouble inside the jail. He further added that his jail time taught him to write faster and not to be tough on himself.
He used to write two songs a week. He was locked in jail for 3-4 months. He said he never wanted to talk and think about that place.
A Message To His Younger-Self
In an interview, YoungBoy said that his advice to his younger self would be to work harder and focus on his music instead of involving in other things.
He said he did some really bad things when he was young.
He didn't attend school and was very aggressive. He said he wanted to make sure that his younger self was a good person.
YoungBoy Hated Going To School
YoungBoy said that he never thought that school and education were important to him.
He added the main aim of going to school is to be somebody to earn a decent amount in the future.
He said he earned money without getting higher education.
He mentioned his focus is to earn money for his kids, and does that through his music. So he doesn't consider going to school a good thing.
YoungBoy Doesn't Want To See Him As Rapper In 10 Years
When asked where he wanted to see himself in the next 10 years.
He answered that he wanted to be as rich as possible and have a different career.
He said he wouldn't be raping for that long. He wanted to start his record label and sign people. He also shared ideas about investing in movies.
Visit Doveclove For Spicy Articles Of Your Favorite Celebrities
Subscribe to our Newsletter