Kingston Fisher Lourd Rydell is the son of American actress Billie Lourd. His father's name is Austen Rydell, an actor and producer.
He was born in 2020 and is currently a year old. Kingston has his birthday on September 4.
He is an American citizen.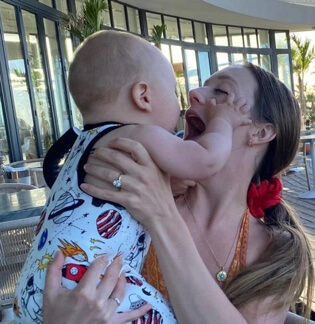 Parent's Married Life
Billie is currently married to her on and off boyfriend, Austen Rydell.
The couple started dating each other back in 2016, but after some time, they broke up.
After breaking up with Austen, Billie briefly dated Taylor Lautner for a year, that was till 2017 and ended their affair.
Billie then reunited with Austen, and in 2020, they got engaged to each other.
Billie was pregnant when got engaged, and after a few months, the couple welcomed their son.
They got married in 2022.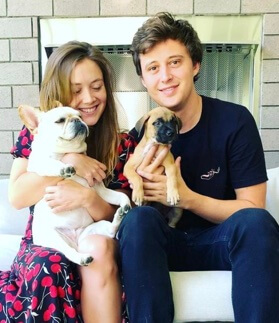 Cried after knowing that mom was sex icon
Billlie Lourd gave an interview to the Jimmy Fallon's late night show. There in the interview she talked about her mom Carrie and the reaction that she gave after seeing mom's show. Jimmy started the interview recalling the memory when he met Billie for the first time. She was only 7 years old and had no teeth when Jimmy met her. Billie's dad was insisting her to play piano but Billie didn't wanted to so she denied. Later her dad told her that he would give her $5 if she plays the piano: After that she got ready to play piano. Jimmy was there to support her but when Billie started playing piano he got shocked. Jimmy didn't expect that 7 years old Billie could play piano so beautifully and at that time Jimmy knew that Billie would be very successful in her life later on. Jimmy asked Billie about her mom. Billie's mom Carrie Fisher was a well known actress and was popular for her role play in Star War as Princess Liea. Her mom was very famous but for her it was never a big deal. She didn't like watching that. Her mom Carrie tried to make her watch Star was because she was in there and she wanted to show Billie how cool her mom was. Carrie made Billie watch the show and she played it but her very first reaction to that was loud. She felt that it was very loud and didn't show interest in it and ran out of the room. Few years later she watched the show and really liked it. She started giving respect to the show and mom. Billie opened up that she didn't realize her mom being sex icon until she was in her high school. She was on the college and one guy came and told her that her mom was the hottest woman he has seen. After hearing that, she got really hurt and cried. That was the time she knew that her mom Carrie was a big sex icon and after that she got okay with it.
Age
Kingston was born on 22 September 2020 and celebrated his first birthday in 2021.
Net Worth
The net worth of Billie is $20 Million. Her source of income is acting.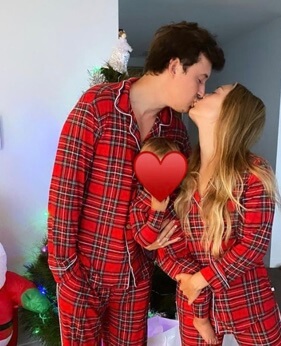 Billie's Mom Doesn't Wear A Bra
Billie was born to her late mother Carrie Fisher, a well-known actress and father, Bryan Lourd.
Her dad runs the biggest talent agency, CAA.
As Carrie came from such an impressive and huge background, one of the interviewers wanted to know about how she was raised and what she thought of her parents.
For that, Billie replied, saying that she was raised normally just like the other kids and talking about what she feels about her parents.
She said that she used to think her parents were irritating, and weird, and she was embarrassed by her parents.
The reason behind her getting embarrassed by her mom was, that her mom never wears a bra, and she used to come to her school without a bra.
She was just 13 years old, and she had many boys friend, and she got really embarrassed with her mom.
Mom Embarrassed Billie
Billie opened up in the interview, talking about how her mom embarrassed her in front of her boyfriend.
Billie once invited her boyfriend to her home.
It was only a few months that she started dating him, but still, she thought of inviting him over to her house for dinner.
On that day, she kindly requested her mom not to embarrass her and told her to have a normal conversation while having dinner and told her to leave after dinner.
But her mom did exactly the opposite.
As soon as her boyfriend arrived, her mom sat with him in the bed and started telling strange stories, which was really embarrassing for her.
Heartbroken After Losing Mother And Grand Mother
Billie is the daughter of famous late actress Carrie Fisher, and she is the granddaughter of late actress Debbie Reynolds.
Billie had great women support in her life, and she feels very grateful for that.
But her happiness disappeared as her mom passed away, and a day later, she lost her grand mom too.
It was really hard for her, and she was devastated about losing her mom and grand mom.
She was unable to do anything about that time because it was such an unreal thing for her.
She didn't know how she was feeling at that time and what should she say.
Lying About Cooking
Billie opened on a talk show that she is not into cooking.
She told that she doesn't like cooking at it's really dangerous for her.
She said that she always lies on Thanksgiving Day.
She has to cook on that day, but as she hates cooking, she orders food from outside and tells everyone that she is the one who cooked the food.
Making food and keeping it in a little box is a kind of tradition that she has to do on Thanksgiving day and her grand mom performed that tradition very well, but she can't do that, so she lies on that day.
Visit Doveclove For Spicy Articles Of Your Favorite Celebrities
Subscribe to our Newsletter