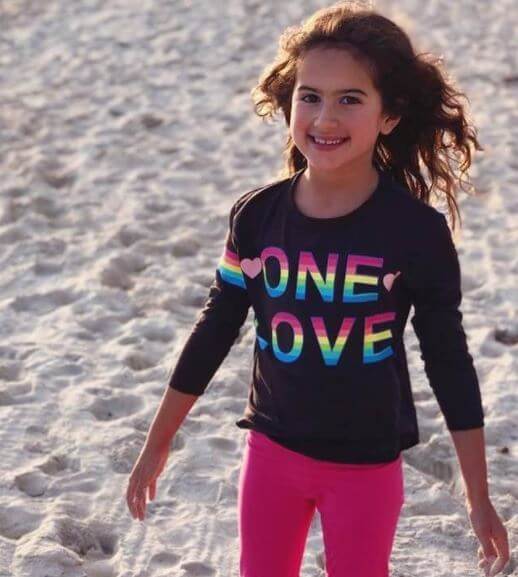 Mabel Ray Willis is the daughter of Hollywood actor and filmmaker Walter Bruce Willis.
More about Mabel
Mabel was born on April 1, 2012, in Los Angeles, California, U.S.A. Her mother's name is Emma Frances Hemming Willis, an actress, and a model.
She was born on June 18, 1978, and her current age is forty-two years old.
Mabel has one younger sister named Evelyn Penn Willis, born on May 5, 2014. She is six years old.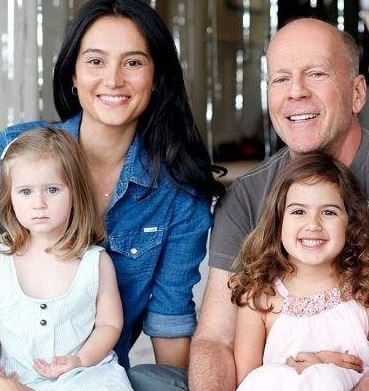 Relationship of Mabel with her Half-Sisters
Mabel has three older half-sisters and one stepmother. Her stepmother is the most reputed Hollywood star, Demi Moore.
Her half-sister's names are Rumer Willis, Scout Willis, and Tallulah Willis.
Mabel is close with her half-sisters, and they treat her like their own part of the family.
They celebrate birthdays together. Her elder sisters take her and Evelyn out to swimming and other fun activities like hiking.
They have been spotted together multiple times. Her elder sisters also keep on posting cute pictures of them hanging out together.
Her sister Tallulah posted a cute picture of Mabel and wished her a very happy birthday.
She also shared that she appreciates and feels grateful for having a younger sister to take care of.
Mabel is most seen to be closest to Tallulah. Tallulah was eighteen years old when Mabel was born.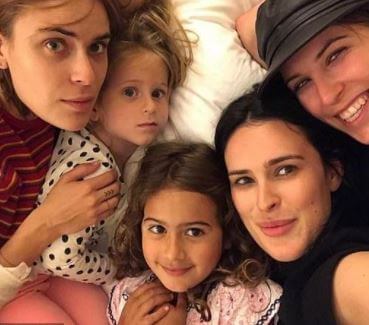 Relationship of Mabel's Mother and Stepmother
Mabel's mother, Emma Hemming, is close with her husband's ex-wife Demi Moore.
Demi also mentioned that their children are sisters and feel grateful to be a part of their life.
She shared an Instagram post saying happy international woman's day to Emma too.
She said there does not need any label on their relationship.
She also added saying that their children are sisters and feel a particular responsibility to her family.
She also said there is no shame in whatever their connection is. She added, saying they are united with a motherly bond.
She said she feels Emma is a part of the family and is honored to call her a friend.
Demi Moore captioned the picture, saying she is a beautiful mother dedicated to her family and a gorgeous woman.
She continued to praise her, telling her drive, determination, and passion is uplifting and inspiring.
Emma replied, saying that she adores her very much thanks to her for lovely words and praises.
Parent's Relationship
Mabel's parents Bruce and Emma met back in the year 2007. They met each other at their mutual trainer's gym.
They have an age gap of twenty-three years. They married two years later, on March 21, 2009, after their first meeting.
Bruce was fifty-four years old, and Emma was thirty-one years old when they got married.
They have a lovely bond and are still together. They are currently living in Los Angeles, California, with their two small children.
Angry when called a Liar
Mabel's father, Bruce, gave an interview in The Late Show with Stephen Colbert. In the interview, Bruce talked about how he did his stunts and still does his own stunts despite his age.
The interviewer asked him if he did his stunts like other action heroes like Tom Cruise, and he said that all the dangerous stunts and life-threatening stunts that is shown on the screen are all done by him.
He also said that he does it all for the entertainment of his fans and audience. He got a round of applause after he said that, but the show's host, Stephen Colbert, disagreed with him in his statement and questioned his fitness as he is 60 years old.
The host also said that it was quite not believable for him to do his own stunts at his age. For this, Bruce came in rage and stood up in the middle of the show. He provoked Stephen for a fight.
Stephen then punched Bruce and started hitting him. It was all a scripted fight with hitting sounds in the background. They did the stunts among the live audience, and the audience was enjoying it.
Bruce and Stephen threw things over each other, hit each other with guitars, glass bottles and even threw each other on tables and from the balcony.
The show was all scripted and planned before it even started, which can be clearly seen as both of them didn't even got a scratch. The fight, on the other hand, seemed realistic with punching sounds.
Bruce even asked the live audience if they were enjoying or not in the middle of the fight. Later the host apologized for not believing in Bruce. Bruce then said that he didn't do his own stunts.
Although the show was scripted, it was fun for the viewers and audience.
Sleeping with two women at the same time
Bruce Willis gave an interview to the show named Late Night with Conan O' Brien.
In that interview, Bruce talked about living with two women, his new movie and opened up about being a tough man.
Bruce worked as a bartender in New York in his past. He then opened up about him living with two women at once.
He explained the whole thing saying that while he was working in a bar, he met some of the friends who got kicked out of their apartments where they were living, and he had to help them, so he allowed them to stay in his house until they got new rent place.
His friends shifted into his house and brought all their things, including two furry cats.
On the other hand, Bruce doesn't like cats, but he has to help his friends.
His two friends were women, and he said they shared a room and his bed too.
He slept with his friends in the same bed for nine months.
When the interviewer heard this statement, he was shocked and said that he could never fall asleep if he had two women in his bed, and he wanted to know anything happened between him and those women.
Bruce replied that nothing happened between them because they were only his good friends.
Bruce had played the role of a tough guy, but the interviewer said that many guys who show themselves as tough in movies aren't tough in real.
But in Bruce's case, it was not like that. He is very tough in his real-life too, and he feels like hitting someone's ass hard, but sadly he can't do that.
After that, both of them started talking about Bruce's new movie Hostage, and he opened up that the movie is intense and he enjoyed shooting.
His daughter was with him the whole time while filming for that movie. The interview was really interesting.
To know more about the interview, do check the link.
Net Worth
Mabel Ray Willis is too young to work. She is still in school. She studies in grade four and is focusing on completing her schooling.
The net worth of her half-sister Tallulah Willis is given below:
| | |
| --- | --- |
| Net Worth | Sources |
| $3 million | Actress, entrepreneur |
Age, Height and, Weight
She is nine years old.
She was born on April's fools day.
Her birth sign is Aries.
Her height is four feet nine inches.
Her weight is twenty-five kilograms.
Her nationality is American.
She is a mixture of half Maltese and half American.
Visit Doveclove For Spicy Articles Of Your Favorite Celebrities
Subscribe to our Newsletter