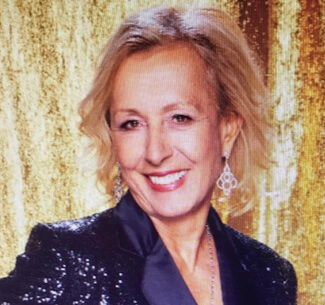 Martina Navratilova is a former tennis player. She is one of the greatest tennis players of all time.
During her incredible career, she won 18 Grand Slam singles titles, 31 major women's doubles titles, and ten major mixed doubles titles.
Biological Father Committed Suicide
Martina was born in Prague, Czechoslovakia, to her parents, Jana and Miroslav Subert, both athletes.
They were both ski instructors. Jana's mother was also an accomplished gymnast and tennis player.
Martina was three when her parents got divorced, and Martina moved with her mother to Revnice.
Martina had an athletic gene running in her blood. Her grandmother was a tennis player who played for the Czechoslovak federation before the second world war.
She was fond of sports, so her favorite sports varied according to the season. She played hockey in the winter and tennis in the summer with her mother.
During the summer, while playing tennis on the public courts, they first met Miroslav Navratil(Mirek), one of the finest tennis players in the town who later became her stepfather.
Her mother, Jana, and Mirek married when she was six, and they moved to Mirek's one-room apartment.
Martina took her stepfather's last name Navratil adding ova as per their tradition. (In Czech practice, girls and women use ova at the end of their last name.)
While growing up, she rarely saw her biological father. Her biological father committed suicide when she was nine.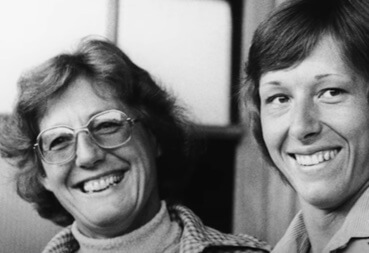 Is She Married? Who Is Her Partner?
Martina identified herself as bisexual during an interview with sports reporter for New York Daily News, Steve Goldstein, back in 1981 but later re-identified as a lesbian.
According to Martina, coming out as lesbian was not a good idea at that time because she lost many endorsements and fans because of it.
But at the same time, it was also a freeing thing to do as she no longer had to pretend to be anybody else.
She was in a long-term relationship with American author Judy Nelson before splitting in 1991 after seven years of their relationship, resulting in a palimony lawsuit.
At the US Open, she married her long-time girlfriend, Julia Lemigova, former Miss USSR.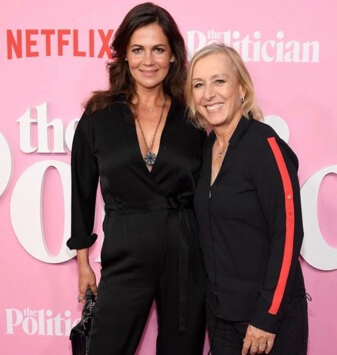 They married on the 14th of December, 2014, after Martina proposed to her in September of the same year.
Martina has two step-daughters, Emma, 15, and Victoria, 22, from Lemigova's former relationships.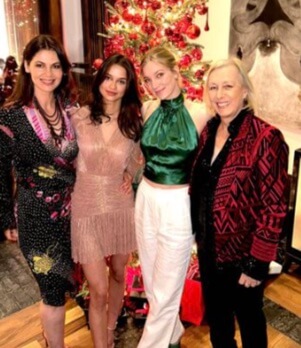 Age
She was born on the 18th of October, 1956, in Prague, Czechoslovakia. She is currently 66 years old.
Net Worth
The 59th-time major champion Martina has a jaw-dropping net worth of $25 million.
When Did She Start Playing?
Martina initially started playing tennis with her grandmother's wooden racket with wooden handles, which she could hold only with her two hands.
She played only two-handed backhands against the wall for two years.
She finally went to court with her father at the age of seven.
According to Martina, her father tried teaching her, but although he was a good club player, he didn't know how to teach playing tennis, so he asked a famous Czech coach, George Parma.
She passed the test and started taking lessons from Parma once a week, which continued for three years.
In 1968, Parma left the country and never returned, after which her father became her full-time coach because he had already learned how to teach by then.
Growing up, she watched Billie Jean King, Nancy Richie, and Margaret Court.
At 9, she started watching live tennis two years in a row.
She watched Rod Laver play and loved how he played, and also, he was also a lefty and instantly related to him.
Martina said she didn't realize she was good at tennis until she won the under-14 Czech championship at 14.
She trounced the girl in the final, who had been defeating her under-12 and under-4 when they were 13.
Then she won the senior Czech championship the following year, which lifted her confidence even more and allowed her to go to the United States and compete at USL theatre.
She did not turn professional until 1975.
Her Cancer Journey
Martina has been battling a severe illness. In January, she revealed that she is suffering from both throat and a recurrence of breast cancer.
She was first diagnosed with breast cancer in 2010 and had the tumor surgically removed.
According to Martina, she noticed a lymph node on her neck back in November while attending finals in Texas.
She was diagnosed with the first stage of throat cancer and later stage one breast cancer.
Martina stated that the double whammy is severe but still fixable and hopes for a favorable outcome.
She also stated that she would fight with all she has got. Hats off to her fighting spirit.
Visit Doveclove For Spicy Articles Of Your Favorite Celebrities
Subscribe to our Newsletter