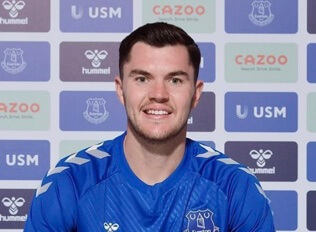 Michael Keane is an English professional football player.
He currently plays for the football club Everton in the center-back position. He was born in Stockport, UK.
He has a twin brother named Will. He is an English citizen.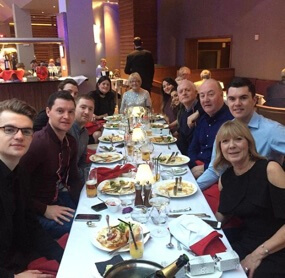 Relationship Status
Michael does not have a girlfriend.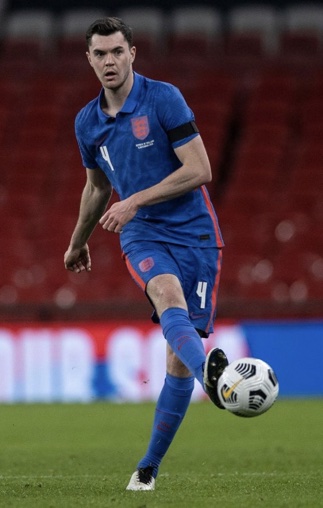 Age
Michael is 29 years old. His height is 1.91 m.
Net Worth
The net worth of Michael is 21.9 million euros.
Michael Accidentally Shaved His Hair
Michael was in Manchester United when he accidentally cut his hair.
In a Sky Sports Premier League interview with Jesse Lingard, he revealed that he was firmly trying to cut his hair through a cutting machine.
But rather than trying out the machine to the side, he directly cut his hair in the middle.
The machine was set to zero, and he instantly became bald.
It would look too weird just to cut hair in a single strip, so he decided to go bald.
It was not his wish to cut his entire hair, but it was a total accident.
Due to this, his friends in Manchester United used to tease him to take the name of a bald actor.
Michael And Jesse Were Always Playing Together
Michael and Jesse have been friends since their childhood.
Not only them but many from their academy were great friends. They played together from the age of 10.
They have known each other for quite a long time and trained together.
They were even together at Manchester United.
But ultimately, the main dream of any footballer is to play for their national team.
They also shared a similar dream as any normal footballer.
They wanted to play for the English senior football team.
They not only got to play for the English team, but all their childhood teammates and friends they had trained with and known for ages were also playing beside them, which was truly amazing, according to Michael.
His Lockdown Time
Like everyone in the world, English defender Michael was also in the lock-down scenario.
Fortunately for Michael, he was not staying still and bored.
He had a dog with him, which kept him busy and fun. He stayed in his Manchester house with his dog and brother.
He revealed that they were allowed to go out just once a day, so he took his dog out at that time only.
He also revealed that he turned his garage into a small gym to stay fit.
He regularly worked out to stay fit and healthy.
He also expressed that he was planning to make his small gym more equipped and better to do better exercise.
Michael Was Training In Pandemic
Michael was inside his house in Manchester and couldn't go outside because of the pandemic.
But it didn't stop him from training.
His team discussed that players need to be fit even in difficult times, so the club arranged a regular online session with the fitness and strength coach of the team to keep an eye on every player, including Michael.
Players were allowed to do anything, but the coach always observed their fitness.
Michael revealed that they were training based on different activities and were constantly being guided and looked after by the coach.
It helped the team to stay fit and dedicated even during the time of lock-down.
Visit Doveclove For Spicy Articles Of Your Favorite Celebrities
Subscribe to our Newsletter