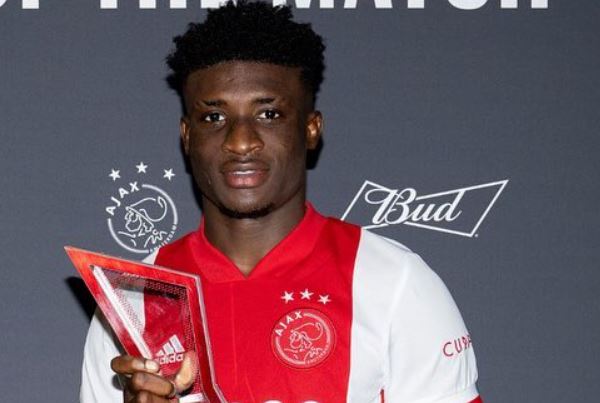 Mohammed Kudus is a Ghanaian professional football player. He currently plays for Eredivisie club Ajax in the position of midfielder.
Also, he is a national player who plays for Ghana national team.
He was raised by his mom and grandmom with his three siblings in Accra, Ghana. He is a Ghanaian citizen by his nationality.
Married life of Mohammed
He does not have a girlfriend right now.
Age and Net Worth
Mohammed is 22 years old. The net worth of Mohammed is 6 Million euros. His source of income is football players.
Kudus scored in his senior team debut
Kudus has always been with Ghana, from the Under 17 teams to the senior team.
He always knew that he would once be part of the Ghana national team, and his dream did come true on November 14, 2019, when he got to play in the match against South Africa after being substituted.
The game became more special to him because he managed to score a goal and get a win for the team.
No one could expect more from the young player, who is one of the highest-paid transfer teenagers from Ghana when moving to Ajax.
Looking at his debut and at his matches, he is the future of Ghana football.
Kudus idolises Thiago Alcantara
Kudus's team, Ajax, lost to Liverpool in a Champions League qualifier.
But during the game, Kudus's way of handling the ball and his scoring ability was really appreciated by the Liverpool side, and they really respected Kudus for his ability.
Little did people know that Kudus was actually a big fan of Liverpool midfielder Thiago Alcantara.
Kudus have always idolized Thiago for his creativity and the great game plays. Kudus really loved watching him play.
He even managed to get a shirt of Thiago from a friend, which he still had hanging in his bedroom.
Kudus deserves a place in opening 10
Kudus is a great player, and no one can deny that. But after his move to Ajax, he has not got a proper opportunity to play.
He has just played a few minutes in every match. In some matches, he was even substituted to play just a few extra times.
But the Ajax legend Theo Janssen has a different thought about Kudus.
Theo thinks that Kudus has a bright future ahead and he has a great ability to change the game.
Hence, he has to be playing for a long time and has to be part of number 10.
Theo also expressed that Tadic, who plays in the opening squad, is not a great player and has less ability than Kudus.
Kudus has a great capacity to be so much help to the team, and Theo is very disappointed that he is not the part of number 10 squad.
God is a master planner
Kudus revealed in an interview that he is a very religious guy and he is a great god believer.
He believes that everything that happens to anyone is already written and will happen anyway.
He believes that everything he has achieved or is going to achieve is all God's doing.
He once got injured without any tackle, and it was not a training injury.
He said that he was eating well, training well, and taking care of himself. Still, it was his faith to get injured, and he got injured.
What he meant was that people play their part; they do what's possible for them, and they plan stuff, but ultimately God is the master planner who has everything already planned.
Visit Doveclove For Spicy Articles Of Your Favorite Celebrities
Subscribe to our Newsletter