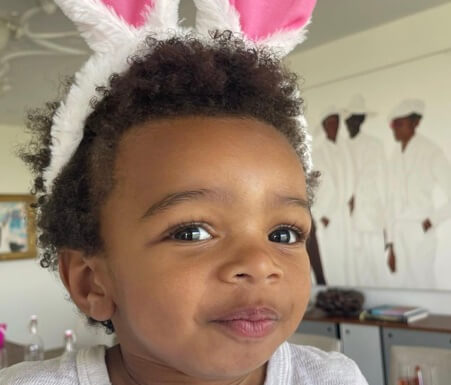 Noah Jon Weatherspoon is the youngest son of American singer, songwriter, actress, and television personality Kelly Rowland.
Her father's name is Tim Weatherspoon. He has an elder brother, Titan Jewell Weatherspoon.
He was born in 2021 and had his birthday on Jan 21. He is an American citizen.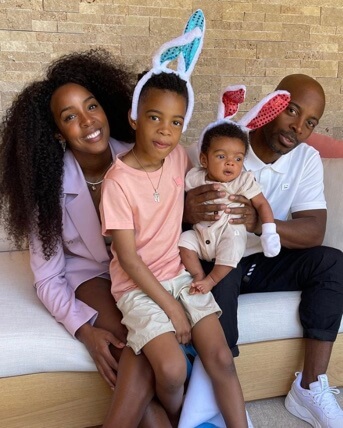 Parents' Married Life
Kelly is currently married to her husband, Tim Weatherspoon.
The couple happily got married to each other in 2014.
In 2013 Kelly and Tim got engaged, and soon after the engagement, they tied the knot.
In the same year of marriage, Kelly opened up that she would have her first child with Tim, and in 2014 she welcomed her first son.
In 2021 she gave birth to her second son. Kelly and Tim are very happy in their married life.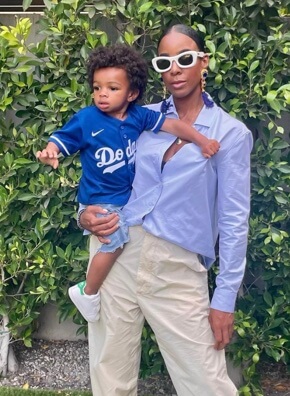 Did Kelly Forgive Her Dad?
Kelly gave an interview on to talk show Today With Hoda & Jenna, where she talked about meeting her dad and forgiving him.
Kelly was raised by only one parent, her mom. Despite having a good supportive mom, she always felt something was missing. It was because of the absence of her dad.
Kelly's mom left Atlanta with her when she was small. Because of that, she never had her dad by her side growing up.
She grew up hating her dad because, as a kid, she always felt abandoned by her dad. She thought her dad didn't want her, and for that, she was so disappointed and pissed with her dad.
As she grew up, her grudges changed into something that made her unable to face her dad, and because of that, whenever she had tours, she would inform security not to let her dad in and give them his photo.
She had portrayed her dad as a bad man and didn't want to face him. She didn't like to connect with her dad. But after her mom passed away and her first child was born, she felt like an orphan, but then she remembered her dad.
After 30 years, she encouraged herself to meet her dad and reached out to him. When she saw her dad for the first time, she blanked out and couldn't speak a word.
On the other hand, her dad spoke for 2 hours explaining everything. Her dad cleared some of the questions that she held inside for a long time.
Kelly's dad cleared out to Kelly that he didn't abandon her, and throughout those all years, he tried to talk to Kelly, but the security didn't let him inside.
He explained the very first moment of seeing her daughter and said that it was surreal.
Kelly learned that it is never too late to forgive anyone, so she forgave her dad and started a new fresh relationship with him.
Age
Noah is currently two years old.
Net Worth
His mother, Kelly, has a net worth of $26 Million. Her source of income is singer, songwriter, and TV personality.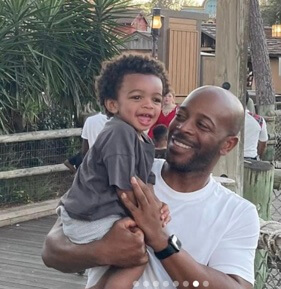 Kelly Was Judged For Being Dark
Kelly is a well-known person in the entertainment industry.
Her journey in the entertainment industry was challenging as she was constantly judged for her skin color.
She was frequently told that she was way too darker than others, and that made her feel as if she could have the skin color that Mariah has.
She also said that one of her boyfriend's grandma compared her skin color with a paper bag and told her that she was dark chocolate.
Her boyfriend's grandmother said he is not allowed to date such a dark-colored girl.
She then returned home and told everything to her mom, which was returned when her mom educated her about colorism, and that was when she got familiar with the word colorism.
Estranged Relationship With Parents
Kelly was born to her mum Dorris Rowland and dad, Christopher Lovett.
Kelly's mom passed away in 2015, and after her mom passed away, she said that she never had a good relationship with her mom.
She was very close to a woman named Tina, and instead of her mom Tina was the one who walked her down the aisle.
She also made her children call Tina their grandmom.
She said that she had seen her father when she was eight years old, and after that, she never got connected with her dad.
Through the years, his dad did many possible things to contact Kelly, but she didn't want to, so she ignored him.
Kelly didn't open up much about her strained relationship with her mom, but she wrote a song that could define her relationship.
Kelly Was Abused
Kelly has dated many men in her past. One of the relationships turned out bad for her.
She launched her new album Dirty Laundry, and the whole song was about her abuse story.
She was in a relationship with her ex, Cuda, who physically and mentally abused her.
She ended her relationship and moved on with Roy Williams.
They dated for a year, and after that, they broke up.
While dating, they even fixed their marriage date, but sadly they ended.
After her breakup with Roy, many thought that Roy was behind her son Dirty Laundry, but later, Roy cleared up, saying that Cuda was the one who abused Kelly and Dirty Laundry was dedicated to him.
Kelly Always Thought She Was Less
Kelly had started her singing career with the girl group Destiny's Child.
It was a group of four girls, including Beyonce.
She opened up that she always thought she was less than Beyonce and kept her in the second-best place.
As they were in the same group, people always compared Kelly and Beyonce.
Because of the comparison between her and Beyonce, she slowly started feeling that she was not as good as Beyonce.
She lacked confidence and wondered if people could ever want to hear her.
She also compared her with Beyonce and thought that Beyonce was on top, and she felt that she could never be like Beyonce, and that's the reason why she kept herself in the second-best position.
Visit Doveclove For Spicy Articles Of Your Favorite Celebrities
Subscribe to our Newsletter