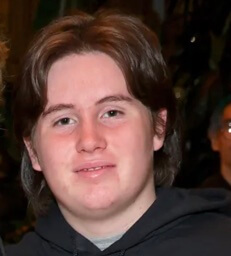 Quinn Kelly Stone is the son of American actress Sharon Stone. Sharon adopted him.
He has two older brothers who were also adopted.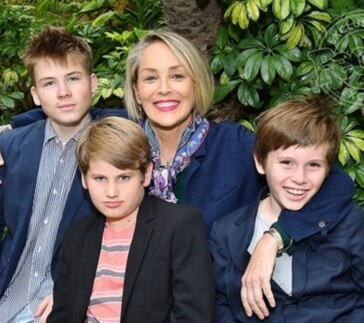 Her Second Husband betrayed Sharon
Sharon was married to Phil Bronstein in 1998.
Sharon couldn't conceive a baby due to many complications, so right after their marriage, they adopted a baby.
During her marriage, she had a brain hemorrhage and was fighting for her life.
It was a difficult phase of her life, and the recovery process was long and painful.
She said she had to learn to walk, hear, write, and remember things again after her surgery.
During the recovery period, her ex-husband filed for divorce.
She was at her lowest point, battling to stand up again, and at that time, Phil betrayed her.
He divorced her and married his girlfriend. They even sued her for the custody of their son.
She lost custody of her son. The court decided to give custody to Phil as Sharon was not healthy and robust enough to be in court.
When her son was taken away, she was devastated.
How Did Sharon Meet Michael Greenburg?
Sharon was married to movie producer Michael in 1984. They got separated after three years and did not share kids.
The two met each other for the first time on The Vegas Strip War, set in the early 1980s.
She was the lead actress in that movie, and he was the producer.
While working together, they got into a serious relationship and got married.
Sharon doesn't want to date anymore
Sharon had been married twice, however, none of her marriages worked as both her marriages ended with divorce.
After two failed marriages, she dated for a while, but now she has a whole different perspective about dating.
In the interview with Drew Barrymore's talk show, she revealed that she is done dating.
She is at the point in her life where she doesn't want any other people to be involved, and she has a proper reason for it.
Sharon is off-dating because she finds everyone fake. She never found someone worth her time, and because of that, she would rather spend her time with her family and kids than spend it with someone unworthy.
For her, finding someone good and honest has become really hard.
She said that she was done with all the fakeness, games and baloney.
She feels that today's men are not at the same level of women's emotional maturity, and because of that, it created a big difference between men and women.
Sharon herself has three sons and wants to raise them in such a way that they can fit the emotional maturity of women.
Her sons come to her room and start the boy's conversation, and after a while, they feel they shouldn't be talking about those things with their mom.
Sharon suggested they not talk about things like those with each other, too.
Sharon said that men have a huge misunderstanding about the man masculinity, power, and being important.
She wants to teach her son that the meaning of power and importance passed by other men are not fully true, and by doing so, she wants to help them to have a good healthy relationship, great business and a great future filled with happiness.
Age
Quinn was born on 8 June 2006, and his current age is 17.
Net Worth
Quinn's mother's net worth is estimated to be $60 million. She has managed to earn this fortune from her career as an actress.
Her Grandfather Sexually abused Sharon
Sharon and her sister were sexually abused by her grandfather when they were young.
They didn't realize it at that time. But later, they understood that the abuse started early during her therapy session.
After she realized that, she started screaming and had a mental block.
She couldn't believe how can someone abuse such a young child.
In her memoir, she admitted that when her grandfather died, she was happy that he was gone and he was not going to harm her ever again.
She was 14 years old at that time. The two sisters never discussed their abuse until they reached their twenties.
Her mother did not know what her father did to her daughters during their elementary days.
She hated her father after knowing all of that.
Sharon Faced Multiple Tragedies As A Child
When Sharon was a young girl, her uncle froze to death. In her biography, she shared that her uncle's body was found on the front step of his cottage.
Her uncle's body was surrounded with blood due to his head injury caused by falling.
She said that her uncle had numerous psychological problems, and he even once threatened to shoot and kill himself in front of her.
In addition to that, she was injured multiple times when she was a child.
According to New York Times, she had a horse accident and damaged her neck when she was young.
She was also hit by lightning, resulting in some severe injuries. It took a lot of time to recover from that injury.
She revealed that she has a prolapsed valve, so she has to get EKG for a couple of weeks.
Visit Doveclove For Spicy Articles Of Your Favorite Celebrities
Subscribe to our Newsletter