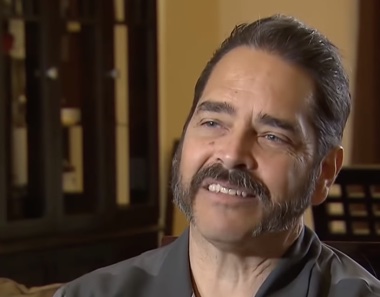 Rich Post is mostly known as the father of singer and songwriter Post Malone.
Rich's wife is Jodie Post. Rich used to be a DJ when he used to be young.
His interest in music made his son follow the path of his music career as Malone got exposure to different genres of music.
His full name is Richard Post.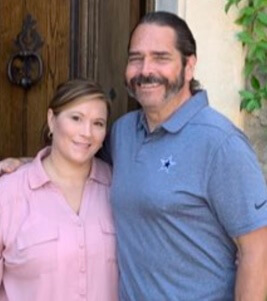 Who Is Malone Dating In 2022?
There was a rumor that Post was dating Korean rapper MLMA. The couple never confirmed their relationship.
However, fans began speculating about their love affair when she posted a picture of them on her Instagram in 2020, which was later deleted.
Both of them have similar styles and admire body art.
In May 2022, Post shared the news that he would soon become a dad.
He has kept his personal life very private, so it is hard to track who the child's mother is.
According to sources, his current girlfriend does not like to be in the spotlight.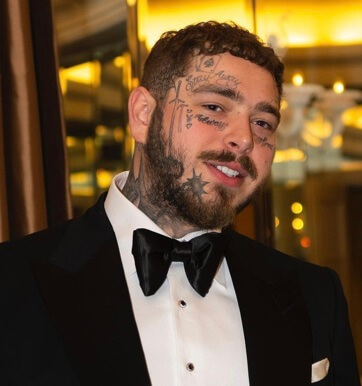 Past Relationship Of Post
Post was linked to a few women in the past. He started seeing Ashlen Diaz in 2015.
He made his relationship with her public during an interview. They were in love with each other.
He got inspired to write songs by his ex-girlfriend. They stuck by each other through many ups and downs.
Despite being in a relationship for three years, they broke up. There is no exact reason behind their breakup.
But in one of the interviews, Post revealed that it was hard for him to balance his professional and love life.
This might be the reason behind the split.
After his breakup with Ashlen, he was spotted with model Kano Shimpo in 2019.
They were seen being cozy with one another in public. They only dated for three months.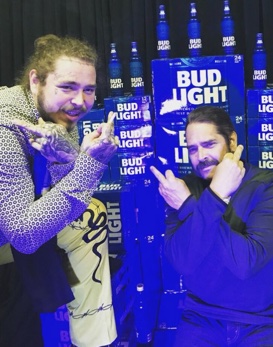 Post Was An Alcoholic
Post Malone gave an interview on "The Howard Stern Show." In that interview, Post opened up about his struggles with alcoholism.
Post is a great singer and now has a successful life in his music career but looking back at his past.
His life was completely different. He even wrote a song titled Love Hate Letter to Alcohol, inspired by his past struggles.
As his new song was based on his past struggles, the interviewer asked Post if he is now sober or not. For that, Post replied that he is not sober yet.
He is into alcohol to this day, but there is a difference. He is now a responsible man who knows his responsibilities.
But times back, he had a very rough time because of his alcohol addiction.
He used to be so drunk that he could even stand on his own for weeks. His rough past days have inspired him a lot.
He was into the addiction to Vodka, and at that time, he felt he needed help. He used to talk to people who were not even there.
He needed some people with whom he could share his feeling. While he was struggling and seeking help, he met a person who completely changed his life.
It was his girlfriend. Post revealed that his girlfriend was the one who stayed with him and made him a better person.
His girlfriend didn't keep a condition like choosing between her and alcohol; instead, she told him that she loved her and knew what he could do in life.
She guided Post to light and took him out from the darkness. If it were her, then Post would've never been the person he is now.
Post also talked about Justin Bieber and said that he is like a brother to Post.
J.B is also the one who guided Post to the right path. He is now 26 years old and is trying his best to learn as many things as possible.
Age
Post is 26 years old. He is 6 feet tall. He weighs around 88 kg.
Net Worth
His net worth is estimated to be $ 45 million.
He has managed to earn this fortune from his career as a recording artist.
According to the report, he charged around $500k per concert.
He has also earned from many brand collaborations and tours.
Rich Gave A Tour Of Malone Room, Where He Spent His Childhood
In an interview, Rich talked about his son's success. He said that it's hard to escape the popularity because of his son.
He showed Post room. His first guitar was hung on the wall.
He started playing in his room, and from that, he started playing for the small crowd in a Napoli restaurant when he was still in High School.
After graduating, he moved off the coast and then to California.
He started making music, and there is no looking back from then. Rich was so proud talking about his son's journey.
Like a loving father, he keeps in touch with his son.
At last, he added Post is not just a normal representation of many things, but he is a genuine person, which makes him happy.
Post talked about getting a tattoo at the Dental.
Post's dentist posted a photo of them on his Instagram.
In an interview with Jimmy Kimmel, Jimmy was compelled to ask why he was getting tattoos at his dentist.
He talked about it with his tattoo artist. He wanted to get two things done at once.
He stayed at his dentist for a long, so he got his tattoo artist there. He did multitasking.
Visit Doveclove For Spicy Articles Of Your Favorite Celebrities
Subscribe to our Newsletter