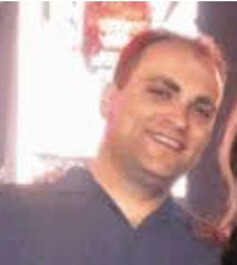 Ron Fisico is a professional fitness instructor known for marrying a famous wrestler, Trish Stratus.
More About Ron Fisico
Ron was born on April 29, 1975, in Richmond Hill, Ontario, Canada. He was born to Frank Fisico, who is his father.
He graduated from Bayview High School in Canada. After graduating from high school, he became a professional and skilled bodybuilder.
He has won many bodybuilding competitions and got a lot of feedback and endorsements.
How Did Ron Meet His Wife?
Ron and Trish have known each other since they were teenagers. They met while they both were in high school at Bayview High School.
They started dating after knowing each other for a while. After graduating high school, they attended different universities: Ron at Hardin Simmons University and Trish at New York University.
But they both stuck by each other and made their relationship last. After their graduation, they both went on to achieve their dreams.
Ron wanted to become a professional bodybuilder, while Trish wished to become a wrestler.
They both pursued their dreams and became what they wanted.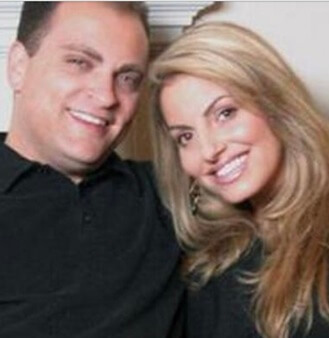 After being together for over 14 years, the pair married on 30 September 2006.
They were married when both were 31 years old.
Ron And Trish's Children
The pair has two children. His first child's name is Maximus Stratus Fisico.
Trish gave birth to their second child in 2017. Her name is Madison Patricia Stratus. Her pregnancy created quite a drama in her professional life.
She canceled the game when she got called to have a match against Asuka in Toronto. And she was replaced by another wrestler.
Trish has won seven WWE championships. She has also got the tag of greatest women performer in the WWE.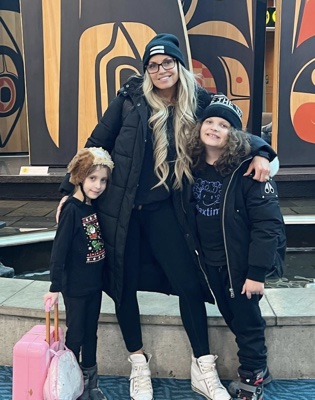 Trish Struggled To Get Pregnant
Trish gave an interview to ET Canada where she discussed the struggles she and her husband went through to get pregnant.
The interviewer started the interview by congratulating Trish for being on the cover page of Muscle Magazine, and Trish opened up about how she got approached.
Just a day prior to getting the offer for a magazine shoot, she was talking about documenting her pregnancy with her husband, and coincidentally, the next day, she got a call from the magazine publisher asking her if she wanted to be part of their magazine.
The publisher told her that they wanted to celebrate her pregnancy and would love it if she agreed to get featured in their magazine.
It was Trish's second pregnancy, and as she had struggled so much to get pregnant because of her fertility issue, it was really a big thing for her.
She and her husband had a hard time conceiving, and they just faced so many problems, both physically and emotionally.
She opened up that after her first son Maxim was born, they wanted to have a second child, so they tried to conceive, but because of fertility issues, they couldn't.
When Maxim became three and a half years old, she got pregnant again and was so happy that she shared the news with her friends and family.
Sadly, the happiness was short-lived as two months later, she had a miscarriage.
After that, she again tried to conceive, but she didn't succeed. She tried every medicine: Chinese, homeopathic, naturopathic, everything that could boost her fertility.
She doesn't know which one of the medicines worked or what happened, but she finally got pregnant. It was the happiest day of her life, and she really felt lucky and grateful for that.
Age
Ron is currently 47 years old. His nationality is Canadian. His star sign is Taurus. His height is 5 feet 4 inches, and his weight is 57 kg.
Net Worth
As a fitness instructor, his net worth is about $1.6 Million. And his famous wife Trish's net worth is about $6 Million. So, the pair are living a pretty lavish lifestyle.
About Wife Trish
Trish was born on 18, 1975, in Canada. Her real name is Patricia Anne Strategies.
But she is also known as Trish Stratus. She is also an actress and yoga instructor. In addition, she is one of the most popular wrestlers in WWE.
She began her career in fitness modeling, and later on, she began to work for the World Wrestling Federation(WWF), which later changed to World Wrestling Entertainment(WWE).
She graduated from New York University, studied biology and kinesiology, and played soccer and field hockey.
She was an athletic girl growing up.
While working as a receptionist in the Gym, she got recognized by one of the publishers and was called for a shoot for the magazine.
Later, she got on the cover of the magazine. She had always been a big fan of Wrestling.
While working as a fitness model, she got attention in the Wrestling world, and later on, she joined WWF and became a Wrestler.
She is also quite famous on social media. She has about two million followers on Instagram.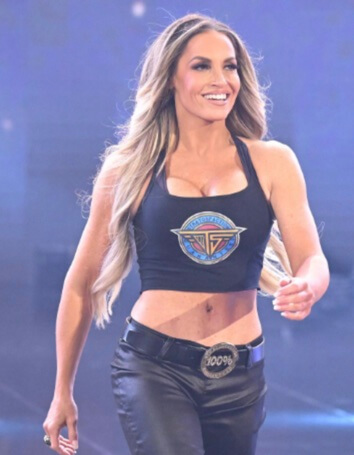 Trish Returned In A Ring At 46 Years Old
Trish posted on her Instagram, showing her belly to her two million followers. While captioning it "PEEK-A-BOO."
On Monday night, February 27, Trish made a surprise return.
WWE fans were shocked and delighted to see Trisha's comeback in the ring. Rapper Cardi B also shared her reaction on Twitter.
The rapper's shocking reaction made it a trending topic on Twitter.
Visit Doveclove For Spicy Articles Of Your Favorite Celebrities
Subscribe to our Newsletter