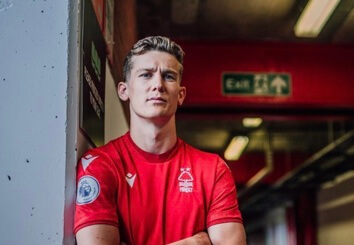 Ryan Yates is an English professional football player. He currently plays for the team Nottingham Forest in the position of mid-fielder.
He was born in Nottingham, United Kingdom. His parents raised him with his brother named Adam.
He is an English citizen.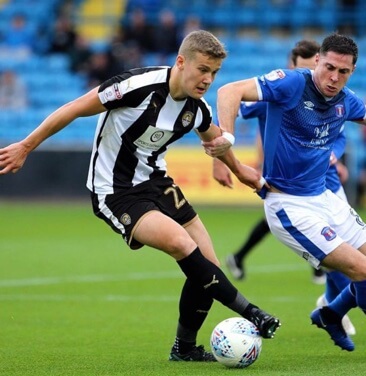 Relationship Status
Ryan is not married yet. However, he does have a girlfriend. The young player is currently dating his girlfriend named, Emma Stanley.
They have known each other since high school.
Age
Ryan is 24 years old. His height is 1.90 m.
Net Worth
The net worth of Ryan is $6 Million. He accumulates his net worth from football.
Ryan Has A Bad Penalty History
Ryan gave an interview after the win against Sheffield United where he seemed very excited after the glorious victory.
He scored the winning penalty, which was a great thing for him.
He revealed that seeing his past penalty records, he said it was awful.
He had bad penalty stats until that date, so it was a big deal for him as he scored one.
Saying that the game against Sheffield was a challenging and important one too.
Hence he and his team were really happy.
Ryan Feels Nottingham Forest Club Is Everything For Him
Ryan extended his contract with Nottingham Forest club in 2020 for five more years, and he was really happy and excited about it.
As a Nottingham-trained player, he always had dreamed of playing for the club since his academy days.
The club was not so famous and bigger at that time compared to now.
So seeing the change in scenarios and situations made Ryan happy.
He revealed that the relationship between teammates and fans is strong now.
The game plays, and every single detail has changed positively.
Ryan Is A Role Model
Ryan and his teammate Tim gave an interview during their time at the academy of Nottingham Forest.
There they shared things about each other. Tim told the interviewer that Ryan was a tidy and great guy.
Tim revealed that Ryan likes to do things perfectly and more professionally.
He is hardworking. Moreover, Tim revealed that Ryan was the team's role model to be inspired from.
Ryan, on the other, had described some weaknesses of Tim. Ryan also revealed that he had been a big fan of Manchester United.
He likes the club and has been watching them while growing up.
Ryan Doesn't Want To Think About Finals
Ryan's team, Nottingham Forest FC, was on their way to the final for EFL Championship.
It was a really big thing for him and his team. It would be a big day and an important match in their life.
But for Ryan, he kept the finals to the side and focused on himself.
His whole family and friends would be in the stadium to watch him and his team play.
Still, he was avoiding the fact that they were in finals. It was because he didn't want to get pressured or wanted to get nervous.
He wanted to have patience and focus more on training and bringing his best form out.
He wanted to be at his best in the finals and impact the team.
Visit Doveclove For Spicy Articles Of Your Favorite Celebrities
Subscribe to our Newsletter