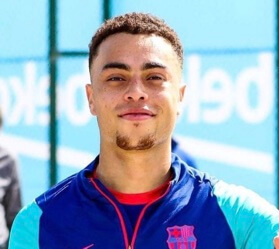 Sergino Dest is an American-Dutch professional football player. He currently plays for the team Barcelona as a fullback.
He was raised by his parents in Almere, Netherlands. He has no siblings. He is an American-Dutch football player by his nationality.
Relationship Status
Sergino is not married yet, nor he has a girlfriend.
Sergino is in love with football and spends most of his time training and playing a match.
Besides football, Sergino likes playing video games. He is into FIFA games and plays them whenever he gets free time.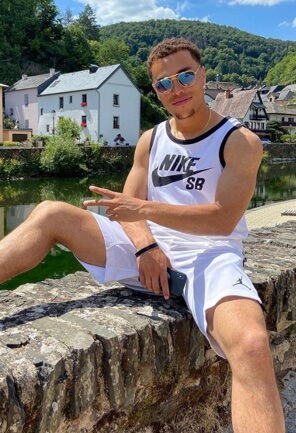 Age
Sergino is 21 years old. His height is 1.75 m.
Net worth
The net worth of Sergino is $2 Million.
Spanish Is An Easy Language
Sergino moved to Barcelona a year back and loved the club very much.
He found the environment in Barcelona really pleasant, and the surroundings felt like home to him.
But he had to go through a language barrier in the city which was supposed to be difficult for him.
Surprisingly, Sergino expressed that the Spanish language proved to be quite easy for him.
He expected the language to be far more difficult, but it was not.
He joined Spanish classes after arriving in the city, and he quickly started getting the things that his teammates said and talked about.
Moreover, he revealed that he would be perfect at speaking Spanish after a few months.
Barcelona Is Sergino's Dream Club
Sergino was offered to play for Barcelona, Bayern Munich, and other greater clubs.
But Sergino decided to play for Barcelona. He said it was a difficult decision for him, but he went with his heart.
Also, Barcelona was a dream club for Sergino, and he had always seen the club while growing up.
He has looked up to the club and had a dream to play for club.
Moreover, playing with Messi was a real proud moment for him as he considers him the greatest player in the world.
When asked about his learning from other players, he said that rather than learning or teaching, the teammates push each other, and the team grows together.
Team Work Helped To Win The Match
Sergino gave an interview to ESPN FC after the winning match against Valencia.
His club Barcelona won with a total of 4 goals. Sergino expressed that teamwork was the key point they won the match.
Playing in the team and increasing the intensity of the game really became a strong reason that they won the match.
Sergino revealed that he had played well in the game and games before.
Although the defense was quite weak, the teamwork managed to cover it quite well, according to Sergino.
Not Easy To Leave Ajax
Sergino has spent his maximum career in Ajax club. It is the club that built Sergino and introduced him to a greater mass.
In many situations with the club and its teammates, the player had a different attachment to the club and players.
Sergino was rumored to transfer to Barcelona, and some of his teammates knew about it.
But as it was not so sure, it was not a prime issue. When Sergino told everyone about his transfer, the room was all quiet from shock.
Being in the cub for a long time felt like family for everyone.
Although everyone was happy for Sergino and congratulated him, they also felt sad about losing a close friend.
Sergino also was feeling difficult to leave everything behind and move to a new club.
Visit Doveclove For Spicy Articles Of Your Favorite Celebrities
Subscribe to our Newsletter