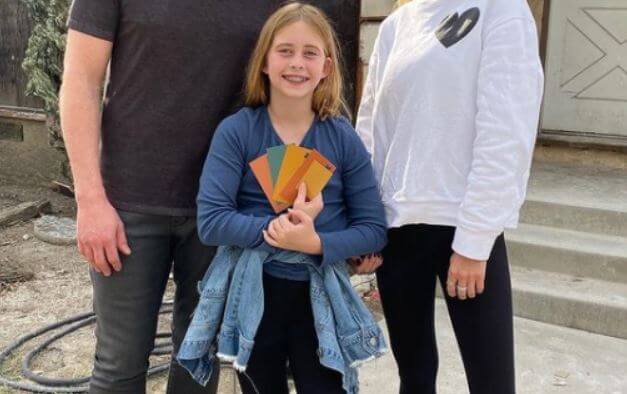 Taylor El Moussa is the first daughter of Tarek El Moussa and Christina Anstead.
The couple has split after seven years of being married and now shares the custody of Taylor.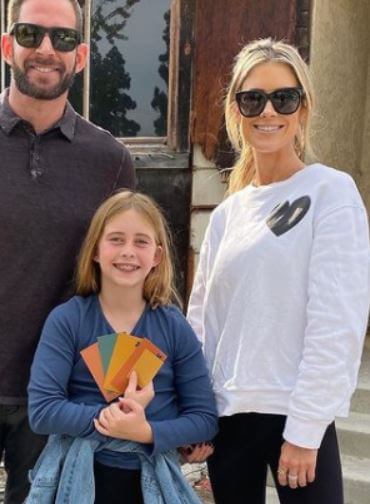 Taylor has a baby brother
Tarek and Christina had a baby boy in 2015 who is named Brayden El Moussa. He is now five years old.
The ex-couple shares the custody of Taylor and her sibling.
According to People, Christina's standing custody agreement with El Moussa permits him custody of Taylor and Brayden every Wednesday till Saturday, plus the third weekend of every month.
In contrast, Christina is granted custody every Saturday until Wednesday.
About Taylor's parents
Tarek El Moussa is the star of the HGTV hit series Flip or Flop; he also received a real estate license when he was 21 years old.
Christiana Anstead is also the star of Flip or Flop and a real estate investor.
How flip or flop came into play
Flip or Flop is an American reality series airing on HGTV, hosted by the formerly married couple Tarek El Moussa and Christina Haack.
Christina and Tarek are both real estate agents in Orange County, California. After the real estate crash in 2008, the married couple began flipping homes.
Tarek made an audition tape for HGTV with the help of his friend and filmed an entire episode showing the process of house flipping. This was in 2011, and the tape was sent to HGTV in 2012, and the couple was signed to make Flip or Flop. The show was released on April 16, 2013, and still airs on TV.
Why did Taylor and Christiana split?
The formerly married couple have publicly said that neither of them was involved in any romantic relationship before their separation.
Still, after years have passed, we have discovered that the couple did not have a nondramatic divorce.
A couple cheat on each other with their employees
Terek reported that he caught Christina sending explicit text messages to Gary Anderson, a contractor the couple had hired. Tarek got so angry at this that he packed his handgun in a backpack and stormed out. The situation got so heated that even the cops arrived.
Christiana asked the police to help her "possibly suicidal" husband. Christiana confirmed the relationship with Gary after a few months of this dramatic day.
It is also reported that Terek had a fling with Alyssa Logan, their former nanny.
They split publicly in December 2016 and announced their divorce in January 2018. The couple still stars in Flip or Flop together.
No awkwardness while filming with the ex-husband
Taylor's mother, Christina, gave an interview to Entertainment Tonight where she talked about her ex-husband and their new show. It was really surprising for their fans that they came up with their show after separation.
Christina was married to Tarek El Moussa but later got divorced. After the end of their relationship, the couple is again doing a show together named Flip and Flop.
In that interview, Christina was asked how she felt working with an ex-partner. Christina opened up that they are very comfortable working with each other. Their separation didn't create any issues, nor did they have a problem working together.
According to Christina, her husband made it easy for her as he was too frank. Despite their separation, her husband showed her full support in the show.
They behave nicely with each other and think that everyone should be like that as the reason behind them being like that is for their kids. They both want to see their kids happy.
Her ex-husband also thinks the same way, making it easy to face any situation. She thinks that if everyone became like that, it would be easier for their professional life.
Her ex-husband works extra hours than her and manages to do everything on time. She was quite positive about her ex-husband and talked good about him.
Her ex-husband was nice to her as he never judged her, and he loved her for who she was, which made her happy. He never has any negative things for anyone and judges anybody.
His friendliness made her work comfortably with him. They didn't face any awkwardness working together being ex-partners.
New partners of the couple
Christiana got married to Anthony Richard Anstead, an English television presenter, on December 22, 2018.
The couple again got separated and announced it on September 18, 2020. The couple has a baby boy, Hudson London Anstead, who is now one year old.
Terek is now engaged to Heather Rae Young, the star of the Netflix reality series Selling Sunset in 2019.
Terek proposed to his girlfriend Heather with an 8.08 Carat Emerald diamond ring at Descanso Beach Club.
He praised his fiancee, saying she is a loving partner and incredible to Taylor and Brayden.
Taylor adores her dad's Fiancee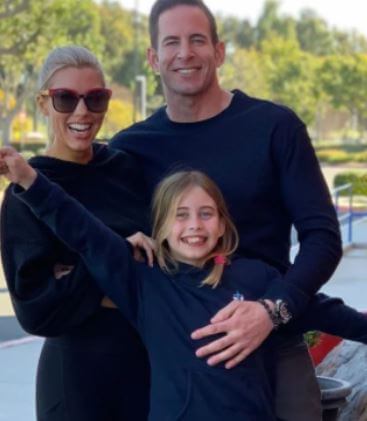 Heather got involved in Taylor and Brayden's lives soon after she got together with her boyfriend, Terek.
Taylor says that she felt a bond when she first met Heather, and she's very loving. Taylor loves hanging out with her soon-to-be stepmother and says she got fortunate.
Christina shares her new life with Josh
Christina and her now husband Josh talked about their relationship and asked each other some questions in Entertainment Tonight.
They have been married for a while, and the very first thing they talked about was their date.
Christina and Josh kept their relationship private when they started dating, so for a long time, they didn't go on official romantic dates because they were scared of people finding out about them.
Christina had a Newport Beach home and yacht, so for they just went there, took out the food, and talked about each other.
They did that for months and took time to learn about each other.
Christina asked her husband about their first romantic date, and Josh said that the most romantic date he had with Christina was on her first birthday dinner.
They went to a private restaurant where he and Christina were alone, and they had a very good time.
Josh is not actually a romantic type of person, but he had to show that he was romantic to impress Christina at the beginning of their relationship.
He also said that he enjoys 6 a.m. coffee with her. After that, they both asked each other about their celebrity hall pass, and Christina said that she didn't know much about celebrities, so she didn't have any.
Christina already has three children with her ex-husband, and now that Josh is part of Christina's new life, he is stepdad to her children.
She feels lucky to have Josh because he finds it rewarding to be the stepdad to three adorable children.
Christina enjoys spoiling her children, but Josh takes their authority. She wants to give everything to their children, and she feels that his life would be really boring without kids.
Net worth, income sources
Taylor is not working yet as she still is a child. The net worth of Terek is estimated to be $10 million and Christiana to be $ 12 million.
Their source of income is real estate and TV shows. The net worth of Heather Rae is estimated to be $3 million, and her income source is acting and real estate.
| | | | |
| --- | --- | --- | --- |
| | Terek | Christiana | Heather |
| net worth | $10 million | $12million | $3 million |
| source of income | TV, real estate | TV, real estate | acting, real estate |
Age, height, weight
Taylor was born on September 22, 2010, making her ten years old.
Taylor is 4 feet 6 inches, and her weight is unknown.
She is a Virgo.
She has blue eyes and brown hair.
Visit Doveclove For Spicy Articles Of Your Favorite Celebrities
Subscribe to our Newsletter