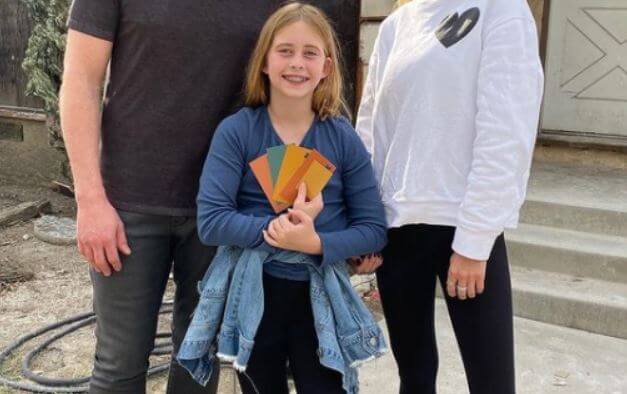 Taylor El Moussa is the first daughter of Tarek El Moussa and Christina Anstead.
The couple has split after seven years of being married and now shares the custody of Taylor.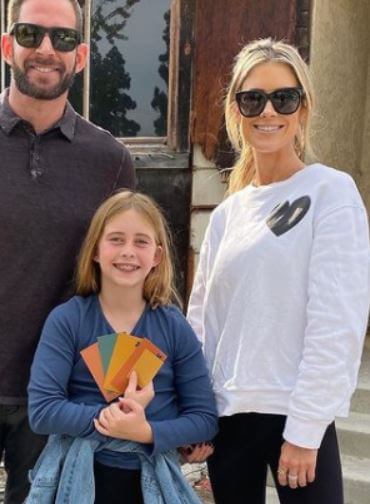 Taylor has a baby brother
Tarek and Christina had a baby boy in 2015 who is named Brayden El Moussa. He is now five years old.
The ex-couple shares the custody of Taylor and her sibling.
According to People, Christina's standing custody agreement with El Moussa permits him custody of Taylor and Brayden every Wednesday till Saturday, plus the third weekend of every month.
In contrast, Christina is granted custody every Saturday until Wednesday.
About Taylor's parents
Tarek El Moussa is the star of the HGTV hit series Flip or Flop; he also received a real estate license when he was 21 years old.
Christiana Anstead is also the star of Flip or Flop and a real estate investor.
How flip or flop came into play
Flip or flop is an American reality series airing on HGTV, hosted by the formerly-married couple Tarek El Moussa and Christina Haack.
Christina and Tarek both real estate agents in Orange County, California. After the real estate crash in 2008, the married couple began flipping homes.
Tarek made an audition tape for HGTV with the help of his friend and filmed an entire episode showing the process of house flipping, this was in 2011, and the tape was sent to HGTV in 2012, and the couple was signed to make Flip or Flop. The show was released on April 16, 2013, and still airs on TV.
Why did Taylor and Christiana split?
The formerly married couple have publicly said that neither of them was involved in any romantic relationship before their separation.
Still, after years have passed, we have discovered that the couple did not have a nondramatic divorce.
A couple cheat on each other with their employees
Terek reported that he caught Christina sending explicit text messages to Gary Anderson, a contractor the couple had hired. Tarek got so angry at this that he packs his handgun in a backpack and stormed out. The situation got so heated even the cops arrived.
Christiana asked the police to help her "possibly suicidal" husband. Christiana confirmed the relationship with Gary after few months of this dramatic day.
It is also reported that Terek had a fling with Alyssa Logan, their former nanny.
They split publicly in December 2016 and announced their divorce in January 2018. The couple still stars in Flip or Flop together.
New partners of the couple
Christiana got married to Anthony Richard Anstead, an English television presenter, on December 22, 2018.
The couple again got separated and announced it on September 18, 2020. The couple has a baby boy Hudson London Anstead who is now one year old.
Terek is now engaged to Heather Rae Young, the star of the Netflix reality series Selling Sunset in 2019.
Terek proposed to his girlfriend Heather with an 8.08 Carat Emerald diamond ring at Descanso Beach Club.
He praised his Fiancee, saying she is a loving partner and incredible to Taylor and Brayden.
Taylor adores her dad's Fiancee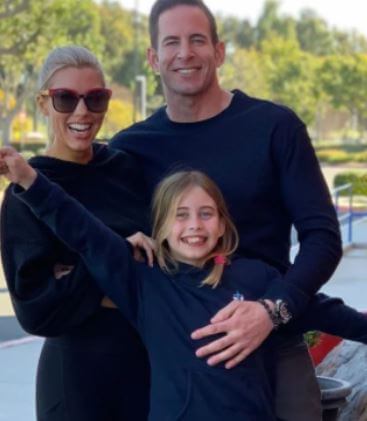 Heather got involved in Taylor and Brayden's lives soon after she got together with her boyfriend, Terek.
Taylor says that she felt a bond when she first met Heather, and she's very loving. Taylor loves hanging out with her soon-to-be stepmother and says she got fortunate.
Net worth, income sources
Taylor is not working yet as she still is a child. The net worth of Terek is estimated to be $10 million and Christiana to be $12million.
Their source of income is real estate and TV shows. The net worth of Heather Rae is estimated to be $3 million, and her income source is acting and real estate.
| | | | |
| --- | --- | --- | --- |
| | Terek | Christiana | Heather |
| net worth | $10 million | $12million | $3 million |
| source of income | TV, real estate | TV, real estate | acting, real estate |
Age height, weight
Taylor was born on September 22, 2010, making her ten years old.
Taylor is 4 feet 6 inches, and her weight is unknown.
She is a Virgo.
She has blue eyes and brown hair.
Visit Doveclove For Spicy Articles Of Your Favorite Celebrities
Subscribe to our Newsletter