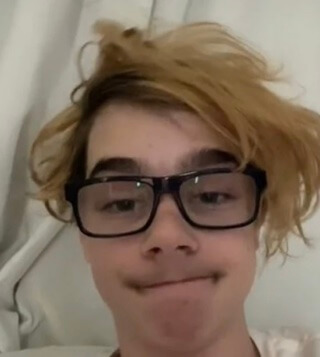 Valentino Martin was born to the famous Puerto Rican-Spanish singer Ricky Martin in the year 2008 via surrogacy.
He has a twin brother Matteo. Valentino is a few minutes younger than his twin brother Matteo.
The name of their surrogate mother is still unrevealed.
He has a younger sister and a younger brother named Luca Martin-Yosef and Renn Martin Yosef, with his father's current spouse, Jwan Yosef.
They were also born through surrogacy.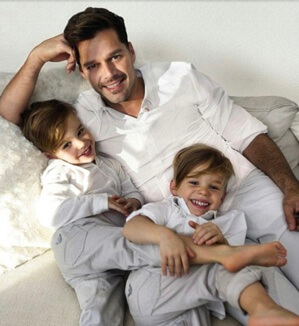 Ricky's Married Life
Ricky's husband's name is Jwan Yosef. He is a Syrian-born Swedish painter and artist of Kurdish and Armenian ancestry.
They have been in a marital relationship since 2018. Ricky and Jwan met each other through social media.
They were in touch with each other via Instagram for six months before meeting physically.
Martin went to London in order to meet Jwan since he was residing in London.
They made their relationship public in April 2016 as they appeared together on the red carpet at the amFAR Inspiration Gala in Sao Paolo, Brazil.
Martin was the one who made the first move towards their relationship by proposing to Jwan for their wedding.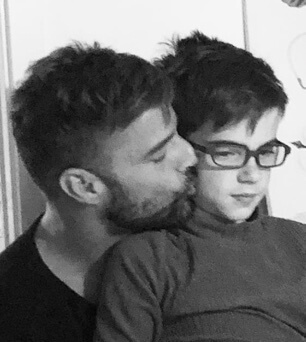 Age
Valentino was born in 2008 and his current age is 14 years old.
Net Worth
The net worth of Ricky is 130 million dollars. His source of income is his career in the music industry.
He earns through album sales, music streaming, and concerts. He also makes through acting and writing.
But the majority of his earnings is through a professional music career.
What Does Ricky Suffer From?
Ricky, who is a well-known singer, has some serious health issues.
During an interview with Barbara Walters, the Puerto Rican-Spanish star opened up about his health conditions.
He revealed that he suffers from a mental health problem, PSTD, which is known as a posttraumatic stress disorder.
Ricky Talks About His Sexuality
The Puerto Rican star is homosexual in nature. He kept his sexuality secret for a long period of time.
After welcoming his twin children to the world, he revealed his sexuality to the world.
His children inspired him to do this as he wanted to become a good father by accepting who he was.
He considers himself a fortunate homosexual man.
In an interview, he said that he felt free and liberated after revealing his sexuality and finally said that he loves himself completely.
Ricky's Son Valentino Becomes A Famous Tiktoker
Valentino is one of the famous personalities on the social media platform TikTok.
He is being recognized as the son of Ricky through this platform.
He has inherited the artistic talents of his father, which is visible through his account on TikTok.
He has been pleasing the people on TikTok through his mesmerizing personality, and people love him.
He records most of his videos in his mansion and uploads them on TikTok, which is mostly based on entertainment.
He has more than 12,000 followers.
Ricky's Life Before Fame
Ricky is a well-famed personality. He comes from a successful music career.
He was just a teenager when he joined the Latin group Menudo. He appeared on American television.
He performed on Broadway in a hit musical, Les Miserables.
It was his dream to perform on Broadway, which even got fulfilled.
His passion for music made him extremely famous.
Did Ricky go Under The Knife To Look More Handsome?
The Puerto Rican star is not only famous for his songs but he is also admired for his good looks.
He has a charismatic personality, and most people love him because of his good looks.
He comes under the category of good-looking people.
Though he is one of the most handsome personalities, fans suspected him to have plastic surgery since he looked more unusual than the other day.
He was accused of having plastic surgery.
But these were only some sorts of gossip as Ricky did not undergo any kind of surgery.
He clarified that he suffered from an allergic reaction from a multivitamin serum that he used on his skin.
And this made him look different than the other days.
He informed and clarified this to his fans through his social media accounts.
Visit Doveclove For Spicy Articles Of Your Favorite Celebrities
Subscribe to our Newsletter