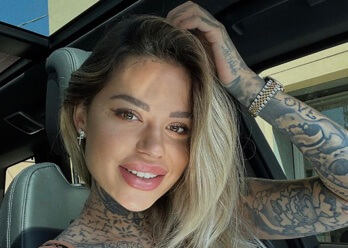 Zoe Cristofoli is the girlfriend of French professional football player Theo Hernandez.
Zoe is an entrepreneur who owns her Tattoo parlor and is a music artist by profession.
She was born in the year 1996 and has her birthday on September 5.
Her parents raised her in Verona, Italy. She is of Italian by her nationality.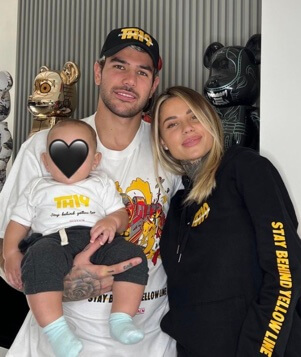 About Her Love Life
Zoe is not married yet, but she does have a boyfriend. She is currently dating footballer Theo Hernandez.
The couple has been dating each other since 2020. As of 2022, they are parents to one child.
Zoe and Theo welcomed their baby boy on 7 April 2022. The little one's name is Theo Junior.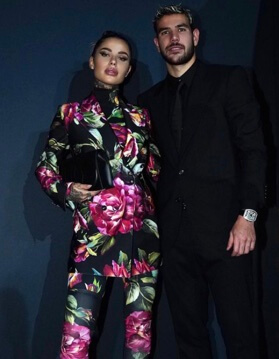 Zoe Was Not Easy To Get
Zoe and Theo met each other for the very first time through their mutual friend, by whom they were invited for dinner.
Theo got interested in Zoe right after he met her, so he texted Zoe many times on her social media.
Zoe showed no interest in him and didn't talk to him. After a long try, Zoe agreed to go on a date with him.
Shortly after knowing each other, they started dating and moved together.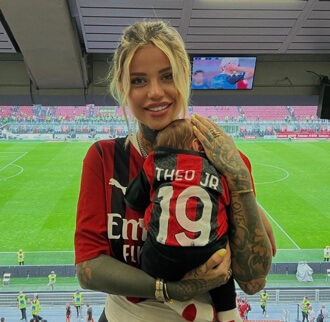 Age And Net Worth
Zoe is 26 years old. Her net worth is estimated to be around $1 Million.
Her source of income comes from being an entrepreneur and musical artist.
Zoe Has Seen From Worst To Best
Zoe is a Tattoo Artist who owns her tattoo studio. She is also a singer who is known by many.
And looking at her 1 million followers on Instagram, she is quite an influencer, but it was not what she had from the beginning.
At the beginning of her life, she had big dreams but was not capable enough. She became a babysitter to stable her life.
She even became a waitress to earn money, and her life made her a mechanic too.
Still, she struggled to get the fame that she once lacked. Her hard work and dedication were seen to be paid off.
Zoe Would Not Have Been Alive
Zoe and Theo live in their house in Cassano Magnago with their son.
One day when Theo was not around the house, Zoe was with her son, and some of her close ones were also in the place.
At that moment, a gang of thugs entered their house and took many valuable things.
They took away a lot of money and money-worth things. It was a scary moment for Zoe, as she described it to the media.
She said that the newspaper only wrote a small part of what happened.
She revealed that the incident was so scary that if anything went wrong, she would not have been able to give the interview afterward.
Fortunately, she had people with her in the house who protected them.
But still, she revealed that she was not at 100 percent. She expressed that she was still scared of that incident.
Zoe Believes That Women Are Great
Zoe is the mother of one, and after she gave birth to her son, she realized and felt something she shared through her Instagram post.
She admitted that women are great because they go through a lot without anyone's warning.
She shared that giving birth to a new body and no one prepared her for the pain and suffering she would have physically and mentally.
She said that giving birth felt like losing a part of herself and seeing it as a beautiful baby.
She also expressed how she had no priorities for herself after the birth of her baby and how her priorities changed instantly.
She also expressed in the same post that after giving birth, she never saw happiness for herself but for her baby and his future.
Zoe's Boyfriend Theo Is Fine Without His Father
Theo had never been seen talking about his father in the media.
He often talks well about his mother but was never seen talking about his father in any of the interviews.
But in one of the interviews, the defender revealed that he and his family have a terrible relationship with his father.
He also expressed that his life was all okay without his father. It was found that he was four years old when his father left him and his family.
His mother and father had a terrible relationship that often became a physical fight.
So his father went away and never came back.
Fortunately, his mother raised him and his brother to be great people, so he always respects his mother.
Visit Doveclove For Spicy Articles Of Your Favorite Celebrities
Subscribe to our Newsletter