Barbara Ann Bregoli is an unmarried mother of American singer and songwriter Danielle Bregoli or Bhad Bhabie.
Barbara's parents are Barbara nee Radford and Frank T. Bregoli. She lives with her 18 years old daughter in Boynton Beach, Florida.
Barbara is of mixed Irish and Norwegian descent. Barbara was brought up in Brooklyn.
Single Mother
Barbara had shifted to Florida to work as a compliance manager, where she met Chief Executive Officer Ira Peskowitz.
They gave birth to Danielle Peskowitz Bregoli in 2003 but soon got separated in 2005.
After their separation, Barabara moved in with Danielle when she was only two and a half.
She identified lumps on her breast as cancer when Danielle was only four years old.
She remembers Danielle caring for her when she was only six years old.
Despite being diagnosed with cancer in June 2007, she had to face it several times. Due to the reappearance of her cancer, she had to quit her work.
Daughter Ferocious Behavior
Barbara reveals in an interview that she had no fierce character as a result of her disease and family situations.
Her fear mixed up with madness pushed her to get influenced by false friends.
Barbara took her step to be in the Dr. Philip talk show in search of help for her notorious child, who got misinterpreted in the front.
Barbara and her daughter came into the limelight after they were seen with outrageous behavior in the American talk show Dr. Philip.
As a single mother, Barbara tends to handle her daughter and search for help for her daughter, who had done misleading activities.
With the expectation this would bring her daughter on the right track, she raises her voice against her violent actions.
Barbara and her daughter's outrageous clip videos gather so many viewers with criticism.
Both mother and daughter got noticed for the first time through the show.
Danielle's statement, "Catch me outside, how about that?" went viral. It was used as a meme; due to this, Danielle got a reputation from a maximum number of people.
Besides this, she is also the youngest singer to be nominated for Billboard Music Awards in Top Rap Female Artist.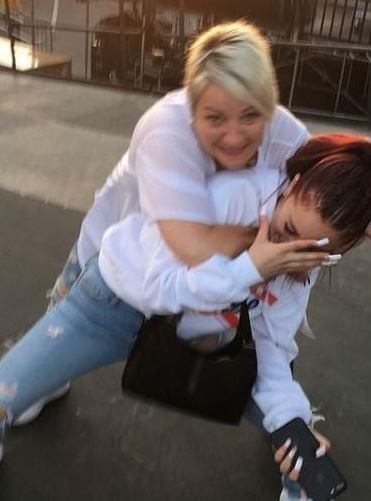 Daughter New Boyfriend
Barbara's daughter of 18 has not disclosed much about her relationship.
But recently, she has been updating her followers about her relationship with an artist.
The artist is also an American singer with the username Oca8oo on Instagram.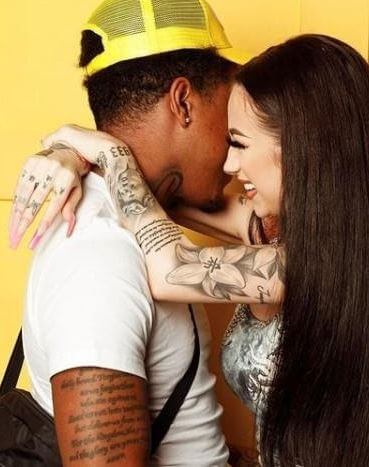 Bhad Bhabie getting tattooed of Yung Bans and NBA YoungBoy
Danielle Bregoli, famous by her stage name Bhad Bhabie has tattooed her body with the actual name of American rappers Yung Bans and NBA YoungBoy.
Despite claims that she could ink her body with anyone's name she likes, it has been rumored for special reasons.
She has the "Vas" name imprinted on the back of her leg, which is the first word of Vas Coleman (Yu Bans real name).
Similarly, she has red tattoos on her hand with the first word of Kentrell DeSean Gaulden (NBA YoungBoy).
Barbara's daughter had been rumored to be in relation with American singer Trippie Redd.
Bhad made her messages visible, which was with Trippie Redd.
The messages showed that they might have been in a romantic relationship.
Earned Million Because Of Fans
Danielle Bregoli, well known as Bhad Bhabie, took a lie detector test on a talk show, Fuse.
In that interview, she had to answer all the truth as the lie detector could detect her lies.
That was her first time, and she wasn't sure about the science behind the lie detector.
The interview asked very simple questions to her for which she had to answer in yes or no.
She was first asked about her real name and where she was born. Bhabie was not born in New York but her mom was.
She was quite nervous while giving that test because, for her, it was new, and she was unsure about that.
She was raised in Boynton Beach, Florida, and she had lots of friends over there.
That place was not very safe as she could she heard gunshots in the nighttime.
When asked about giving anyone a second chance in life, she responded that it completely depends on the people as if someone did really bad, then there is no way of giving them a second chance.
She tries to be a good person, but sometimes her anger ruins it. The interviewer then asked her if she would keep others' money if she found them.
For that, she truthfully replied, saying she doesn't care about the money of others.
She answered every question nicely, and when she was asked about being a rapper, she said she wanted to be a nurse and care for people.
She agreed that she made millions by making fan accounts.
She had dated women too. She loves her pets more than anyone.
She also agreed to the question about spending thousands of dollars on her nails only.
To know more, do check the full interview.
Bhad Bhabie Got Torture
Bhad Bhabie uploaded a video on her Youtube channel where she reacted to Dr. Phil's interview after being accused of sending Bhad to a ranch.
At the very first, she showed a clip of Dr. Phil getting interviewed by a news channel where her name was taken as bad bobby instead of Bhad Bhabie by the reporter.
In that video, she was offended by everything, and she was furiously talking about the things she had gone through.
She was sent to the ranch for being out of control, and she accused that ranch saying that she was kept awake and people there didn't allow her to sleep.
She was sent there by Dr. Phil, and she also revealed that children were abused over there in that ranch.
The ranch was there to better children, but she revealed that children were only used there.
She revealed that the ranch where Dr. Phill sent her had lawsuits of rapping, killing people, and many more.
At the same time, she showed a clip of Dr. Phils's interview where he was sorry for Bhad getting bad treatment over there and talking about all the lawsuits Dr. Phil was completely unknown about.
She said that her mom had sent Dr. Phil a report of Bhad's treatment to his show and the statement about him being unaware and uninvolved in his treatment is entirely fake.
She said that Phil was making up all those tantrums to save himself from the accusation. Dr. Phil had sent many kids to the ranch, and they had gone through a lot.
She also said that Dr. Phil and many other people are involved. She said that she has now managed to talk about everything because Hannah had come over and talked about the same thing, and she wants to support her fully.
She said that she had gone through a lot because of Dr. Philposted. To know more about the interview, do check the link.
Bhad Bhabie prefers Cardi B over Nicki Minaj?
Bhad Bhabie gave an interview to the Billboard pod cast where she talked about her music, people she wants to collaborate with and many more. The interviewer congratulated Bhad for being nominated in one of the prestigious award Billboard award and her name was against the top most famous female rappers like Nicki Minaj and Cardi B. Bhad was really excited about that it such a great thing for her. She opened up that she was sleeping when she received that news. Her Manager called her and told about her nomination in Billboard award and she feels stupid remember that because she was just like okay and hung up the phone. Bhad told that she is likes both Nicki Minaj and Cardi but she prefers Cardi B over the Nicki Minaj. The reason behind her preference with Cardi B is because she had been listing to Nicki since her childhood days and grew up her musics but Cardi B is a whole new thing for her. She love Nicki too but now she prefers Cardi B. She also compared her life with Cardi B and told that there are similarities with Cardi B. There are many things that can be linked with Cardi but there are differences too. She was not stripper but Cardi B was. Talking about their similarities Cardi and Bhad both got famous on social media first when they stared their career. Bhad came to the spotlight after she showed her appearance in Dr. Phills show and she has changed her everything in her life. She didn't want to talk much about that because her experience with Dr Phill was not good at all. Bhad then opened up about her new mix-tape which was out in 2018. The interview asked her about the collaboration that she wants to do in her future and she told that she wants to collaborate with Travis Scott. She has always been a fan of him, so she wants to collaborate with him.
Net worth
Barbara Ann Bregoli's net worth is given on the internet, which is roughly $1.5 Million, but her income source is not revealed.
But her daughter is a popular internet teen star, rapper, and songwriter, and her total estimated net worth is $6 million.
| | |
| --- | --- |
| Net worth | $6 Million |
| Income source | Popular internet teen star, rapper, and songwriter |
Age, Height, and Weight
Barbara was born on January 15, 1968, making her 53 years old.
She is American.
Visit Doveclove For Spicy Articles Of Your Favorite Celebrities
Subscribe to our Newsletter