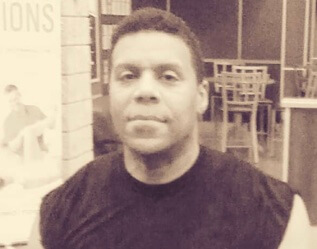 Curtis Bowles is the elder brother of American actor and former professional wrestler Dwayne Johnson.
Curtis was born to his mother, Una, and his late dad Rocky Johnson. He is Black Nova Scotian and Samoan from his ethnicity.
He has one sister and one half-brother. He is an American.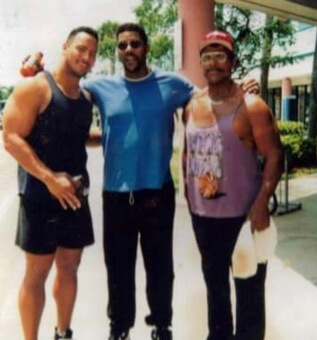 Married Life Of Curtis
Curtis was previously married to his ex-wife Emilie Weaver. They shared five children; two daughters and three sons.
Their sons' names are Katriel, Jamal, and Tristan. Tiffany and Chantelle are the names of Curtis's daughters.
Curtis Parent's Love Life
Curtis's father, Rocky, was a well-known wrestler, and his mom Una is a former dancer.
His dad met his mom while he was training for boxing. Curtis's parents immediately fell in love, got married in 1962, and had two children from their marriage, a son Curtis and a daughter Wanda.
But their marriage failed, and they got divorced in 1968.
After his parent's divorce, his dad married another woman named Ata Maivia, and from their relationship, Curtis's half-brother Dwayne was born.
Although Dwayne was a step-sibling of Curtis and his sister Wanda, they developed a healthy relationship with each other and had immense love among them.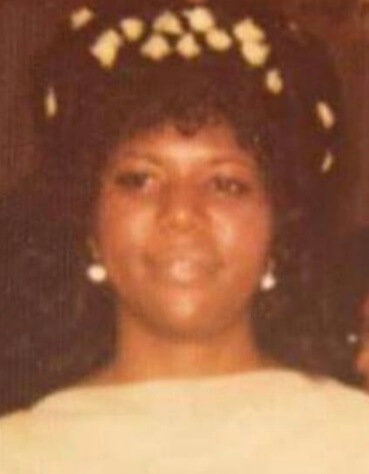 Age And Net Worth
Curtis is 57 years old. His net worth is under review. His source of income is unknown.
Curtis Alerted People
Curtis came to the spotlight because of his wrestler father and actor stepbrother Dwayne, and he has many followers on his Instagram.
He is active on his social media and posts many photos. On 2022 May 11, he shared a picture of an Instagram account similar to his and claimed that it was a fake.
Someone opened a fake account by his name and acted to be him, so through his post, he was alerting people to be aware of the fake account and requested people to block that account and not to respond to any messages received from that fake account.
He assured people he has only one real Instagram account, @curtis_bowles_johnson, and avoids and reports account with similar names.
He also pointed out that the person who made his fake account was stupid as he made a mistake writing his name.
The fake account holder wrote Bowels instead of Bowles and blocked Curtis on Instagram.
Curtis's Father Was A Cheater
Curtis's dad, Rocky Johnson, was a famous wrestler. His dad and mom, Una, married for some years but later divorced.
While his dad was married to his mom, his dad fell in love with a wrestler Ata and had a son with Ata.
After the divorce, his dad stayed with his second wife and half-brother, Dwayne.
Curtis's dad Rocky again cheated on his second wife with another woman named Luan Crable.
His stepbrother Dwayne was only 12 years old when he found out about his dad's affair and was so upset that Dwayne called Luan and asked her to stay away from their dad.
Dwayne Hesitation On Getting Married For The Second Time
Dwayne is currently married to his wife Lauren Hashian. They share two daughters together.
Dwayne and Lauren started dating a long time before but they took more than a decade to marry each other and it was because Dwayne hesitated to get married for the second time.
Before Lauren, Dwayne was married to Dany Garcia who he fell in love with when he was in his college. They shared a daughter together but after ten years of marriage, his wife filed for divorce leaving Dwayne heartbroken.
He was in love but their divorce made him suffer from depression.
He was living the darkest days of his life when he met Lauren and eventually Lauren was also dealing with the same situation because of her breakup with her ex-boyfriend.
It took a long time for both to get along with each other because of their past affairs. Dawyne had no hope of falling in love again but he did and it turned out best for him.
Lauren has been a supportive, understanding, and amazing person that enlightened Dwayne's life, however, Dwayne holded marrying her.
He revealed that he was not scared of making Lauren his wife but he hesitated to make that decision again. Thankfully Lauren was patient enough that she waited for him to be ready.
In 2017 finally, Dwayne decided to get married to Lauren yet they postponed their marriage because of Lauren's second pregnancy.
Lauren didn't want to get married with a big belly so they postponed. They welcomed their both daughters before getting married.
Finally, in 2019, he married Lauren and now they have a healthy marriage life. Dwayne revealed that he and his wife have a strong relationship because they know how to make each other laugh.
Dwayne Gifted His Parents A House
Dwayne is a well-known actor and a former wrestler.
His late dad Rocky was also a wrestler, so he followed in his dad's footsteps and became a wrestler.
In 2019 on Christmas, Dwayne gifted his parents a house. His mom and dad were divorced, so he bought a separate house for each.
He made sure to take control of the house and checked everything before gifting them.
He gifted his parents an equal house, and his parents loved it.
Dwayne's mom didn't say anything about the house, but his dad asked if he could get the home fenced because there were animals and crickets, so Dwayne fenced his dad's house.
His parents loved the gift from Dwayne, and Dwayne also felt proud and happy that he could give his parents a place.
Dwayne Nearly Lost His Mom
Back in 2020, Dwayne lost his dad because of a pulmonary embolism, and on 2023, Feb 2 Wednesday, he almost lost his mom too.
His mom Ata got into a car accident on a Wednesday night, but she was saved in time.
Dwayne shared about his mother's accident through his Instagram and thanked God for saving his mother.
He even wrote that he had already lost one of his parents and was not ready to lose another.
Life is unpredictable, and death can come at any time, so he requested his fans who have their parents alive, to spend much time with them and hug them.
He especially thanked LAPD and LAFD for saving his mom and staying connected with him on the phone until he reached there.
Visit Doveclove For Spicy Articles Of Your Favorite Celebrities
Subscribe to our Newsletter