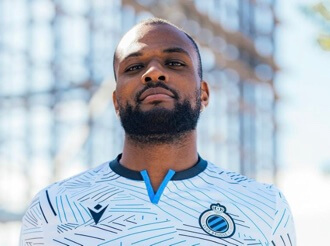 Cyle Larin is a Canadian professional football player. He currently plays for the Belgian First Division A team Club Brugge in the winger position.
He was raised by his parents in Brampton, Canada. He has two siblings a sister named Casandra and a brother named Elijah.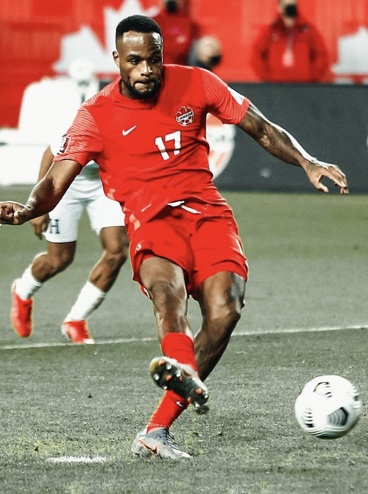 Relationship Status
Cyle is not married, so he doesn't have a wife; however, he has a girlfriend named Sienna Ponce, a model.
Related: Who Is Jonathan David Girlfriend?
They met for the first time in a bar where Sienna was there to celebrate her birthday. Shortly after that, they started dating each other.
Age And Net Worth
Cyle is 27 years old. He has a net worth of $1 Million.
Cyle Is Not Scared Of Anyone
Cyle and his team defeated many countries on their way to World Cup.
He expressed that his team is as strong as a group, and no individual player or staff missing can lay any harm to the team.
Even if he could not score, his team was not beside him.
He revealed that his team is so solid and well-maintained that they are not scared of any other teams like that of Mexico and the USA.
Although Cyle is the top scorer for his team and has been the face of the win from his goals, he dedicated the team's success to all his teammates and staff.
He revealed that without them, nothing was possible. It was not him who was strong; it was his overall group.
USA And Canada Have A Rivalry
The Canadian men's team has lost many games in the past with USA men's national team.
Both of the countries are neighboring countries. Hence there is a lot of competition between each other.
In football, all the teams and fans from both sides are excited to see the match between two countries, and things get too intense.
Cyle also said that his teammates get more excited when the match is against the USA.
He said that his team fought till the end and answered them with wins.
More: Who Is Samuel Piette Hot Girlfriend?
They won the match against the USA, and the fans seemed to be too much excited.
Cyle revealed that although there were just 12000 people, it felt like there were 40000 people because of the energy delivered by the fans.
Cyle thinks that the rivalry between Canada and America will go on in the future as well, and his team will always defeat America in the future.
Cyle Thinks The Red Card Was Unfair
Cyle's team once went against New York Red Bulls, where he received a red card from the referee.
He was about to tackle the player to get the ball, but he ended up getting red.
The referee asked the fourth official before making the decision.
When asked about the card, Cyle said it was an unfair judgment. He said that he should not have gotten that red card.
He expressed that he didn't touch the opposing player and that his intention was to get the ball.
But the decision was already made. He couldn't have done anything to change it. So he just walked outside the pitch silently without arguing.
Cyle Was Arrested In New Orlando
Cyle was driving back home from the club in New Orlando when the cops caught him on the road.
The striker was driving from the long lane in the 4-lane road.
He was overtaking the cars in front and didn't realize he was in the wrong lane.
He was pulled over, and it was found that he was also in the consumption of alcohol.
He didn't have much alcohol, but as he came from the club, he had few amount of alcohol.
It was a new road for him as he only knew other ways in the city. Still, the cops arrested him on the charge of DUI.
He asked if he could talk to his manager from his club. But he was not allowed to call anyone on the scene.
Visit Doveclove For Spicy Articles Of Your Favorite Celebrities
Subscribe to our Newsletter