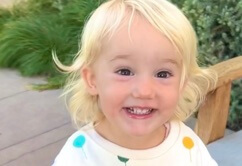 Eliyanah Monroe is the daughter of an entrepreneur, TV personality, and philanthropist Diana Jenkins.
Her father's name is Asher Monroe, a musician. She has two half-siblings. She is an American citizen.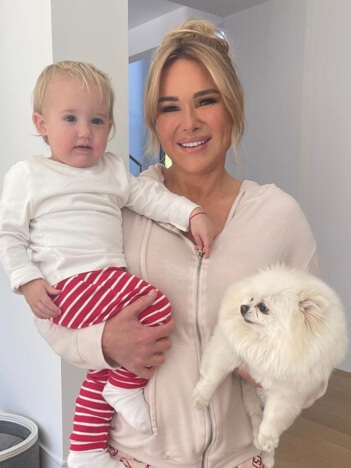 Parents Married Life
Diana is currently unmarried, but she is engaged. She is engaged to her fiance Asher Monroe, singer, and songwriter.
They have a daughter together named Eliyanah, who was born in 2020. They met each other for the first time at Victoria's event.
As of 2022, the couple has announced their second pregnancy together.
From Asher's Instagram post, it is clear that Asher was the one who fell for Diana first.
He clearly wrote that he laid his eyes on Diana twelve years back. The couple is very happy in their relationship.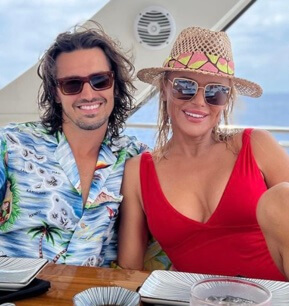 Was Diana Married?
Diana was previously married to her ex-husband Roger Jenkins. The couple tied the knot in 1999.
Diana and Roger were married for a decade and shared two children named Innis Jenkins and Eneya Jenkins. They got divorced in 2011.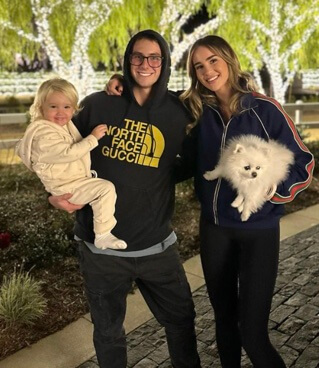 About Eliyanah's Mother, Diana
Diana is an entrepreneur, TV personality, and philanthropist. She is known for her appearance in the reality TV show RHOBH.
She is currently in California with her family. She was born in Bosnia, making her a Bosnian-American citizen by nationality.
Age and Net Worth
Eliyanah was born in 2020 and is currently two years old. Her mother has a net worth of $300 Million. Her source of income is entrepreneurship and TV shows.
Diana's Fiance Liked Tweets Written Against Her
Diana and Asher are engaged now, and the couple seems to have a good relationship.
But there has been some question raised in their relationship after Diana's fiance was seen liking mean tweets about her.
People have tweeted nasty tweets about Diana, saying that she is a very terrible person.
They even said that Diana paid Asher to be with her in the show RHOBH. In one of the fan screenshots, Asher liked all those mean posts.
However, later it was known that a manager handles Asher's Twitter account and he might have randomly liked those tweets.
Diana Was Back Lashed Badly Because Of Her Book
Diana's appearance in the reality show RHOBH attracted many people to her.
But it wasn't her first time on the TV screen. Before that, she had shown her appearance in many shows.
In 2009 she released her book titled Room 23, which brought a lot of negative rumors about her.
Her book Room 23 was a coffee table book with intimate images of well-known celebrities.
It had images of Lindsay Lohan, Ashanti, and Lisa. Because of her that book, there was a rumor of Diana running a secret call girl business.
The producer of RHOBH even asked her if she was a prostitute or sex trafficker.
Those things didn't go easy on Diana, as she mentioned in one of the interviews that fake rumors could damage a person's whole life, and she might have gone through a hard time because of the negative rumors that came along just because of a book.
Diana Not Just Earns But Gives
Diana might be one of the wealthiest and most influential lady, but she doesn't just care about herself only.
Staying in this world, she fights for the people around her and becomes a voice for them. She is working on a Human Rights project as the project's face.
She has an organization named The Irnis Catic Foundation, founded in memory of her brother, Irnis. Her brother died during the war in Bosnia.
She is also actively running a relief organization named Jenkins-Penn by her sources.
For her same good deeds, she has been honored by several organizations.
Diana Got Slammed For Being Racist
Diana is very active on social media and posts many things about her life.
That same social media created a huge problem for her as she was called a racist.
An Instagram account merged her two pictures and said she looks like two different people in those photos, and neither of those pictures matches her current face.
A lady who goes by the name Philly Diva commented on that post saying that in the first pictures, she looks like someone who shopped in the store; on the other, she looked allergic.
After seeing that comment, Diana couldn't stop herself and replied that Diva might not feel good being a Black content creator.
That sentence of Diana made people think that she was racist and was slammed by the people on the internet.
Diana later said sorry and said that people mistook her. She mentioned that lady and personally apologized to her.
Visit Doveclove For Spicy Articles Of Your Favorite Celebrities
Subscribe to our Newsletter