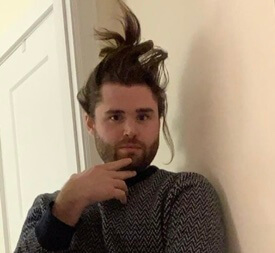 Gill Williams is the son of the late American actor Treat Williams.
His mother's name is Pam Van Sant. He was born in the year 1992 and is 32 years old.
He is an artist. He is an American citizen by nationality.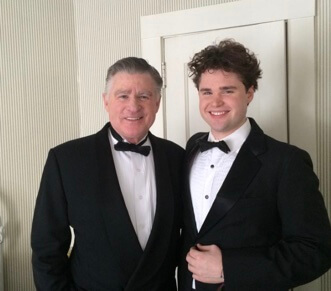 Gill Followed His Dad's Footsteps
Gill is a celebrity kid who grew up in the limelight because of his dad.
He also followed in his dad's footsteps and acted in one movie with his dad. He also did a short film.
However, he is interested in art and music and has shared his work on social media.
About Gill's Dad Treat
Treat was a professional actor well known for his role play in the 1979 movie Hair as George Berger.
He had worked in many movies and series throughout his acting career. He was born to his parents in 1951 and had his birthday on December 1.
He died on June 12, 2023.
Married Life Of Treat
Treat is married to his wife, Pam Van Sant. He met Pam in New York, where she worked as a waitress.
They tied the knot in 1988. They shared two children, a son named Gill and a daughter named Elinor.
Treat and his wife shared more than three decades of marriage until he divorced them in 2023.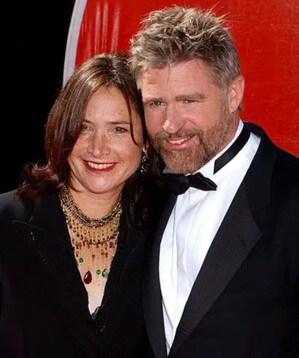 Treat Loved Living In Utah
In the interview with Brenda Upright, Treat talked about living in Utah and the love that he had for that state.
Treat was living in New York before he moved to Utah. He was working as a stage actor and movie actor in New York, and he had to go to Utah for a period of time because of his word.
He described that NY had smaller and older mountains than Utah. When he saw mountains in Utah, he knew that he would want to go skiing and hiking during his days off.
He did five movies and five features in Utah, and he and his family were so happy living there that they didn't even realize that they had been living for four years.
Treat fell in love with the environment, people, and the state, and he felt that Utah was the place where he wanted his children to grow up.
His wife and his kids were also happy being there. His kids went to the school there, and Treat also made a good relationship with his kid's friends and parents.
It was a better place and much quieter than NY, so he wanted that calm and quiet childhood for his kids.
While he was giving this interview, he had already lived there for a decade and was very happy.
Treat said that after he started living in Utah, he did get called Mormon by the people of NY, but he never felt it was bad.
He said that Utah has a greater Hollywood history than any other state of the US could ever have.
He opened up that despite his immense love for Utah, he didn't think of getting settled there because he was an actor, and if he got the role in the series, he would have to pack his things up and move to another place.
But he was sure that he would always have a home in Utah.
Age And Net Worth
Gill was born in 1992, and his current age is 31. His father had a net worth of $8 Million before his death.
Reason For Treat Death
The treat came a long way in his acting journey. He spent four decades working in movies and has won millions of hearts.
But unfortunately, the actor is no more as he died on June 12 after getting involved in a bike accident.
His death news was traumatizing to his family, friends, and fans.
Treat's bike crashed with a car, which happened three miles from his home.
He was immediately taken for treatment after the bike crash, but the accident was so deadly that Treat couldn't pull through.
His death was saddening, and his friends and family shared their condolences and tribute to him, sharing how great and full of life Treat was.
Treat's friend John Travolta also a tribute to him by sharing their Broadway photo and wrote that Treat would be missed.
Treat Had No Importance In His City
Treat originally came from Vermont. There, he had a farm of fifteen acres where he pretended to be a farmer.
He had no animals on his farms but had plants, a garden, and a fruit orchard.
It was a small farm. However, it was enough to keep him busy. In an interview, he was asked how other Vermont farmers react to having a superstar in their city.
For that, Treat replied, saying that he had no importance in his city and nobody cared that he was an actor.
People of Vermont adored Dom Deluise, and although Dom doesn't live in Vermont, he was the biggest celebrity in Vermont.
People of Vermont had a giant poster of Dom in the pizza parlor, but Treat was not much of a deal in Vermont.
Treat Fell Asleep In The Middle Of Shooting
Treat opened up about one of the best movies throughout his acting career: "Once Upon a Time in America."
It was one of the best movies of the 60s and 70s, and he had a minimal role to play in it.
However, the experience of shooting every shot made him feel that he was painting.
He talked about filming with Italian directors, and the most fantastic part of that movie was the whole film was shot in Canada, and the interior shooting was done in Cincinnati, Italy.
In that movie, he had a scene where he got hospitalized. He and the other actors were middle of shooting and saying their lines, and he fell asleep.
He then felt someone shaking his arm, and when he woke, his co-actor made him realize that they were for his lines, but he fell asleep.
Treat Was A Pilot
Treat gave an interview to Dave's talk show where he talked about flying.
He revealed that he was a commercial pilot and always flew planes when he had to visit New York with Vermont.
He had a plane named Piper Center, which was a two-engine plane, and he flew that plane while traveling from Vermont to New York and New York to Vermont.
He has already flown for 25 years, which is 5000 hours. He also opened up about an incident where his plane's trim wheel froze.
He had his wife sitting next to him, and his son was sitting in the back with a nanny.
The plane was 10,000 feet because of which the trim wheel froze, and it caused freezing of staring too.
He was scared, and he couldn't see anything because of the fog in the glass.
That was terrifying, but he controlled his fear and handled the situation.
He brought the plane to low feet, which unfroze the trim wheel and landed safely.
Visit Doveclove For Spicy Articles Of Your Favorite Celebrities
Subscribe to our Newsletter