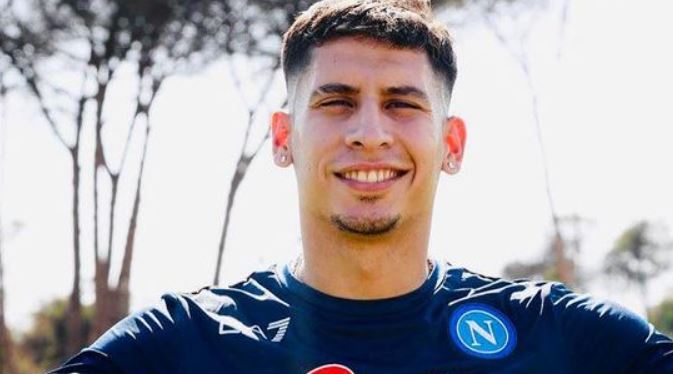 Mathias Olivera is an Uruguayan professional footballer. He currently plays for Serie A club Napoli in the left-back position.
He is also a national player and plays for Uruguay's national team. He was born and raised by his parents in Montevideo, Uruguay.
He has his birthday on October 31.
Relationship Status
Mathias is not married, so he doesn't have a wife; however, he does have a girlfriend.
See: Sergio Rochet's Stunning Wife And Kids
He hasn't revealed his girlfriend's name, but he has talked about him living with his girlfriend in an interview.
He also has a photo of him with a woman on his Instagram, but it's not sure if she is his girlfriend or not.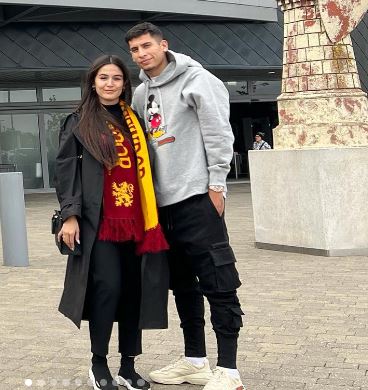 Age And Net Worth
Mathias is 24 years old. The net worth of Mathias is $ 6 Million.
Good At Adapting
Mathias moved to Napoli not long ago, and after arriving at the club, he said that he was already on fire to play for the team and give his every ounce of dedication to win for the team.
He revealed that being in the club far from his home would not be difficult because he is good at adaptation.
Moreover, he expressed that he was getting along with the squad, who have the same motto as Mathias: lift the club to the top by winning each game.
Also, the defender got the number 17 in the club, which belongs to the legendary Marek Hamsik of Napoli.
More: What Is the Relationship Status Of Agustin Canobbio?
So Mathias told the media that he would give his all to provide justice to the history of 17 numbers.
Willing To Sacrifice Himself
Mathias plays in the full-back position, one of the most difficult positions to play, as it requires a lot of strength, power, speed, and a fit body.
He revealed that he has all of it and will be happy to prove it to the fans and his team.
He also said that he is willing to give his best no matter what the formation or how the coach wants him to play.
He even stated that he could sacrifice himself for his team and coach if it came to that.
As far as it is for the team, he will be willing to stay on the bench or play to his limits.
Got Injured In A Friendly Match
Mathias's national team Uruguay went against Panama in a friendly match.
Both the teams were doing their best when Mathias was injured playing his part.
He had a bad knee injury with a lot of pain as he cried and shouted on the pitch.
He was forced to leave the pitch for further treatment of his injury.
It was found out that his knee injury was really bad, but not so bad that he had to go through surgery.
He just had to rest and has some medical treatment to regain his normal form.
He was out for a month. Fortunately, he was predicted to return to the club matches in his fit form.
Still, he would have more medical checkups before he got into the pitch playing at his best.
Mathias Is Close To His Family
Mathias comes from Uruguay, and playing for the Italian club is a long journey for him.
Related: Sofia Herrera - Stunning Wife Of Diego Godin
Being far from home is hard for him, as he admitted that he is close to his family, including his mother, father, and sister.
But things are also a bit nice in Europe because he is living with his girlfriend and two dogs there.
He revealed that his family is everything to him. While moving to Italy, his father also helped him with everything required to settle in.
Although they are far enough, his family is really proud of him.
Visit Doveclove For Spicy Articles Of Your Favorite Celebrities
Subscribe to our Newsletter