Rosaline Hoss is the daughter of popular American actress Stephanie Beatriz. Her father's name is Brad Hoss, an actor. Rosaline has her birthday in Aug 22.
Parent's Wedding Ceremony
Stephanie tied the knot to director and actor Brad Hoss in October 2018 in LA.
They were engaged back in 2017. They took their wedding vows in a beautiful ceremony in presence of family and friends.
They planned their wedding all by themselves and wanted to reflect on what LA is all about through their ceremony.
The theme of their wedding was flowers, nature and tropical. The venue was decorated with various flowers.
Their marriage ceremony was quite different from others. They did not do all the traditional things.
They even did not cut a cake. Instead, they severed ice creams sandwiches to their guest.
From food to drinks, everything was top-notch and different.
They danced to a 90's song. They also had a celebrity chef who made Hot Cheetos burritos at her wedding.
The venue also had a photo booth and manicure facility for the guests.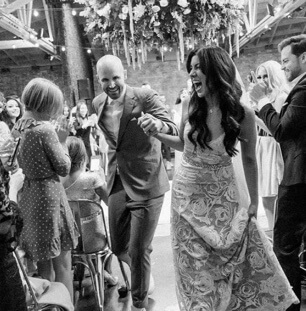 Parent's Married Life
Stephanie has an amazing husband. She shows her love for her husband through Instagram, where she writes beautiful things about him and appreciated him for his loyalty and love.
The couple just packed their wedding outfits and flew to Japan and wore that outfit, and clicked a photo in front of the Kaminarimon Gate.
The couple welcomed their first child last year.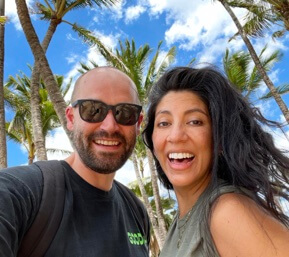 Age
Rosaline was born on 22 August 2021. She is going to celebrate her first this year.
Net Worth
Stephanie's net worth is estimated to be $3 million.
Her main income is from her acting career, especially from the Tv series named Brooklyn Nine-Nine and movies too.
Stephanie's Funny Story Behind Her Audition For Brooklyn Nine-Nine
Beatriz really wanted to do the comedy genre.
At first, she got auditioned for the part of Amy Santiago, and she went to read for that.
The casting director, Allison and Jones asked her to come back for the role of Amy as well as the role of Meghan who turned out to be Rosa.
She auditioned for Meghan too.
She really loved auditioning for that character as she wore black boots and jackets.
She was called for a screen test for both roles. At first, she did a screen test for the role of Amy.
She was told that she will be improvising with Andy Samberg, a great comedian.
Her screen test did not go well as planned as she was really nervous, and Melisa Fumero got the role of Amy.
She did not get that role.
When she read about Melisa getting cast for the role of Amy, she thought that she got rejected and cried.
Her screen test for the role of Rosa went well and got cast.
Explaining about her character
Stephanie gave an interview on This Morning where she talked about her movie and song.
She is seen as the lead character in the movie Enchanto and the interviewer told her new movie Enchanto was amazing.
Stephanie was glad to hear such good words from the interviewer, and she said that she was not the only one to take the credit for the whole movie, but as she was present in that interview, she didn't mind taking the credit.
Stephanie said that movie is made to show the different shades of family, and she hopes that every person who watches that movie takes it in the same way.
She wants people to know about the Latino culture and Colombian music. Her movie is getting a lot of love and appreciation from the people, and Stephanie feels amazing.
Her Disney song is also charted in no one position, which makes her feel amazing.
She then talked about her character Mirabel.
Stephanie then related Mirabel's character to herself and other people who have felt like them not being part of their family, feeling like an outsider and getting misunderstood for no reason and not feeling special.
She also mentioned that the character Mirabel is very different than others, but she has her specialties. She is brave and capable of doing anything and has great humor.
She said that she would take some credit for that humor thing, and she is thankful for the scriptwriters who wrote the amazing scripts.
She told her that Enchanto would be watched by people repeatedly because it is a great movie.
Stephanie's Got Emotional Meeting Dan Levy
As a fellow person in the queer community, Stephanie adores Dan's work and contribution to the queer community.
She almost cried while talking to him. She controlled her tears and appreciate him for his work
Facts About Stephanie
She is bisexual and is quite open about it.
She has a condition named astigmatism, which causes her difficulty in visualizing and requires glasses to see clearly.
She is related to an organization that helps Immigrants, hand their families in the United States.
She has played a small role in many series before she got into Brooklyn Nine-Nine.
It's her voice behind the lead character in a Disney animated movie Encanto.
Visit Doveclove For Spicy Articles Of Your Favorite Celebrities
Subscribe to our Newsletter