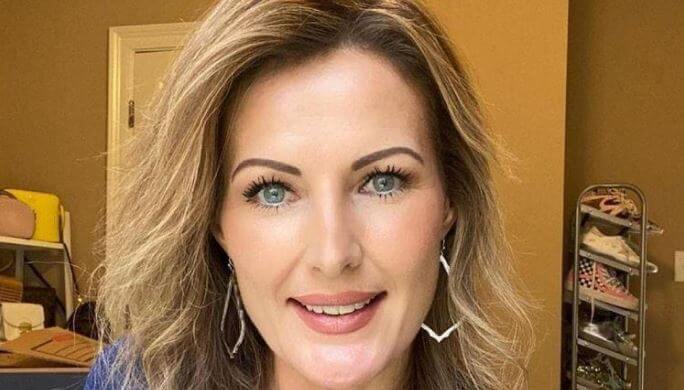 Sheri Easterling is best recognized as TikTok star Addison Rae's mother.
She is also famous for her TikTok account, with more than 13 million followers.
Early life and recognition
Sheri Nicole Easterling was born and brought up in the United States.
Her father's name is Donald Easterling, and her mother's name is Mona.
As a kid, she was interested in dance, traveling, and photography.
Sheri first began to appear on TikTok through Addison's account as a guest.
In August 2019, she then created her own and posted a viral video with her daughter receiving over 800,000 views.
Her username is Sherinicolee, and the account gained instant fame after posting just one video.
She and Addison began co-hosting a podcast named Mama Knows Best in 2020.
She is the matron of the TikTok account called 'The Lopez Family.'
Nicole is not just an internet hit sensation; she is a stunning model, engineer, and photographer.
She seems to be a lovely and talented lady.
Excited for the new upcoming movie
Sheri's daughter Addison gave an interview in a Jimmy Kimmel Live show hosted by David Spade. In that interview, Addison talked about her upcoming movie, TikTok, and her relationship with Kourtney Kardashian.
Addison has millions of followers in her TikTok account. She is popular for her TikTok videos. Her TikTok career started when she moved to LA.
Before moving to LA, she had a million followers, then she talked with her parents and came to LA. Her parents are way too supportive of her.
Addison also opened up about her new upcoming movie. She was only a TikTok star before, but now she is about to play her first-ever movie titled He's All That.
As it is her first-ever movie, she is also excited, as she is too nervous about it. She also opened up about the character that she will play in that movie.
Her role is all about a girl who is a social media star. That teen girl's life looks amazing on social media, but it's different in real life. A girl who is so famous is social media get cheated by a guy in real life.
She fell in love with a boy who was opposite to her. He is not into social media and is a very normal guy, and she ended up like that guy. That same girl struggles between her social media life and private life.
Addison's this movie is going to release on 27th August on Netflix. Talking about her relationship with Kourtney Kardashian, who will co-star in her new movie, are good friends of each other. They both knew each other before the movie.
Kourtney's son has a huge crush on Addison Rae. When Addison was making her video, she bumped up to Kourtney, and then Addison talked with Kourtney's son, and that is how their friendship started.
Sheri Nicole started a family at a very young age
Sheri is reportedly only 40, according to Celebs Life True, while her husband is 44.
The couple has three children together. As her oldest daughter Addison is already 20 years old, this suggests that Sheri and Monty began their young family when Sheri was only 21 and Monty was only 25.
Husband, family, and children
Sheri is married to Monty Lopez, who is a former general manager and an entrepreneur.
Monty is currently associated with a private holding company called William Morris Endeavor.
He is also in the media business and has become a TikTok star just like his daughter.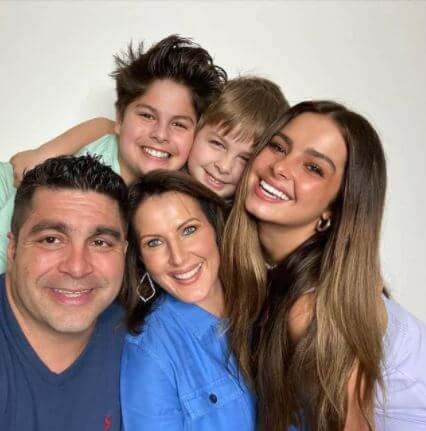 Sheri and Monty dated when they were young and decided to get married early.
The pair have three kids, an elder daughter Addison and two sons named Enzo and Lucas.
They have gone through thick and thin together and are currently residing in Los Angeles, California.
Relationship with daughter Addison Rae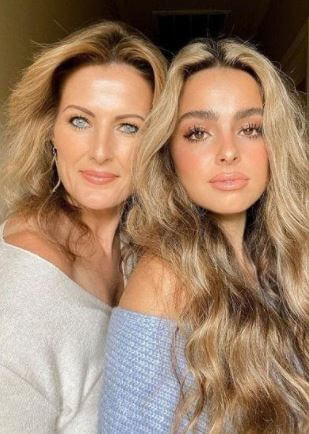 The mother-daughter duo seems to be very close to each other and has a fun, carefree bond.
The two have been spotted going out shopping a few times and making videos together.
In traveling, she likes to catch images that she uploads on her Tiktok and sudden spike in Tiktok.
On Tiktok alone, she has already amassed more than 10.6 million.
The two have also started their podcast, talking about fun things, their own experiences, and social topics.
The podcast is called 'Mama Knows Best.'
It is about the crucial information that mothers have received throughout their years of experience to live a better life.
It seems like a great podcast to listen to for youngsters to get good advice.
Sheri Easterling called Ambulance
Sheri was interviewed by her daughter Addison on her YouTube channel alongside Sheri's husband, Monty.
It was a family time interview as they were drinking and eating snacks.
In this interview, she talked about some memorable and funny incidents.
As the interview was shot in their home, their dog frequently came to Sheri.
It seemed Sheri loved her dog, and she seemed to love hanging out with her dog.
Fans asked some questions for Sheri and her family, which she, her husband and daughter answered for them.
The interview revealed that Sheri was the one who was a sleepy head. She is the person to sleep for the longest time in their family.
Moreover, she revealed her daughter's surname. At first, Sheri's first daughter was given her surname.
She was 21 when she had Addison. Sheri was not married to her husband, and she could give her daughter her surname, and she did it.
But after their marriage, it was converted.
Moreover, all the other children of Sheri and Monty have their father's surname.
After that, Sheri's daughter shared a memory about Sheri and Monty calling an ambulance for their daughter.
When Addison was in middle school, she had a friend named Maddie.
They once went to a neighborhood park. There were kid swings made out of rubber with holes for the leg.
There was a girl who was yelling for help as she was stuck.
Addison thought it was an act to get the attention of boys. After the girl was released, Addison also tried to swing to prove to Maddie that she was acting, but she also got stuck.
Firstly, Addison didn't call Sheri as she would get angry. But as no one was there to help, she called Sheri.
Sheri, Monty and Addison's grandfather arrive there.
Sheri called emergency dial-in 911. The rescue team and the ambulance arrived there, and pulled Addison out after a time.
She was then diagnosed inside the ambulance.
To know more about the interview, do check the link.
Net Worth and earnings
Sheri Nicole's net worth is approximately $1 million US dollars. Meanwhile, her daughter Addison is worth is more than $5 million US dollars.
| | |
| --- | --- |
| Time period /sources | Estimated earnings |
| Per post | $45000 |
| Per month | $5 million |
| Per year | $10 million (estimated) |
Age, height, and weight
Sheri was born on September 4th, 1979, making her 41years old.
Her height is about 5 feet 7 inches.
She weighs about 55 kilograms.
Her nationality is American.
She has blue colored eyes.
Her hair is blonde.
Her favorite actor is Tom Cruise.
Her best movie is La La Land.
She loves Italian food.
She is religious and follows Christianity.
Visit Doveclove For Spicy Articles Of Your Favorite Celebrities
Subscribe to our Newsletter