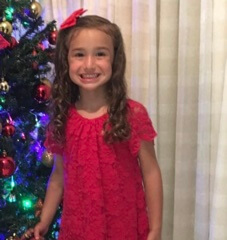 Sienna Lima Jaric is an American celebrity kid. She is mostly known as the daughter of actress and model Adriana Lima.
Her father is a former basketball player Marko Jaric. Her birthday is on September 13.
She has an elder sister named Valentina Lima Jaric.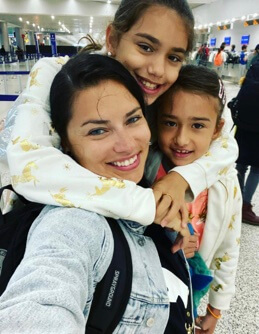 Mother Past Relationship
Adriana had link-ups with many celebrities in the past. Adriana dated singer Lenny Kravitz in 2001 and broke up after two years in 2003.
The two were engaged. After her break-up, she dated Prince Wenzeslaus and ended their relationship in 2006.
Then she married NBA player Marko Jaric in 2009 on Valentine's Day.
The couple became parents of two children. But they parted their ways in 2015 after five years of being together.
She was spotted with footballer Sami Khedira in 2016.
She also dated another footballer Julian Edelman for a year.
She had a fling with baseball player Matt Harvey.
Adriana started seeing Metin Hara in 2017 and split up in 2019.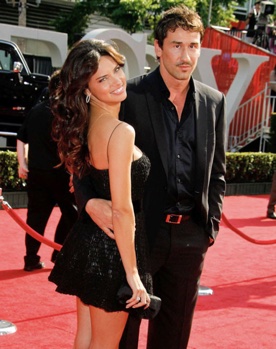 Is Adriana Dating Someone?
Adriana is in a relationship with Andre Lemmers. Her boyfriend is a movie producer.
They were linked with each other in 2021. They shared a very romantic bond with each other.
They are not engaged or married yet. But soon they are going to be parents.
Adriana announced that they were expecting to welcome their child this fall.
She filmed her pregnancy test and her boyfriend's reaction and shared on her Tiktok.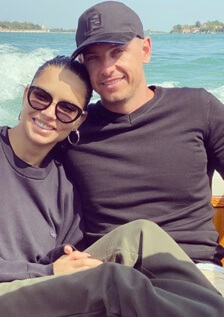 Adriana Talks About Her Sleeping And Exercise
Adriana is known for being one of the Angels of the famous show Victoria's Secret. She started modeling at a very young age.
She started modeling at the age of 15 and when she reached the age of 18 she became part of Victoria's Secret runway. Since then she has walked on the runway for Victoria's Secret till 2018.
Times back when she used to be part of modeling she and her model friends give an interview, where they all talked about sleep schedules, and exercise and revealed their secret.
Adriana opened up about beauty sleep. She had a 10-month-old baby at that time so sleeping directly for long hours was not possible for her. So she took turns in sleeping.
She revealed that she slept for two to three hours woke up, took care of her baby, and again went to sleep for some hours. She did that continuously until she had enough sleep.
Adriana also talked about her exercise and told that she does Jump rope a lot and it's her favorite exercise to do.
She told that it was easy to do 10 minutes of jump rope and the plus point was she can take the jump rope anywhere she goes. Even if she goes on the traveling she packs it up in her suitcase.
When she first started doing jump rope she used to trip herself many times but as time passed she got better at it and then it became her favorite exercise to do.
They were other models too in the interview and the interviewer asked them about their preference for women having big body sizes.
The models replied very positively saying that body size doesn't matter unless one is healthy and takes care of the body.
They shared an important message saying a woman needs to embrace their body type.
After that Adriana revealed a secret of hers.
She told that she sprays her body fragrance on her husband's pillow whenever she has to go out to a party. She does it every time and her husband is completely unaware of that.
Age
Sienna was born on September 13 2012, and her current age is nine years old.
Net Worth
Adriana's net worth is estimated to be a whopping $95 million.
She has managed to earn this fortune from her successful modelling and acting career.
Adriana Never Dreamt To Become A Model
Modelling came into her life surprisingly. She was a very shy girl and was a bookworm.
She used to study a lot and thought that she would become a pediatrician someday.
There was also a time when she wanted to be a nun.
She was very shy in her younger days and did not imagine herself talking to boys and having a boyfriend.
Modelling came into her life when she was least expecting it.
When she was 15 years old, she submitted her photo for modelling to support her friend who did not want to go alone.
Then she entered Ford's supermodel competition, where she bagged the first position.
She came second in Ford's world supermodel contest.
After that, she signed a contract with an elite modelling agency and moved to New York.
Her career took up fast. She was featured in many high-profile magazines like Vogue and Marie Claire.
She also became the face of Guess. She became Victoria's Secret model in 1999.
From then, she never looked back. She is one of the most successful supermodels in the world.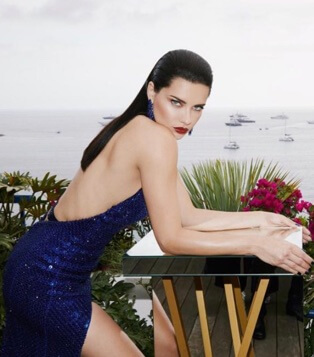 Adriana's Last Victoria's Secret Show In 2018
Adriana became Victoria's Secret model in 1999. The stage was her home for eighteen years.
But it was time to bid goodbye.
She remembered all the moments she had and said that they would stay with her forever.
She said that Victoria's Secret made all her dream a reality.
She started her career in New York and ended by walking her last Victoria's Secret show.
All her fellow friends cheered her and gave her a standing ovation during her last show.
Everyone got into tears backstage. She got emotional while walking at her last ramp.
Some Facts About Adriana
She wanted to become a doctor when she was young. She holds mixed ethnicity. She is catholic.
She is very famous in Italy. Even she has earned the nickname of The Catherine-Zeta Jones of Italy.
She is a very kind-hearted person and does a lot of charity work.
She does not have blood siblings but has two half brothers.
Visit Doveclove For Spicy Articles Of Your Favorite Celebrities
Subscribe to our Newsletter