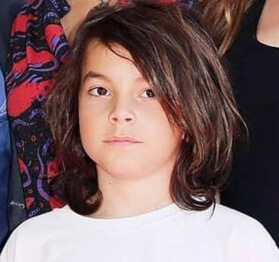 Thomas David Black is a celebrity kid. He is the son of actor Jack Black. His mother is Tanya Haden, an artist, musician and singer.
His birthday is on 23rd March. He was born in the USA. He has an older brother named Samuel Jason Black.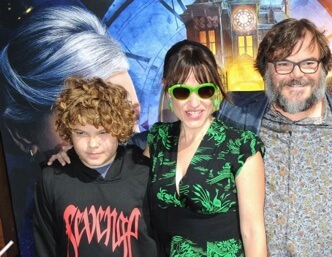 Married Life Of Parents
Jack is married to singer Tanya Haden. Jack and Tanya were dating way back, long before they tied the knot.
They met with each other while attending Crossroads Schools. They were teenagers when they first met.
In 2005, they again met each other, and finally, Jack managed to gain some courage and asked her out for a date.
After a year, the couple got married. They were blessed with two children.
They are a family of four now.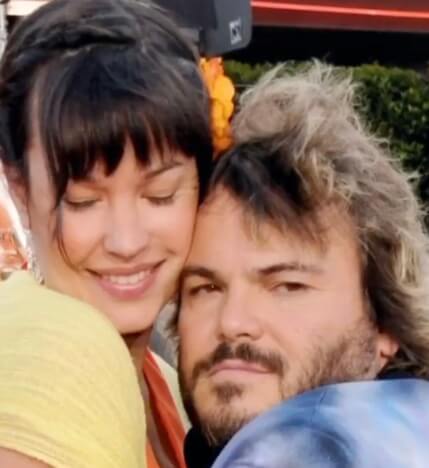 Jack Previous Relationship
Before meeting Tanya, he dated actor/comedian and producer Laura Kightlinger.
They started dating back in 1997 and broke up after eight years of relationship.
Thomas Attacked His Dad Genitals
Thomas's father Jack gave an interview on Jimmy Fallon's late-night show where he talked about his sons and what they were into.
At the beginning of the interview, Jack and Jimmy were sitting in a weird position, and they talked about the way they were sitting.
After that, Jimmy asked Jack about his children. Jack is the father of two children, and his both children are sons.
The eldest one is Thomas, whom he calls Tommy, and the youngest one is Samuel, whom he calls Sammy.
Jack opened up that his eldest son, Tommy, is into martial arts. He was six years old when Jack talked about the incident.
His son Tommy loves watching Young Ninja, and as his son was into martial arts, he shows his skill in his home as well.
Jack got injured by his son as his son tried his martial art things on him. He has to keep on guarding his son, and he even got attacked by him on his genitals.
Because of that, he had a conversation with his son and told Tommy that martial art is a serious thing and he should show his martial skills when his life is in danger.
He can't just keep trying martial things on normal people as it could hurt them.
After that, Jack talked about his youngest son, Sammy, and mentioned that he is much into playing games on the iPad.
Sammy is on his iPad most of the time, and he just plays different games. He opened up that his son got into a game that had in-app purchases and he brought the different monsters and diamonds.
While Jack was going through his emails, he saw 30 email receipts, and he had to pay $ 3k for the in-app purchase made by his son.
He then talked to his son Sammy and told him not to spend money on such things and then removed all the in-app purchases apps from the iPad.
Jack Took Drugs To Avoid Hunger
Jack gave an interview on Conan O'Brien's show where he talked about him focusing on losing weight.
The interviewer, Conan, commented on Jack for looking great. Conan saw Jack in great shape with a lot of stamina, so he complimented him.
That's when Jack opened up about his decision to lose weight.
He said that he was trying to focus on his physique and maintain a healthy body, and for that, he had involved himself in physical exercises like mountain climbing and biking.
He has decided to lose some pounds so that he could be in good shape and healthy.
He was trying his best to be strong and to remain in good health that's why he started working on his weight.
However, that wasn't the reason behind Jack being dedicated to losing weight.
He revealed that one of his close friends Kyle lost a few pounds. His friend Kyle lost weight and became 225lb but Jack's weight was 235 so it just made him crazy.
He hated becoming healthier than his friend, so he decided to lose weight.
He said he was following a strict diet plan along with all the physical exercises.
But he has no self-control when it comes to eating. He tried to follow the diet and somehow controlled himself, but he just couldn't resist a macaroni and cheese and cheeseburger.
It drives him crazy so to overcome his carving and prevent himself from eating macaroni and cheese burgers he started taking drugs.
Jack meant medication when he said drugs. Those drugs were supposed to control his hunger but they didn't help him so he planned to increase the dosage.
Conan wanted to know about the drug that Jack was taking, but Jack shit him up, saying he wasn't there to promote drugs.
Conan told Jack he couldn't increase the drug intake and Jack replied that he would be consulting with his doctor before doing that.
Age
Thomas was born in 2008 and his current year is 13 years old. His height is under review.
Net Worth
Thomas's father's net worth is estimated at $50 million.
He has managed to earn this hefty from his acting and music career.
Jack Delivered A Grand Entrance On The Late Night History Show
Jack came for an interview to promote his movie Jumanji.
When the host announced his name on stage, he came dancing from backstage.
He even joined the band and had fun with them. He covered the entire stage, dancing and making funny moves.
He even slept on a couch climbed on the host's table, and jumped from it.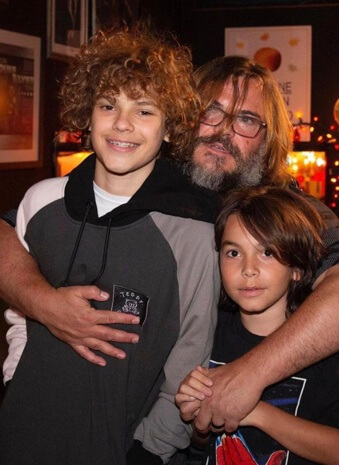 After his best entrance, he was out of breath as he delivered all his energy and revealed that he had planned to come on stage and rock with the band as he had nothing to say about the show.
He even planned to sing Seth Mayer's song with the band, but he did not get the mike, so none heard his lyrics.
Jack Is A Cool Dad
His two sons are his reluctant fans. He loves his kids.
Both of his sons are teenagers, and his sons don't find all his acts cool, but he is okay with that because he thinks it is natural, and deep down, they both love their father.
In a premiere of Jumanji, both sons had a blast.
His older son Sammy even reviewed his movie and gave him 8.5 stars.
He loves reviewing movies and posting them on his social media handle.
Jack was like I'm your dad, so could you please give me a 9 out of 10. His boys loved and enjoyed the movie.
Jack Trips On Every Premiere Intentionally
Jack talked about his big project with Jumanji. He was excited to go on the red carpet and attend big events.
He wanted to make an impression on those events so that his presence would stand out.
He used to think all about big premiere moments.
He got his ideas from Jennifer Lawrence, who fell on the stairs while receiving an Oscar, and everyone fell in love with her.
So he also decided to do similar things at the premiere so that America would love him even more.
Some Interesting Facts About Jack
Jack loves the I Love It Loud song. He studied at Crossroads High School for Art and Sciences.
His best friend is David Grohl. He completed his schooling at Poseidon School in Santa Monica.
His parents were satellite engineers.
He had a production company called Black and white in partnership with Mike White.
His birth date is the same as John Priestly. He has two siblings, Howard Black and Rachel Black.
He was awarded a star on the Hollywood Walk of Fame.
Visit Doveclove For Spicy Articles Of Your Favorite Celebrities
Subscribe to our Newsletter