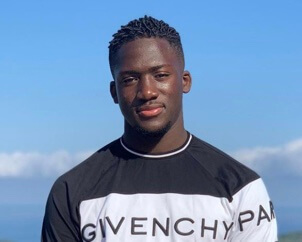 Ibrahima Konate is a French professional football player. He currently plays for team Liverpool in the position of Centre back.
He was born in Paris, France.
Relationship Status
Ibrahima is not married yet, so he doesn't have a wife or a girlfriend.
He has always been passionate about football.
Besides football, Ibrahima loves spending time on the beach during his day off with his pet.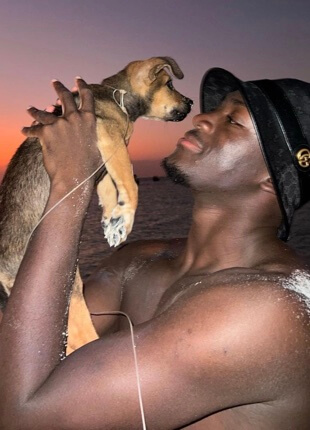 Age
Ibrahima is 23 years old. His height is 1.94 m.
Net Worth
The net worth of Ibrahima is 14 million euros.
Konate Can Defend Cristiano Ronaldo?
Konate gave an interview after joining the Premier League club Liverpool where he talked about his defending capabilities.
As he was new to the club and the League, he had no names in his head when asked about the hardest player to defend against.
But he said that as he will play matches, he hoped to defend everyone easily and have no name in the future as well.
Saying that he also said that he would have beaten other defenders of the club if they raced with him in 100 meters.
When asked about Cristiano Ronaldo, he said that Ronaldo is one of the greatest in the history of football.
If he goes against him, he expressed that he would try his best to defend him.
He said that Ronaldo was a human, too, so, it is not impossible to defend him if someone tries to.
Konate Is An Anime Fan
Konate is frequently seen posting pictures on Instagram wearing t-shirts having anime characters like Goku.
When asked about it, he revealed that he is a huge fan of Dragon Ball Z. He watched the anime while growing up and still watch it.
He revealed that his brothers are also very big fans of that anime.
He expressed that Dragon Ball Z is part of his life, and he thinks that anime is part of his family.
He opened up that his favorite character in the anime is Goku.
He even compared roGoku, saying that he is evolving like the powerful stages of Goku, and he also agreed with the comparison between him and the anime character.
Ramos Is Konate's Role Model
Konate revealed in an interview that Sergio Ramos is his idol whom he looks up to.
He compared Ramos with Vegeta, who is a powerful character in the anime Dragon Ball Z.
He expressed that Ramos is the best defender in the entire world, and he is Konate's role model as well.
Konate likes the style of play of Sergio Ramos.
He said that Ramos was someone who is constantly focused on his own job and own play, which is a good thing.
Ramos is someone who doesn't care about others' success or downfall. He is focused on himself only.
Konate also said that Ramos is winning every time, and that is what Konate likes about the defender.
He also wants to win like him and create a name for himself.
Konate Has The Ambition To Become The Best
Konate is undoubtedly one of the top defenders in the Premier League and the world. But for Konate, he still doesn't think that he is the best in the game.
In an interview, he was asked about the comparison that the fans make between Van Dijk and him.
He clearly said that there was no comparison to be made between him and Van.
He expressed that Van was one of the best defenders in the world, and he has proven it time and again.
Konate has not yet reached that level of defending. But he added that he will become the best defender in the entire world someday.
He said the day is yet to come, but for now, he is not the best defender in the world.
Visit Doveclove For Spicy Articles Of Your Favorite Celebrities
Subscribe to our Newsletter