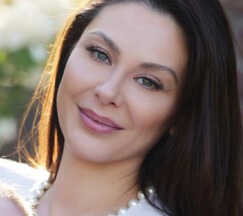 Lauren Kitt is the wife of the American singer and a member of the vocal group Backstreet Boys Nick Carter. His parents are Jane Elizabeth Carter and Robert Gene Carter.
Lauren is an actress, fitness trainer, and writer by profession. She was born in Southern California, United States.
She has her birthday on June 3. She is an American citizen.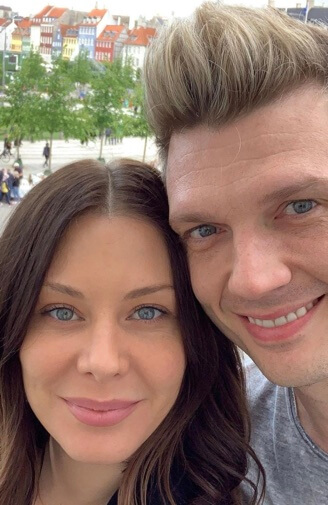 Marriage And Children
Lauren is currently married to her husband, Nick Carter. The couple got married in the year 2014.
They had their wedding held in Santa Barbara, California. As of 2022, the couple is the parents of three children.
They welcomed their first child, son Odin Reign in 2016. Three years later, they welcomed their daughter Saoirse Reign.
In 2021, Lauren and Nick welcomed their youngest daughter Pearl.
Lauren met Nick back in 2008. They met each other at Nick's brother's family gathering.
Lauren and Nick spent hours talking on the balcony that night. After that, they started dating.
Nick proposed to Lauren on a secret island. They dated for nearly six years before tying the knot.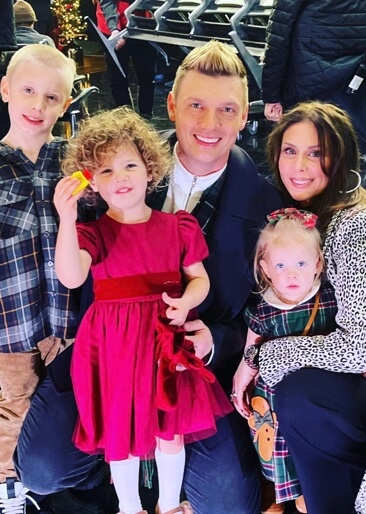 Age And Net Worth
Lauren is 39 years old. She has a net worth of $1 Million. Her source of income is acting and fitness training.
Lauren Lost Her Baby
Lauren and her husband have three beautiful children together. But back in 2018, the couple had a terrible time.
They lost their unborn baby as Lauren suffered from a miscarriage.
For any parent, losing their child is the most devastating thing; sadly, Lauren and her husband had to endure that.
Lauren was pregnant with her second baby, a girl, and she was in her sixth month when she lost her.
She shared her miscarriage news through an Instagram post and wrote that she accepted what happened to her and moved on from the incident that happened to her.
But as a parent who went through a miscarriage, she will always feel lucky to have a healthy baby.
Fortunately, their pain didn't last long as Lauren got pregnant again, and in 2019 she welcomed her second child.
Aaron Carter Threatened His Brother Nick's Wife, Lauren
In 2019, Lauren was pregnant with her second baby.
She and her husband, Nick, were eagerly waiting to welcome their new family member when her brother-in-law Aaron Carter, lost his senses.
Aaron threatened Lauren saying that he would kill her and her unborn child.
After that, her husband, Nick, got a restraining order against his brother.
Aaron was strictly told to stay away from Nick's family in Las Vegas.
Lauren's husband tweeted about this on his social media, saying that his brother left him no option.
Nick had to keep his family out of danger, so he did his best to protect Lauren and his baby to stay safe from his brother.
He had immense love for his brother and hoped his brother would get his senses back.
On the other hand, Nick's brother denied the accusation and said that he never said anything to Lauren and it was Aaron who Nick had tormented.
Later it was revealed that Aaron had personality disorder, anxiety, and depression.
Lauren Had A Hard Childhood
Lauren was born to her parents, mother Robin, and father, Larry, in 1983.
She grew up in Los Angeles with her two siblings, and her childhood was not normal like other children's.
Her parents were very strict. Her mom and dad got divorced when she was very young, and she stayed with her mom.
Lauren's mom was a con artist and was arrested many times for her wrong deeds.
Growing up in such a household was difficult, so she tried to run out of her house whenever possible.
Because of her family problem, she was not well-behaved at school and hardly focused on her studies.
When she looks back to her past days, Lauren regrets not focusing on her school.
Is Lauren's Husband A Rapist?
In 2022, Feb Lauren's husband Nick, who is a singer, was accused of raping a woman.
A woman named Shannon Ruth filed a case against Nick, stating that Nick raped her in 2001.
According to that woman, Ruth was waiting for the singer's autograph after the concert.
Nick asked her to come inside a bus, and there she was offered a drink. She accused him of forcing her to give him oral sex, and then she was raped.
She was 17 years old when she said the incident took place.
Visit Doveclove For Spicy Articles Of Your Favorite Celebrities
Subscribe to our Newsletter