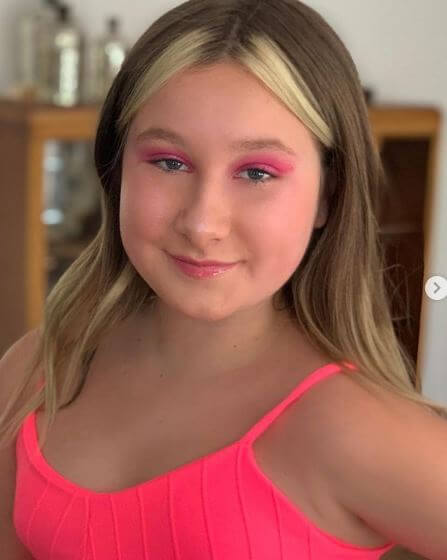 Stella Doreen McDermott is the daughter of an American actress and author Tori Spelling and Canadian actor Dean McDermott.
More about Stella Doreen
Stella was born on June 9, 2008. She was named in honor of the character Estella from Charles Dickens' Great Expectations.
Her father's name is Dean McDermott, born on November 16, 1966, in Toronto, Canada. He is fifty-four years old.
He is a reality television personality. Stella's mother's real name is Victoria Davey Spelling. She is known by her stage name Tori Spelling, born on May 16, 1973.
She has one sister, three brothers, and one half-brother from father side.
Her sister's name is Hattie Margaret McDermott, born on October 10, 2011. She is ten years old.
Her eldest brother Liam Aaron McDermott was born on March 13, 2007. He is fourteen years old.
Her next brother's name is Finn Davey, who was born on August 30, 2012. He is nine years old.
Her youngest brother's name is Beau Dean McDermott. He was born on March 2, 2017 and his current age is four years old.
Her half-brother Jack Montgomery McDermott is twenty-three years old.
She has a large family, and she is close to all of her siblings.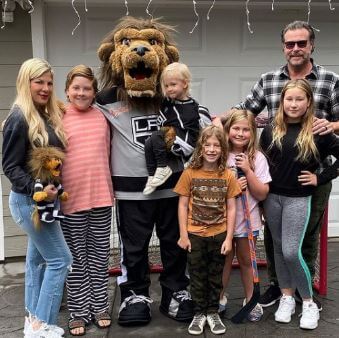 Parent's Relationship
Her parents met for the first time in the set of Mind Over Murder. At that time Tori was married to Charlie Shanian, actor and writer, while Dean was married to actress Mary Jo Eustace.
The couple started cheating on their spouses and began their extramarital affairs.
Finally, after some time, they separated from them to marry each other.
Dean and Mary have one son together named Jack Montgomery McDermott.
They married on May 7, 2006, in Fiji with limited numbers of family and friends. The beautiful couple has five children together.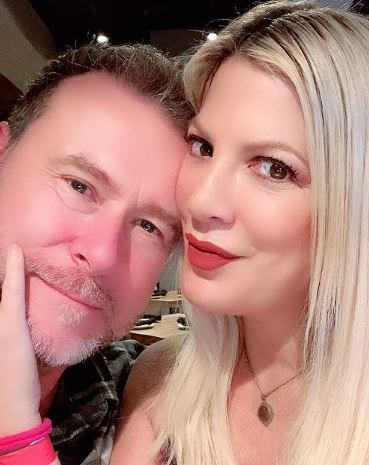 Stella Faced Bullies
Stella has been struggling to go to school for the past four years now. She has been a severe victim of bullying.
She first started facing bullying when she was just in elementary school.
This followed during her first year of middle school too.
She went to school in Encino, where she was bullied for having a communicable disease which was false.
She was being called Patient Zero that severely affected her mental health.
She reported this case to her parents. Her parents reported this case to the school administration and conducted meeting with the bully's parents.
However, this bully did not face any consequences because the bully's parents are on the school board.
They pay a huge amount of money to the school. So this case was not properly addressed by the school administration.
As a result, Stella had to change her school.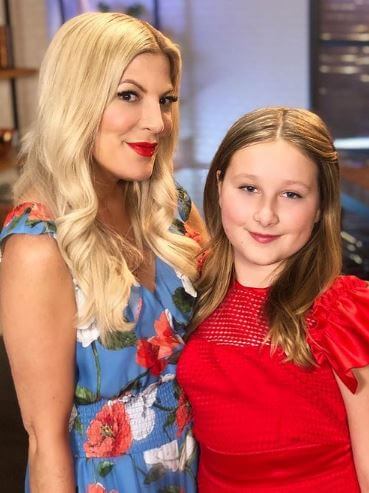 Nonetheless, bullying Stella did not stop. She was again bullied in her new school. She was bullied for her appearance.
She was even called horrible names. Stella's mother shared through her Instagram post that her daughter is verbally abused in the school.
She has been constantly judged about her weight. Her classmates are passing comments about her body and lots of other sexual things.
Stella reported this issue to her parents, and their parents reported this case to the school administration. This time the bully was expelled from the school.
Stella's Mental Health at Risk
After constantly bullied her entire student life by her classmates, Stella does not want to attend school anymore.
She also asked her parents if they can be home-schooled.
Stella's mother Tori shared a heartbroken post through her Instagram saying that few days before attending her middle school, Stella confessed that she wanted to become a president and a business leader.
She said that she wants to empower girls. But due to being repeatedly oppressed by her classmates, she does not want to return to school.
Tori said her daughter is being missed out on school life.
Stella is a little girl who has a dream to empower female and young girls.
Now she is unable to reach the goals due to her constant panic attacks and anxiety.
She is having mental health issues at a very young age.
Tori Will Never Trust Her Husband
When Tori was doing a reality show, "True Tori," she lived with her husband and four children. She said that they were her prince and she loved all of them.
But in one episode, it came out that Tori's husband, Dean cheated on Tori with another woman. Dean became intimate with another woman named Emily.
They claimed to have had two days of affair. When Tori found out about it, she was left out broken. She didn't blame Emily for this incident.
Instead, she blamed Dean for cheating on her with another woman. She put all the blame on her husband and said that it was all his fault.
On the other hand, Dean felt bad about what he did, but at the same time, he based all his mistakes on one reason, and that was his sex addiction.
He revealed that he was a sex addict, and it was the reason he cheated on his wife Tori despite being a father of four. Tori and Dean, after the incident, didn't get intimate.
Dean was somewhat guilty about his actions, and hence he went to a rehabilitation center.
When asked to Tori's friend, she revealed that there was less chance that Tori and Dean would be together after what Dean did to her.
Tori also expressed that she would never trust Dean again.
Tori's friend also expressed her sympathy towards Tori and added that she was proud of Tori for being such a strong woman despite the incident that happened to her.
Tori shared this entire scenario of her real-life with her audience. It was brave of her to be so public about her life and situations.
She also revealed that she wanted people to know her in real and understand her.
Net Worth
Stella is still on her middle school. So she is very young to start working.
However, the net worth of her mother is given below:
| | |
| --- | --- |
| Net Worth | Sources |
| $500 thousand | Actress, Author |
Age, Height, and Weight
She is thirteen years old.
Her height and weight are not disclosed.
Her nationality is American.
She loves baking.
Visit Doveclove For Spicy Articles Of Your Favorite Celebrities
Subscribe to our Newsletter