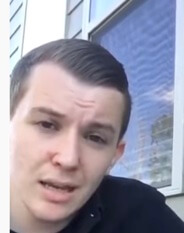 Charlie Brown is the elder brother of British actress Millie Bobby Brown who is popularly known for playing the character of Eleven in the Netflix sci-fi drama series "Stranger Things."
He was born to Kelly Brown and Robert Brown. He has three siblings, Ava Brown, Millie, and Paige Brown.
He is a professional photographer. He even shot for his sister for a magazine cover named Who What Wear.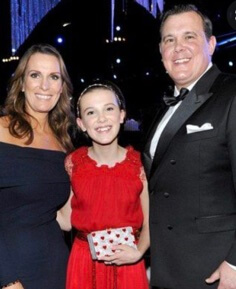 Millie's Current Relationship Status
The Stranger Things actress is currently in a relationship with Jake Bongiovi, the son of rock star Jon Bon Jovi.
They made their relationship official through social media account.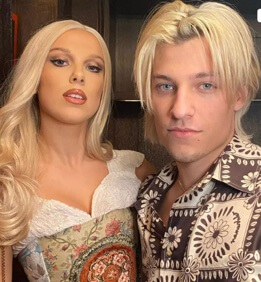 Millie's Past Relationship
Millie dated popular TikTok star and singer, Jacob Sartorius.
They started dating when Millie was 15 years old. They dated for seven months and parted ways.
Soon after some time, they again began dating but ended their relationship.
After Jacob, there were rumors that Millie was dating David Beckham's son Romeo Beckham. He was also a passionate Tennis player.
But they never made their relationship public, and even their break-up rumors were assumed as Romeo introduced his girlfriend, who was a model.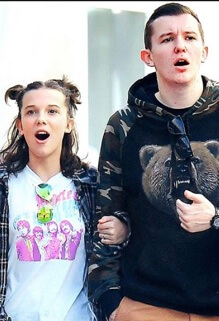 Millie got connected with Mariah Carey
Millie Bobby Brown gave an interview to the Jimmy Fallons late night show. There in the interview she talked about Mariah Carey, her son and her movie. Mariah Carey is a well known singer and she has a son who is a great fan of Millie. Millie is loved for her appearance in series Stranger Things and Mariah Carey loves Millie so much that they decided to crave Millie's character play Eleven on a pumpkin. On the other hand Millie love Mariah and when she knew about her son she wanted to meet him and makes him think that she does has real power like her character Eleven has in series. Millie actually met Mariah's children and Mariah. She opened up that she and Mariah got easily connected with each other and now they are like good buddies. Millie goes to her house eats with her and they talk and chat too. Jimmy didn't believed Millie when she told about her connection with Mariah. He was in shock. Millie and Mariah even sang together in her studio and they might probably collab together in a song. Millie told that she and Mariah has lots in common and she actually feels inspired by Mariah and told that she is the best singer and a busiest person. Whenever Millie calls Mariah, she is always in the middle of something but they do hang out often. Millie then talked about her part 2 of new Netflix movie Enola Holmes 2 and opened up that she produced both part of the movie with her sister. She enjoyed making that movie and it was something that she always wanted to do since her childhood.
Age
His sister Millie is 18 years old and has a birthday on February 19.
Net Worth
Millie's net worth is $10 million.
She earns through endorsements, business ventures and acting in movies, series and television shows.
Was Millie Born With Disorder?
Millie, one of the most successful British actress, was born with a disability.
Millie, in an interview, opened up about being deaf.
She had partial hearing loss in one ear at a very young age.
She also revealed that due to this disorder, she faced a tough time while shooting for the Netflix sci-fi drama series "Stranger Things," as she could only hear from one ear.
Did Millie Audition For Game Of Thrones?
Millie once auditioned for Game Of Thrones.
She gave an audition for the role of Lyanna Mormont.
But sadly, she was not selected to play that character for Games Of Thornes.
After she failed to grab the role of Lyanna Mormont, she almost gave up on her acting career.
Yet there is a saying failure is the key to success. The same thing happened to Millie.
After being refused for Game Of Thrones, she bagged the role of Eleven in the Netflix sci-fi drama series "Stranger Things."
She became an overnight sensation after portraying the role of Eleven.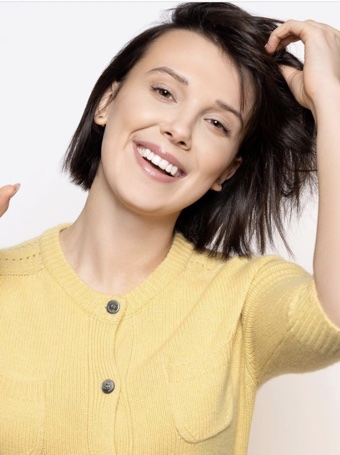 Millie's Life Before Fame
Millie was born in Spain on February 19, 2004.
Millie was an ordinary kid before coming into the limelight.
Though she was born deaf in one ear but nothing could stop her from being an actor.
By the time she turned eight, she had realized her passion for acting and singing.
Though she never took any classes for acting and dancing, she prepared herself well for the role and gained recognition.
After debuting in Stranger Things and being highly praised for a promising performance, she was enlisted in Time's 100 Most Influential People list at a very young age.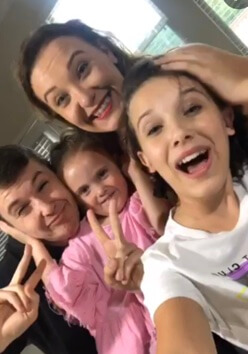 Awards Won By Millie
Millie won the award for the best performance for a television series.
She also won the award for best television actor. She won the award for Breakthrough Performer of the Year.
She also has a Favorite Movie Actress, a Favorite Female TV Star, a Favorite TV Actress, a Youth in Film - Female, a Best Performance in a Show, Best Actor in a Show, a Best Newcomer, and Favorite Female TV Star award.
She received the Outstanding Performance by an Ensemble in a Drama Series award that she shares with Stranger Things cast.
She accomplished several other awards such as Choice Summer TV Star: Female, Choice TV Actress: Fantasy/Sci-Fi and Best Young Ensemble Cast - Television Series, which was again shared with the castmates.
Visit Doveclove For Spicy Articles Of Your Favorite Celebrities
Subscribe to our Newsletter