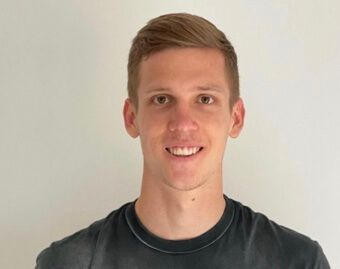 Dani Olmo is a Spanish professional footballer. He currently plays for the club RB Leipzig. His father's name is Miquel Olmo, and his mother's name is Dora Olmo.
His parents raised him in Terrassa, Spain. He has a brother named Carlos Olmo, a football player.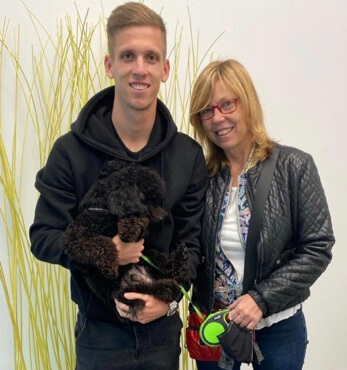 Who Is Dani Dating?
Dani is currently single; he has no girlfriend.
Does Dani Love Tennis?
Football is always Dani's first love, and besides that, Dani loves playing tennis.
Related: Who Is Gavi's Girlfriend?
It's his favorite sport after football, and he often plays it with his dad and friends.
He also loves taking breaks and going on vacations.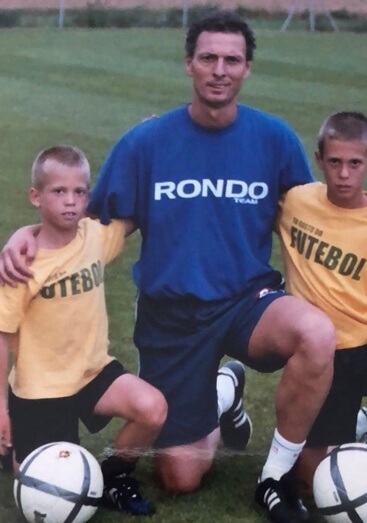 Age And Net Worth
Dani is 24 years old. The net worth of Dani is 2 Million euros.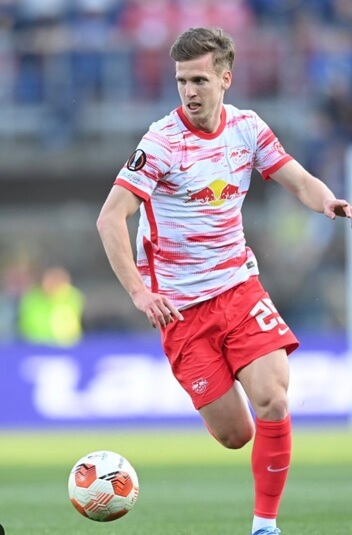 Dani Left Barcelona To Join A Smaller Club
Dani was a kid when he started to play football.
He was a bright talent which was realized by his father, who was professionally a football coach.
He started to train Dani from a young age alongside his brother.
He was living near Barcelona then, so he joined Barcelona's academy. He was compared to many legends in his time there.
He had a bright future at Barcelona as it was the best academy in the world.
More: Who Is Nico Williams Girlfriend?
But he chose to go to Dinamo FC at the age of 16. It was a risky decision for Dani's father, but he had to make it.
He could play in the main team as the lead player at just 17 years old on that Croatian team.
If he played for Barcelona, he would just get to play as a lead at the age of 22.
So it was proven to be a great decision for Dani and his father.
Was Dani Inspired To Reach To Finals?
Dani's team RB Leipzig was about to go against Atletico Madrid for the quarter-finals of the Champions League.
It was a big deal for Dani and his team because only the world's top teams reached that place.
They played really well with Tottenham FC in the round of 16 and won the match.
So he was hoping the same with Atletico Madrid as well.
Also, Dani was really motivated to win the match because his team could reach the finals of the Champions League just after winning two more games.
It kept his energy up, but he knew the match against Atletico Madrid would not be easy.
Was Dani Offered Croatian Citizenship?
Dani played in Croatia on the team named Dinamo. It was the same club where Luca Modric played in his young days.
Hence Dani is familiar with the Croatian language.
More than his club and language, Dani is connected to his country with a different bond.
Actually, Dani has his ancestor in Croatia too. On his mother's side, his great-grandfather was a Croatian resident.
Hence, he also had a different connection with the country.
He was a gem for the club in Croatia, and after knowing he had an ancestor from Croatia, the country even offered him to be a citizen of Croatia and join the national team.
But he refused in proper. His dream has always been to play for his country Spain.
Dani Plays In His Free Time Too
Dani is a great player on the pitch. He loves to play with balls, score, and make brilliant passes.
But outside the pitch, in his free time, he is interested in other sports like Tennis and Jet ski riding.
When he is free, he either seems to play tennis, or he is on long vacations around the world in resorts and water parks.
He loves to Jet Ski, and hence he is seen playing it. Dani also considers Tennis his second sport.
He plays great tennis. Although it is his hobby, he still likes to play tennis in his maximum free time.
Visit Doveclove For Spicy Articles Of Your Favorite Celebrities
Subscribe to our Newsletter